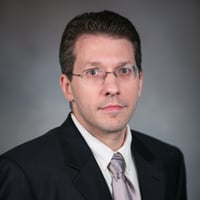 Joe Iorillo is a corporate analyst at The Freedonia Group, where he has worked since 2002. Although he doesn't focus on one particular industry, he has done extensive research in the heavy equipment vertical, which includes forestry, construction, and agricultural equipment.
His research has been cited in Time Magazine, The Economist, The Chicago Tribune, and several industry-specific publications. Joe holds a Bachelor of Arts from John Caroll University.
In the interview below, learn more about Joe and his work as a corporate analyst.
What is your role at The Freedonia Group?
I research the major firms participating in various industries, compiling data such as sales figures, new product developments, notable mergers and acquisitions, and factory expansion plans. This data is then used by our industry analysts to aid in the writing of an industry study. I've also written more than twenty industry studies on topics such as batteries, diesel engines, and packaging.
What sources does your research draw from?
Some of our sources include company websites, their product catalogs, press releases, third-party articles from trade journals and newspapers, annual reports, and SEC filings.
What adjectives come to mind when you think about the people you work with at Freedonia?
Good-humored, hard-working, and gracious.
What do you wish clients knew about the work you do?
Much of the information we uncover can be extremely tricky and time-intensive to find; for example, many companies won't be forthcoming with the locations of their manufacturing plants, and it's our job to utilize numerous sources ranging from company contacts to newspaper articles to ISO certificates in order to find that data.
Why is market research so important for companies today?
A lot of industries and markets are maturing, and market research can help identify possible future growth areas, highlight potentially disruptive trends, and showcase important product innovations and research among an industry's key competitors.
What studies have you worked on recently?
In recent months, I've done corporate research on agricultural equipment, membrane separation equipment, and retail-ready packaging industries.
---
Additional Interviews