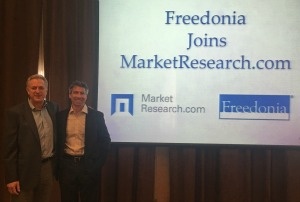 "Content is still king," according to Rob Granader, Founder and CEO of MarketResearch.com, and that fundamental idea drove the acquisition of the Freedonia Group, a leading global provider of reliable and unbiased market research reports and consulting services for more than 30 years.
"This is a great day for our company as we officially welcome the talented Freedonia team to MarketResearch.com," said Rob Granader.
What This Means for Our Customers
"Actionable and reliable data is what the Freedonia Group stands for, and this opens up significant new opportunities for clients of both services," Granader said. "Far too many clients are falling for sub-standard information in a time when the need to be right is more important than ever."
Through the acquisition, customers will have access to a single source of authoritative market research covering multiple industries around the world. With offices in Cleveland and Beijing as well as partners around the world, customers can choose from a full suite of research solutions to get the highest quality analysis at a cost-effective price, with convenient, easy-to-use platforms and hands-on support services.
"We are very pleased to merge Freedonia's deep content set with MarketResearch.com's sophisticated search and distribution technologies," remarked Jeff Weiss, CEO of the Freedonia Group since 1997. "We feel that our clients will benefit greatly from the combined resources of our two organizations."
Quality Market Research from Top Publishers
As a leading market research provider, MarketResearch.com is not only an aggregator of third-party reports, it also publishes a wide range of industry research from in-house brands with established reputations in their fields. MarketResearch.com continues to broaden and diversify its products and services to better serve its client base, which includes Fortune 500 companies, consulting firms, government agencies, and premier business schools and universities across the globe.
The Freedonia acquisition reinforces MarketResearch.com's commitment to quality and excellence in data creation and report production. Through economic ups and downs, business leaders have relied on MarketResearch.com for credible data and analysis — the kind of objective, reliable research that can be used to make mission-critical decisions and build effective long-term growth strategies.
The Freedonia product set includes award-winning industry studies with worldwide coverage, as well as Freedonia Focus reports and a broad-based custom research arm.
The global custom team is distinctive in its ability to develop creative approaches to gathering, analyzing, and synthesizing market, customer, and competitive insights and data to tackle complex tasks. Hundreds of satisfied customers and many of the world's largest industrial companies have used this little known gem for some of their trickiest problems.
The unparalleled Freedonia Focus Reports are published in 25 page compilations, topics running the gamut from raw materials to finished manufactured products and various consumer goods and services. Focus Reports are intended to guide the busy reader through pertinent topics in rapid succession, including historical market size, segmentation, market drivers, and more.
"These complementary assets bring some of the world's most trusted brands together," Granader added. "The Freedonia, Packaged Facts, Kalorama, Simba, Freedonia Focus, and Profound brands have been the standard for industry excellence for more than five decades, carrying on our longstanding commitment to the highest quality reports, services, and platforms in our industry."
For more information about MarketResearch.com's solutions, visit our website.
Sarah Schmidt
Managing Editor
MarketResearch.com