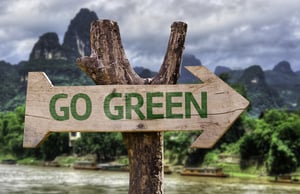 Single-use plastics have been in the news a lot lately, and the news isn't good. Once vaunted for their convenience, disposable plastic products have come under fire in recent years as evidence of the environmental damage they can cause piles up – sometimes literally.
The outcry has only grown with each new viral image of plastic-stricken wildlife, and businesses are taking note. From redesigned Starbucks drink lids to countless new restaurant, theme park, and corporate policies discouraging single-use plastic product usage, the backlash against disposable plastics appears to have reached a fever pitch, according to Single-Use Plastic Bans & Restrictions, a white paper from The Freedonia Group.
Though some single-use plastics are more widely debated than others (plastic straws, though famously maligned, make up a relatively small percentage of total plastic waste in the environment), most plastic disposables fall to some extent under the scope of new reduction initiatives. These products include:
plastic straws
food wrappers
bottle caps
beverage and other bottles
bags
foam and plastic clamshells and other takeout containers
lids
utensils and cutlery
foam and plastic cups, plates, and other serviceware
Public Environmental Policy Initiatives Target Single-Use Plastics
The fight to reduce the prevalence of these products isn't limited to private enterprises, either. Governing organizations at the local, national, and even international level have heard the public demand for more eco-friendly regulations, sparking new – and at times sweeping – policy initiatives that seek to change the way consumers utilize disposable plasticware – or eliminate their use altogether.
Check out the The Freedonia Group's infographic below for more information on how legislative action is helping shape (or working against) efforts to curb single-use plastics worldwide.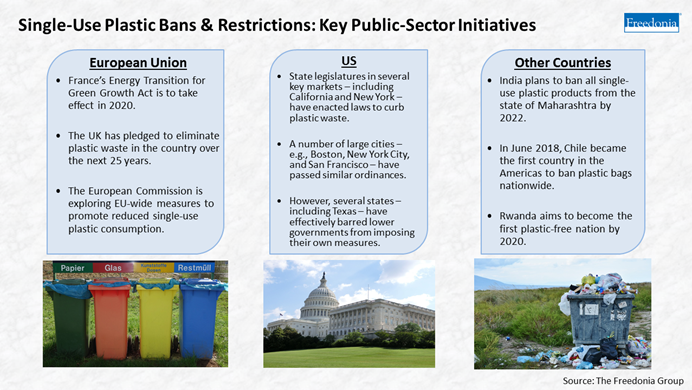 Share this Image On Your Site
For more disposable plastics statistics and to learn more about initiatives in the private and public sectors, be sure to download Single-Use Plastic Bans & Restrictions, a white paper from The Freedonia Group.
Drawing from The Freedonia Group's decades of experience covering the plastics and packaging industries, this ebook examines the sweeping international movement to ban or restrict not only plastic straws, but all plastic single-use products, and explores the global ramifications of these efforts.
Click the button below to visit The Freedonia Group's free downloads portal and and view the full white paper.
---
About Freedonia
The Freedonia Group, a division of MarketResearch.com, is a leading international industrial research company publishing more than 100 studies annually. Since 1985, Freedonia has provided research to customers ranging in size from global conglomerates to one-person consulting firms. More than 90% of the industrial companies in the Fortune 500 use Freedonia Group research to help with their strategic planning.
Related Reading