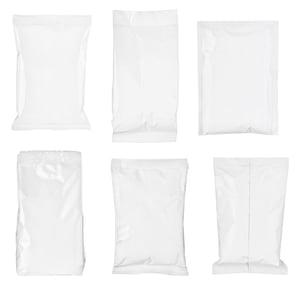 The past few years have seen quite a boom in merger and acquisition activity, particularly in the packaging market. For proof of this, look no further than the blockbuster August announcement that Amcor planned to acquire rival packaging firm Bemis in an all-stock transaction valued at nearly US$5.3 billion.
Should the acquisition go through as anticipated, the transaction would create the world leader in flexible packaging, with US$13 billion in combined sales, according to a new acquisition impact report from The Freedonia Group. Here are three things to know about this global packaging game changer.
1. "New Amcor": A Dominant Force in Global Flexible Plastic Packaging
For Amcor, the deal appears to be less about consolidation and more about expansion. While the Australia-based firm has historically maintained a robust international presence, Amcor's market share in the Americas was comparatively lacking. Acquiring Bemis changes this significantly – Bemis has a leading presence in the Americas, particularly North America, which accounted for 70% of the company's 2017 sales.
According to initial projections, "New Amcor" – as the new entity is currently titled – will have flexible packaging sales in the Americas of just over US$4 billion, a sharp increase over current Amcor sales of approximately US$1 billion.
Taking over Bemis will also grant Amcor immediate entry into the Mexican and Brazilian markets, which should prove highly complementary to the latter company's existing portfolio of operations in Central and South America, including market-leading positions in Peru, Colombia, Chile, and Argentina.
2. Amcor & Bemis in Agreement – What About the FTC & DOJ?
While the two companies have agreed to the merger in principle, there are still a few hurdles to overcome. One analyst has speculated that the deal is at "medium risk" of hitting roadblocks in the form of antitrust reviews in the US and potentially China, as Bemis has identified Amcor as a significant competitor in past investor filings.
However, the prevailing sense is that the complementary nature of the two companies will pave the way for approval from shareholders and regulatory bodies alike. Barring a major challenge on either of those fronts, the deal is expected to be finalized in the first quarter of the calendar year 2019.
3. How Will Other Packaging Firms Respond to Industry Shakeup?
Market shifts on the scale of the Amcor/Bemis deal tend to have a catalyzing effect, often triggering competing firms to pursue their own acquisition strategies as they work to solidify their market share. In addition, future acquisitions by "New Amcor" are possible – and perhaps even likely – considering that both Amcor and Bemis have active histories of growth through transaction.
The merger could also introduce a new wave of innovation. Backed by the considerable research and development know-how of both Amcor and Bemis, "New Amcor" will stand not only as a top manufacturer but as a top developer of cutting edge packaging technologies. To keep up, competitors will need to bolster their own design and engineering investments where applicable, which ought to have positive long-term effects on the future of packaging product development.
Interested in More Amcor-Bemis Analysis?
For a more in-depth look at the industrywide effects of the merger, check out Merger Impact Report: Amcor Ltd/Bemis, a new acquisition impact report from The Freedonia Group.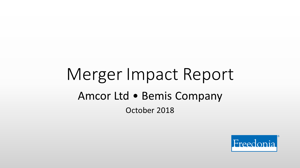 Want more expert analysis on the packaging industry in the US and worldwide? Be sure to read these related studies from The Freedonia Group:
---
About the Author: Alecia Mouhanna is a Corporate Analyst at The Freedonia Group, where she researches and blogs about a diverse range of topics, including construction and building materials, chemicals, packaging, and more.
About The Freedonia Group: Since 1985, The Freedonia Group has provided research to companies ranging in size from global conglomerates to one-person consulting firms. More than 90% of the industrial companies in the Fortune 500 use Freedonia Group research to help with their strategic planning.
You May Also Like