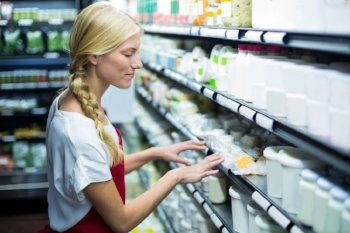 More consumers are trying out plant-based dairy alternatives. This trend is connected to concerns about health and wellness, environmental sustainability, and animal welfare.
Some consumers seek dairy alternatives because of food intolerances, allergies, or vegan diets. Others choose dairy alternatives as part of the "clean eating" regimes often touted by social media stars and food bloggers.
Dairy is frequently on lists of foods to eliminate, along with gluten, processed foods, and refined sugars. Millennials, in particular, are leading the way to greater consumption of plant-based foods.
Companies are responding to consumer demand, releasing a growing array of dairy alternatives including plant-based milk, ice cream, coffee creamers, cheese, and yogurt. Here's a look at innovative dairy alternatives that expand the array of plant-based options available in major grocery stores. Some of these products have been a hit, while others have struggled to find traction.
Silk Cashewmilk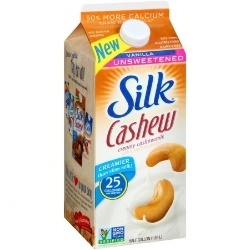 As soy milk and almond milk have become more common staples, marketers are creating new plant-based dairy alternatives. In spring 2015, WhiteWave launched cashew-based Silk Cashewmilks in four flavors—Silk Original Cashewmilk, Silk Unsweetened Cashewmilk, Silk Vanilla Cashewmilk and Silk Chocolate Cashewmilk. The refrigerated cashew-based beverage is free of cholesterol, lactose, dairy, soy, and gluten.
Another addition to WhiteWave's Silk lineup was Nutchello, a line of nut-based beverages in three distinctive nut blends—Caramel Almond Cashew, Dark Chocolate Walnut, and Toasted Coconut Cashew. Nutchello was positioned as an adult beverage and "a new way to savor break time, whether it's morning, midafternoon, or night."
At the Consumer Analyst Group of New York (CAGNY) meeting, Kevin Yost, President of The WhiteWave Foods Company, said, "Did you know that today over 60% of Silk consumption is in the cereal bowl? We're pushing beyond the bowl with the introduction of Nutchello. Three unique flavors make this beverage indulgent; but it's nutritious and low-calorie" (FoodBusinessNews.net).
As part of the launch, WhiteWave partnered with celebrity cookbook author Katie Lee to create six adult-only (alcoholic) cocktail recipes that use Nutchello as a base. However, it appears the Nutchello line has since been discontinued, but a similar concept lives on in the Dark Chocolate Almondmilk.
Sadly we have discontinued our beloved Nutchello. We're just as bummed as you are! Maybe give this a try! https://t.co/aOBvKEuqCO

— Silk (@LoveMySilk) February 28, 2017



Häagen-Dazs Non-Dairy Ice Cream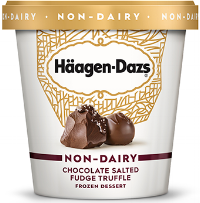 In July 2017, Häagen-Dazs announced the launch of a new line of non-dairy flavors including chocolate salted fudge truffle, peanut butter chocolate fudge, mocha chocolate cookie, and coconut caramel. The company says the flavors will offer "a creamier texture and authentic taste."
Other big-name brands in the non-dairy market include Ben & Jerry and Breyers, which introduced ice cream flavors made with almond milk.
Read Our Free E-Book for More Information
From the growing popularity of plant-based dairy alternatives to the rise of organic products, the dairy industry is facing a new era of disruption and change. Download a free e-book by Packaged Facts to learn how brands big and small are adapting to the shifting consumer landscape.