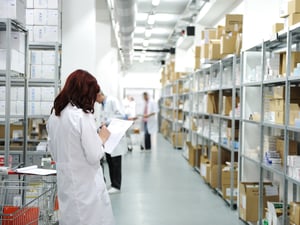 According to a report from The Business Research Company, the cold chain logistics market, which moves biologics, is growing faster globally than the non-cold-chain logistics market, which transports small molecule drugs. Between 2012 and 2018, the cold-chain logistics market more than doubled in size, while the non-cold-chain logistics market grew by only 36% in comparison.
Cold Chain Technologies Lag in Developing Countries
Deficiencies in the infrastructure of cold warehouses in emerging countries have restrained the market for transporting new, higher-value drugs. Cold chain logistics require heavy investments, for which developing countries lack the resources. For example, the cold chain industry in China lags in terms of quality and capacity. Cold storage capacity in China did grow by 800% over the last 8 years, but it is still not sufficient to close the cold chain gap. India, too, suffers from an inadequate cold chain infrastructure and currently has less than half the capacity to meet its cold chain needs.
Despite these impediments, the biopharmaceutical logistics market in countries like India and China is growing rapidly, as huge populations and increasing GDP per capita allow them to benefit from the healthcare advantages of biologics.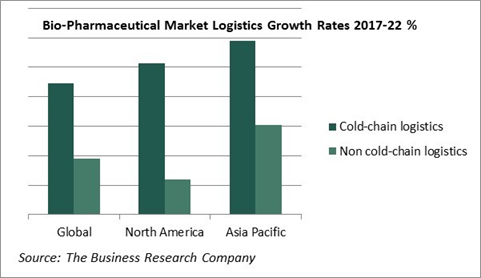 Cold Chain Storage Market Drivers & Restraints
Cold chain logistics was the smallest segment of the pharmaceutical drugs and biologics logistics market in 2018, at $14.6 billion. This is an emerging segment owing to growing demand for vaccines and blood plasma-related products, which require temperature-controlled environments for their transportation. The main drivers of cold chain logistics are the superior adoption of cold chain products in both developed and developing markets, as well as the continued innovation of new drugs.
Non-cold-chain logistics, valued at $69 billion in 2018, was the largest segment of the pharmaceutical drugs and biologics logistics market. This was primarily because a majority of pharmaceutical drugs do not require temperature control and are shipped as general cargo.
Temperature control solutions are costly to implement and maintain, and thus companies are reluctant to adopt these practices. However, industry and society benefit enormously when temperature-sensitive drugs and biological products can be made in more efficient large batches, shipped around the world, and delivered as needed to the point of purchase or use.
Key Logistics Companies
The primary factor driving the 3.72% annual growth of non-cold-chain logistics through 2021 is the increase in outsourcing logistics activities by pharmaceutical companies to third-party logistics service providers. Prominent players operating in this market include:
Agility

FedEx

UPS

Biocair

Biotec Services

Cold Chain Technologies

Continental Air Cargo

Kerry Logistics

L&M Transportation Services

LifeConEx

Nordic Cold Storage
Where to Learn More
For more information on cold chain and non cold chain logistics, be sure to check out Pharmaceutical Drugs and Biologics Logistics Global Market Opportunities And Strategies To 2021, a report from The Business Research Company. This report answers such questions as:
Where is the largest and fastest growing market for pharmaceutical drugs and biologics logistics?

How does the market relate to the overall economy, demography and other similar markets?

What forces will shape the market going forward?
---
About the Business Research Company
The Business Research Company has published over 300 industry reports, covering over 2400 market segments and 56 geographies. The reports draw on 150,000 datasets, extensive secondary research, and exclusive insights from interviews with industry leaders.
The Business Research Company's management team has more than 20 years of varied business research experience. They have delivered hundreds of research projects to the senior management of some of the world's largest organizations. The Business Research Company's consultants have master's qualifications from top institutes and include MBAs, MSCs, CFAs, and CAs. The Business Research Company's consultants gain training and qualifications from the Market Research Society and are trained in advanced research practices, techniques, and ethics.
---
You May Also Like