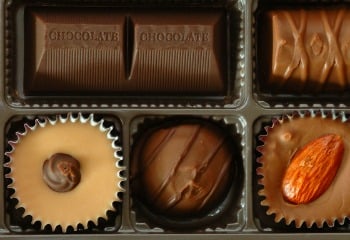 It's no secret that chocolate holds widespread appeal. Chocolate is a popular impulse buy, and you can find tempting displays of chocolate nearly everywhere — from the candy aisle in supermarkets to the checkout lane of department stores.
Chocolate is often a favorite flavor of American consumers, and ongoing research continues to demonstrate the health benefits of chocolate, further boosting its appeal.
Nearly 80% of U.S. adult consumers say they eat chocolate candy, according to a recent survey by consumer research firm Packaged Facts.
But how big is the U.S. chocolate market? What are the biggest candy companies, and which types of chocolate do consumers buy most? For more information, check out the infographic by Packaged Facts on the chocolate industry below.

Share this Image On Your Site
1. U.S. chocolate sales
The chocolate market is "dynamic and growing," according to Packaged Facts. In 2016, the U.S. chocolate market was expected to reach $22 billion in projected sales. The long-term industry outlook is also bright — sales are expected to rise through 2020 and beyond.
2. Premium chocolate market share
Premium chocolate account for 18% of dollar sales. Although the chocolates industry is dominated by a few large behemoths, an influential group of superpremium candy producers contribute to the competitive landscape as well.
3. Leading chocolate candy companies
Hershey and Mars dominate the U.S. chocolate market. Other established global chocolate candy brands include Nestle, Mondelez, Lindt, Yildiz, Ferrero, Ferrero, Perfetti van Melle, General Mills, Haribo, Storck and Ritter Sport. For a comprehensive list of candy brands, see the Candy Industry's list of top 100 candy companies in the world.
4. Halloween candy sales
While there are hundreds of candy companies fighting for market share, Halloween candy sales are dominated by a few key players. In fact, the top four marketers of seasonal Halloween chocolate account for almost 98% of the segment's dollar sales.
5. The dark chocolate trend
The Packaged Facts survey found that 48% of U.S. consumers purchased dark chocolate in the last year. Dark chocolate fits nicely within the "clean eating" trend. Because dark chocolate is associated with many health benefits, consumers can enjoy dark chocolate more or less guilt-free.
6. Online an important channel
About 30% of shoppers purchased candy online. Shoppers purchase chocolate candy on online candy stores, as well as other popular sites such as Amazon.
To gain more in-depth insights, read the study Chocolate Candy Market in the U.S., 11th Edition, which draws on extensive secondary and primary market research, including a proprietary online consumer survey focusing on chocolate product shopper insights.
Interested in broader food trends shaping the industry in 2018? Check out a free downloadable PDF by Packaged Facts titled 10 Top Food Industry Trends. Click on the button below to learn more.
---
About the Author: Sarah Schmidt is a Managing Editor at MarketResearch.com, a leading provider of global market intelligence products and services.
---
You May Also Like