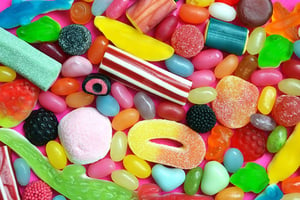 With the holiday season in full swing, there's still plenty of time and opportunity to savor a sweet treat or two before the year is out (and the New Year's diet resolutions kick in).
Often, this indulgence occurs in the form of candy – and not only during the holidays, but year-round. So it should come as no surprise that the chocolate and non-chocolate candy industries are poised to grow 2.8% and 3.7%, respectively, through 2022, according to statistics from Chocolate Candy: U.S. Market Trends and Opportunities, 12th Edition and Non-Chocolate Candy: U.S. Market Trends and Opportunities, two new comprehensive reports from Packaged Facts.
There's no question that US consumers love candy. Per Packaged Facts, over 80% of American adults will consume chocolate and other candies in 2018, with spending on chocolate confectioneries alone expected to top $23 billion for the year. And with food gifts a mainstay of most major American holidays – particularly the winter ones – it doesn't seem like consumers are in danger of losing their collective sweet tooth anytime soon.
Take a look at a few key trends expected to drive the candy industry in the years to come.
1. Non-Chocolate Candy Companies Increasingly Focus on Novelties
For non-chocolate confectionery producers in particular, novel experiences will serve as a propellant for growth. Producers of these candies are expected to emphasize fun, more flavorful products to catch consumers' eyes and dollars.
In general, children and young adults seeking a sugar rush like no other will continue to serve as the main consumer demographic for these products.
2. Will Wellness Trends Restrain Confectionery Growth?
While candy has largely retained its popularity with the US buyers, manufacturers of chocolate and non-chocolate confectioneries alike are keeping an eye on growing consumer affinity for health and wellness lifestyle trends.
To that end, producers are shifting toward recipes that employ more natural and organic ingredients, in addition to eliminating GMOs, artificial additives, and high fructose corn syrup. Furthermore, candy companies are expected to incorporate more nutritious add-ins like nuts, seeds, and fruits to appeal to older, more health-conscious demographics.
Chocolate manufacturers may seek to widen appeal with more snacks made from dark chocolate, which has some widely noted health benefits.
3. Candy Companies Court Eco-Conscious Consumers with Sustainability Initiatives
In addition to higher quality ingredients, eco-conscious consumers are increasingly looking for improved transparency and sustainability in the food production and supply chain, and confectioneries are no exception. Some major candy companies have taken note and adapted their sustainability strategies to address these concerns. Here's an overview of a few notable examples:
Mars: Earlier this year, Mars – which makes Snickers, Twix, and M&Ms, in addition to its own namesake chocolate bars

–

announced plans to invest $1 billion over the next few years to fight climate change, including investment in wind and solar energy, renewable food sourcing, and renewable farming practices.
Hershey: Hershey is planning to invest $500 million through 2030 to expand its Cocoa for Good program, which is focused on improving sustainable practices in cocoa production.
Mondelēz: Mondelēz operates the Cocoa Life sustainability program, which is intended to improve sustainability and profitability for cocoa-growing farmers in Ghana, Côte d'Ivoire, Indonesia, India, the Dominican Republic, and Brazil.
Download the Full Candy Reports
This article focuses on just a few key trends in the US candy market. For more comprehensive coverage of the chocolate and non-chocolate candy industries – including historical trends, total demand, and total shipments in relation to other key snack food markets – be sure to check out the full reports from Packaged Facts.
Click the buttons below to view the full report pages for Chocolate Candy: U.S. Market Trends and Opportunities, 12th Edition and Non-Chocolate Candy: U.S. Market Trends and Opportunities.
---
Check Out These Related Articles