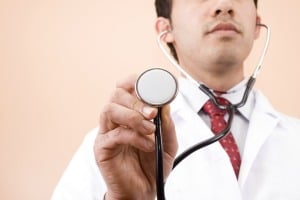 The Chinese economy has grown substantially from a GDP of $1,931 billion in 2004 to reach $10,355 billion across 2014, a 10-year CAGR of 10.3%. Many analysts forecast that Chinese GDP will surpass US GDP, currently the globe's largest, by 2020; some forecast even sooner. This rise in GDP has been mirrored across many sectors in China, with increased levels of spending in public infrastructure, manufacturing, healthcare and many, many other domestic industries.
Chinese Healthcare Spending
The Chinese government has increased spending in healthcare to allow greater access to health centres & treatment; this is in addition to Chinese citizens themselves spending more on healthcare as increasing numbers of the population enter the middle class income bracket. Total Chinese healthcare spending topped $590.2 billion in 2014.

Such strong growth across the last decade in the China healthcare market, along with a double digit forecast for growth across the next decade, means that China's healthcare market has lucrative opportunities across the pharmaceutical / healthcare spectrum. GMR Data published 'The China Medical Devices Market to 2025' in May 2015, a report that highlights medical device manufacturers / suppliers in the China medical devices market, as well as key regulatory factors, forecasts, analysis and an exclusive interview with Siemens Healthcare.
The technological skill set, historically-possessed by foreign (non-Chinese) medical device companies, is increasingly being challenged. Many non-Chinese medical device companies have found that acquiring an existing Chinese company has allowed them a great access point to the China Medical Devices market.
China's Medical Devices Market
The China medical devices market was typically characterised as the 'low-cost' producer of 'low-end' medical devices whilst typically importing 'high-end' medical devices. Since 2009, due to government intent and a more enabling regulatory framework, many local Chinese medical devices companies are venturing into and supplying locally-manufactured 'high-end' medical devices. Such 'technological upgrade' is rendered possible due to the adoption of global manufacturing standards and strengthened soft-infrastructure. As a multitude of Western-trained Chinese scientists, engineers and students are employed by local Chinese medical devices companies, they can, in turn, produce locally-manufactured high-end medical devices.
The historical regulatory scenario for medical devices in China, prior to 2010, meant that the European 'CE' mark or the U.S. FDA 510(k) approval were suffice to enter the China medical devices market. Post-2010, a China government / CFDA (the China FDA) ruling meant that CFDA approval was mandatory for any new devices entering the market; however, the ease of obtaining CFDA approvals increase if certain classes of medical devices already bear the European 'CE' mark or the U.S. FDA 510(k) approvals.
For additional information on the China Medical Devices market & free sample pages from the study, check out GMR Data's full report.
Editor's Note:
This post was written by Simeon Pinder, Senior Analyst at GMR Data.
About GMR Data
GMR Data is an independent, business information research company. They were founded on the core principles of independence, financial and market accuracy, plus developing innovative business critical topics. GMR's dedicated, qualified analysts, researchers and writers produce up to date, quantifiable information which allows the company to produce accurate, forward facing reports across a variety of business sectors.
Additional Articles by GMR Data