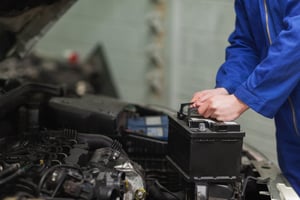 The automotive aftermarket — the secondary market for vehicle parts used in repair and maintenance — encompasses everything from brake parts to filters to batteries. Automotive aftermarket companies include General Motors, Bosch, Standard Motor Products, Denso, Federal-Mogul, and CARDONE Industries, among others.
According to an ebook by The Freedonia Group, a research firm with a long history of analyzing the auto aftermarket, North America contains a large and growing number of light vehicles, which continues to drive the demand for car parts and related services. Here's a closer look at industry statistics from Freedonia's research.
The number of cars, sport utility vehicles, and light trucks in use in North America reached 313.3 million units in 2016, and the demand for automotive aftermarket parts hit $55.8 billion the same year.
The demand for brake parts in Mexico will rise at the fastest rate in North America, because of the increasing number of light vehicles in use and the advanced age of these vehicles.
Key trends in automotive brake parts include the ready availability of cheap imports, lightweighting technology in automotive manufacturing, and regenerative braking systems.
The demand for aftermarket automotive electronic components in North America is expected to increase 5.2% per year through 2021 to reach $13.6 billion.
Sales of electronic brakes and engine management systems will be driven by new safety regulations, fuel efficiency and emissions standards, and the number of hybrid and electric vehicles.
Sales of automotive filters will grow alongside the rising number of light vehicles in North America; however, enhanced, longer-lasting filters will reduce the need for routine maintenance.
Transmissions and related parts accounted for 45% of the powertrain aftermarket in North America in 2016. The rising number of electronic parts in powertrain systems will raise replacement costs due to increasing complexity.
Read the full ebook to find out more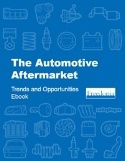 To get more data and analysis on the North American auto aftermarket, download Freedonia's free ebook, which includes information on market share, market forecasts, key trends, leading industry players, and demand by performer.
In addition, the ebook also provides infographics highlighting auto parts industry analysis and opportunities for automotive part suppliers and aftermarket auto parts distributors.
Related industry studies
Interested in more comprehensive market reports? Check out the following links for studies on the automotive aftermarket in North America for:
About the publisher: The Freedonia Group is a leading international business research company that serves more than 90% of the industrial companies in the Fortune 500. Freedonia's analysts are frequently quoted in a wide range of publications including Aftermarket Business, Forbes, The Economist, Tire Business, and The Wall Street Journal.
Related articles