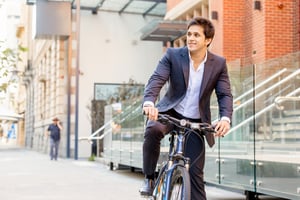 Electric bicycles, also known as e-bikes, are an up-and-coming technology that has already gained widespread use in China and Japan. However, the e-bike industry overall is still in an early stage of development with significant room for growth across the world.
Between 2019 and 2024, the demand for e-bikes is expected to rise at a fast rate in many countries, including the U.S., the U.K., Italy, Spain, Switzerland, Brazil, and India, to name a few — this according to new data from The Freedonia Group, a leading market research firm and division of MarketResearch.com.
Following are some key factors to know about this growing market.
Types of Electric Bikes
An e-bike is a conventional bicycle that has pedals and an integrated electric motor that can both be used to propel the rider. There are four main types of e-bikes:
Commuter-type

E-mountain bike

E-cargo bike

Compact, foldable bike
Globally, the commuter-type e-bikes are the most common, but e-mountain bikes and e-cargo bikes have also risen in popularity.
E-Bike Market Growth
Global e-bike demand is projected to increase 3.7% per year in unit terms between 2019 and 2024. The following video from The Freedonia Group contains some additional electric bicycle statistics regarding market growth.

Impact of COVID-19 on the E-Bike Market
Although long-term market growth is projected, the global e-bike market is expected to dip in 2020 due to the economic fallout related to the COVID-19 pandemic. Decreasing consumer spending, supply chain disruptions, and closures of e-bike factories and retailers will negatively impact the market over the short-term.
"However, the e-bike market is expected to perform fairly well compared to other durable goods markets," writes the report's author and longtime industry analyst Gleb Mytko. A quick recovery is expected due to the surging popularity of e-bikes in many countries and the increasing appeal of e-bikes as an alternative to public transportation.
During the COVID-19 pandemic, e-bikes have become a go-to option for many urban commuters looking to socially distance on their way to work. E-bikes allow commuters to travel greater distances and at higher speeds than conventional bicycles. They are also usually less expensive than electric scooters, motorcycles, and mopeds, and usually do not require insurance or a license.
The Largest Electric Bike Market
E-bike technologies have a strong foothold in China, which is the world's largest market for e-bikes by far. Although China is a more mature market that is not expected to achieve a high growth rate, the country will still account for nearly half of all new product demand.
Key Market Drivers
Outside of China, e-bike demand is projected to grow at a fast rate year over year, due to a variety of trends:
Growing consumer awareness and increasing availability of e-bikes

Rising personal incomes in developing nations

Introduction of more capable and powerful e-bikes

Government policies that seek to boost the use of e-bikes in an effort to combat climate change and air pollution

E-Bike Companies to Watch
Key industry players include:
Aima Technology Group
Accell Group
Giant Manufacturing
Jiansu Xinri
Merida
Pedego Electric Bikes
Pon
Rad Power Bikes
TAILG
Trek Bicycle
Yadea
Where to Learn More
For more in-depth information, be sure to read the full report Global E-Bikes with COVID-19 Market Impact Analysis, which covers the scope, size, and growth of the global e-bike market, with targeted data for 19 countries in North America, Central & South America, Western Europe, Eastern Europe, Asia/Pacific, and Africa/Mideast.
In addition, the study analyzes the structure of the global e-bike industry and gives market share figures for leading producers.
---
About The Freedonia Group: The Freedonia Group, a division of MarketResearch.com, is a leading international industrial research company publishing more than 100 studies annually. Since 1985 we have provided research to customers ranging in size from global conglomerates to one-person consulting firms. More than 90% of the industrial companies in the Fortune 500 use Freedonia Group research to help with their strategic planning.
---
Additional Articles