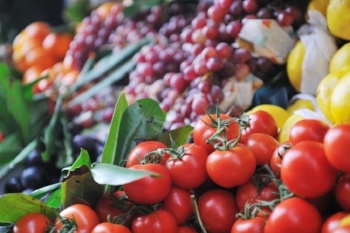 For many of today's consumers, food is considered an essential component of overall health & wellness. Grocery shoppers are not only looking for clean-label, "free-from" foods, they're also seeking products with added health benefits such as disease prevention and weight loss.
Food retail has shifted in response to consumer demands for better-for-you products. The research firm Packaged Facts has tracked these developments closely in a number of comprehensive market studies on food retail. Based on this research, here are three grocery industry trends to watch, as we look ahead to the future.
1. Non-GMO and Organic Foods Become Mainstream
With health & wellness a growing priority for many consumers, it's no surprise that the natural and organic foods market segment is experiencing strong, steady growth:
The natural and organic foods market segment is worth nearly $70 billion.
From 2012 to 2016, U.S. retail sales for natural and organic foods rose at a CAGR of 7%.
By 2021, growth is expected to hit double digits.
Non-GMO foods are part of this trend as well. All organic foods are non-GMO, though not all non-GMO foods are organic. The demand for non-GMO products is linked to an expanding consumer preference for healthier foods that have fewer "unnatural" ingredients.
A variety of mainstream grocers have already taken a bite out of the market for natural, non-GMO, and organic products. Now consumers can purchase natural and organic foods in most supermarkets and mass retailers — from Costco to Walmart — and the competitive landscape has expanded into a broader battle for market share.
While the demand for natural and organic foods is increasing, food retailers will face a number of significant challenges in the coming years, including heavy discounting, industry mergers, and increased competition from ALDI, Lidl, and Amazon.
Find Out More → For a comprehensive assessment of the organic foods market, see the report Whole Foods, Trader Joe's, and Natural Channel Grocery Shopping.
2. Probiotics Capture Interest of Millennials
A 2017 national consumer survey found approximately 25% of U.S. adults seek out foods and beverages with high amounts of probiotics and prebiotics.
Prebiotics and probiotics are thought to support a healthy gut and "microbiome," potentially boosting immune health and alleviating a variety of ailments. Probiotics are live microorganisms that take up residence in the intestines, while prebiotics are the dietary fiber that feeds them.
Although many health claims for probiotics have not been clinically proven, there's no sign of a slowdown in the probiotics market anytime soon.
Probiotics are often found in yogurt, kefir, and kombucha. Companies are also adding probiotic strains to just about every packaged product you can think of, including juices, cheese, meal shakes, cereal, snack bars, spreads, chocolate, and chips.
Compared to gen Xers or baby boomers, millennials have higher interest in functional foods with health-promoting properties. In addition, probiotics are catching on with consumers who shop in natural food stores.
Find Out More → Probiotics and Prebiotics: Food and Beverage New Product Trends covers the current and future potential for probiotics in the packaged food and beverage industry.
3. Fresh Produce Market Grows Gradually
To avoid prepackaged, processed foods, consumers are often instructed to "shop the perimeter" of a grocery store. As more people embrace this lifestyle shift, foot traffic has increased along the outer aisles where fresh fruits and vegetables are sold.
Consumption of fresh produce grew about 1.3% between 2011 and 2016. Packaged Facts predicts modest annual gains over the next several years. Increasing disposable income and food marketing strategies that emphasize health and taste will help drive market growth.
Certain demographic groups can be targeted to increase sales, such as parents of young children who are seeking healthy foods to prevent childhood obesity. Flexitarians — people who eat a semi-vegetarian, plant-based diet — are also more likely to consume more fruits and vegetables.
Baby boomers are another key demographic; with more age-related medical concerns, baby boomers often prioritize healthy eating more than other age groups.
Find Out More → Check out the new study Fresh Produce: U.S. Market Trends and Opportunities for forecasts and key trends driving consumer purchases for fresh fruits and vegetables.
Get More Information
Interested to learn about more grocery industry trends? Download a free ebook by Packaged Facts titled Top 10 Food Industry Trends to get the information you need to adapt to changing consumer preferences.
Other Articles You May Also Like