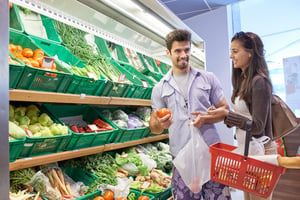 The food industry has many large, mature categories, but the competitive landscape is far from static. Food marketers and retailers are constantly strategizing how to profit from the hottest market segments, update their product lines and service offerings, and reel in the most lucrative consumers.
In 2019, meat substitutes and alternatives remain a focus for many start-ups and major food companies alike, as they compete for an edge in the emerging category of lab-based meats.
Food product marketers are also finely attuned to the preferences of affluent American consumers — who spend more than $100 billion on food purchases a year — and are more likely to favor natural and organic products. The desire for clean-label products also crosses over into the breakfast category, where health and wellness is a key concern for a growing number of consumers.
Another huge trend to watch is the rise of food e-commerce in regions across the globe. More and more consumers are embracing an entirely different kind of grocery shopping experience.
To learn more about these trends, check out the article below, which features insights from recent reports by Packaged Facts, a leading market research firm and division of MarketResearch.com.
1. Major Food Companies Invest in Meat Substitutes
With an increasing number of consumers opting for plant-based foods, the meat substitutes and alternatives market has moved well beyond traditional veggie burgers and bean burgers. Food brands such as Beyond Meat and Impossible Burger feature plant-based burgers that rival the taste, texture, and juice of beef.
The concept of lab-grown or cultured meat — which is created by in vitro cultivation of animal cells — is garnering plenty of attention. Tyson and Cargill, as well as Bill Gates and Richard Branson, have all invested in start-up Memphis Meats, a food technology company based in Berkeley, California, working to grow cultured, cell-based meat.
Packaged Facts estimates retail sales of meat substitutes in the U.S. at about $1 billion. However, meat substitutes aren't the only way food companies seek a competitive edge. Products that offer premium organic ingredients, grass-fed, free-range, and locally raised animals can also stand out.
Find Out More → U.S. Food Market Outlook 2019 uncovers new product trends, marketing strategies, and key opportunities for future growth in 14 food categories.
2. Wealthy Americans Purchase More Natural and Organic
Given the high prices of natural and organic foods, it may come as no surprise that wealthy consumers are more likely than non-affluent shoppers to eat more natural and organic foods. Wealthy Americans are also more likely to shop at Whole Foods, Trader Joe's, farmer's markets, or specialty and gourmet outlets.
Affluent shoppers are a key consumer segment for the food industry; collectively, they spend 74% more than less affluent households on food purchases each year.
Grocery stores that are looking to attract affluent consumers should reflect the values of the natural channel by showcasing products that are fair trade, local, sustainable, and humane. Another way to attract affluent consumers is to offer brands that fit the affluent consumer mindset — with a philanthropic image and products with ingredients that are characterized as pure, real, honest, authentic, fresh, and safe.
"Since affluent food shoppers are far more likely to buy organic fresh and frozen foods, stores need to provide a full range of options in this category," says David Sprinkle.
Find Out More → Affluent Food Shoppers explores the food shopping and buying patterns of affluent food shoppers, who are defined as those with a household income above $150,000 or more.
3. Spotlight on Better-for-You Breakfast Products
Buzzwords like "organic," "natural," "wholegrain," "non-GMO," and "all-natural" are increasingly important for packaged breakfast foods as well. However, consumers define "healthy" in a variety of ways.
According to David Sprinkle, research director and publisher of Packaged Facts, more and more Americans adhere to diets that cut out gluten, dairy, and other allergens, while others embrace vegetarianism and veganism. Sugar is another ingredient that many consumers want to reduce or eliminate — which is common in many packaged breakfast foods such as cereal and pastries.
"Ultimately, finding future success in the breakfast market will require greater innovation that combines consumer focus on healthier food options with their need for portability and on-the-go breakfast products," Sprinkle says.
Find Out More → Breakfast: Retail Product Trends and Opportunities in the U.S., 2nd Edition covers consumer usage patterns, marketing strategies, and market innovation. Data sources include proprietary consumer surveys.
4. Global Food E-Commerce Sales Surge Higher
Although plant-based trends and health and wellness factors play a big role in product innovation, the overall customer shopping experience is also transforming as well.
Increasingly, consumers are flocking to buy groceries online. Global food e-commerce sales are expected to nearly triple through 2023, reaching $321 billion, according to data from Packaged Facts.
Expanding internet access and smartphone penetration are primary growth drivers in emerging food e-commerce markets. Countries with technologically developed and large urban centers boast the highest e-grocery spending, including click-and-collect services and home delivery.
In 2018, more than 75% of food e-commerce revenues were concentrated in the top five markets: China, the U.S., Japan, the U.K., and South Korea. The Asia/Pacific region is projected to make up the majority of absolute market growth, mostly due to the fast-growing Chinese market.
Find Out More → Global Food E-Commerce covers the scope, size, and growth of the global food e-commerce market including key trends in major regions and national markets.
---
About Packaged Facts: Packaged Facts publishes market intelligence on a wide range of consumer market topics, including consumer demographics and shopper insights, consumer financial products and services, consumer goods and retailing, and pet products and services. Packaged Facts also offers a full range of custom research services. Reports can be purchased at our company website and are also available through MarketResearch.com.
Additional Articles