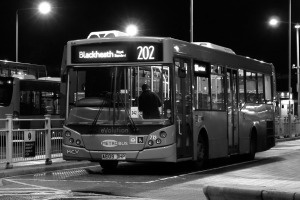 When it comes to transportation in the US, most people drive themselves. The US Census Bureau's American Community Survey 5-year estimates for 2014 indicate that about a quarter of American workers get to work primarily by driving themselves. In 2014, there were 214 million licensed drivers in the US, and light vehicles traveled 2.7 trillion miles.
However, according to the Bureau of Economic Analysis, between 2000 and 2015 consumer spending on public transportation services outgrew spending on new motor vehicles, with the former increasing at a compound annual growth rate (CAGR) of 2.2 percent and the latter at a CAGR of 1.8 percent. In 2015, consumer spending on public transportation exceeded $100 billion in the US for the first time ever.
Public Transport
In 2014, just over 5 percent of workers utilized some form of public transport for their commute to work. Over half of those workers who use public transport took a bus or trolley bus. Another third rode a subway or elevated rail. Use of mass transit is concentrated in highly urban areas. According to the American Public Transportation Association, the three largest public transit agencies by ridership are in New York City, Chicago, and Los Angeles. New York City's Metropolitan Transit Authority serves about one third of those who use mass transit in the US.
Of course, commuting to work is not the only reason people leave their homes. According to the National Household Travel Survey's 2009 Summary of Travel Trends, 21 percent of trips are taken for shopping, 22 percent for family or personal errands, and 27 percent for social and recreational purposes. Commutes to work only account for 16 percent of trips.
Long Distance Travel
For long distance travel, people tend to either drive themselves or take an airplane. Other options for long distance travel include long distance rail or motorcoach. In 2015, there were nearly 700 million domestic passenger enplanements in the US. Amtrak, virtually the only option when it comes to long distance rail, has seen substantial growth in ridership over the past decade, exceeding 30 million passenger trips in their 2015 fiscal year. According to the American Bus Association's 2015 Motorcoach Census, Motorcoaches provided nearly 604 million passenger trips in the US and Canada in 2014. Just under half of those passengers were either students or senior citizens.
Learn More
For more in-depth analysis of trends in consumer spending on public transport services with projections to 2020, see Public Transport: United States, a report published by the Freedonia Focus Reports division of the Freedonia Group.
Luke Hickman
Freedonia Focus Report Analyst
The Freedonia Group