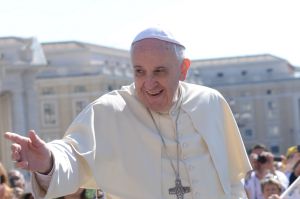 As Pope Francis arrives for his first visit to the U.S., the media spotlight will turn to the Catholic Church. In this blog post, we'll help set the stage for his visit by taking a step back to explore different factors that are shaping the role of religion. What does survey data tell us about the demographics behind religion? And what religious trends can we expect to see in the future? Will Pope Francis manage to increase the appeal of the church through his visit? Read on for some possible answers.
Religious Data Worldwide
Approximately 85 percent of the world's population belongs to a religious organization, or about 5.8 billion people worldwide, according to Religious Organizations, a 2015 report by First Research, Inc. One-third of the world's population identify as Christian. Catholics are the most numerous among Christian denominations.
Within the United States, there are 320,000 religious congregations. About 70 percent of Americans identify as Christian, and one-quarter of Americans attend services once a week. Older Americans are more likely to attend church than younger generations.
Religious Trends in America
Over the coming years, experts expect to see slowing participation numbers and donations as well as increased skepticism among younger generations, according to an IBISWorld report. Although church attendance will likely decrease in the future, religious organizations will experience a gradual growth in revenue as their congregations obtain higher disposable incomes.
Immigration patterns will continue to influence the religious composition of the United States. About 34 percent of American Catholics are Hispanic, up from 29 percent in 2007, according to the Pew Research Center. More than 25 percent of American Catholics were born outside the United States.
The "Francis Effect"
Pope Francis remains hugely popular among American Catholics; in fact, 86 percent have a positive view of him, according to Pew. With 22 million Twitter followers, Pope Francis has become a social media rock star and has quickly endeared himself to parishioners and non-Catholics alike. Even among Americans who have unfavorable views of the Catholic Church, 50 percent view Francis favorably.
Analysts speculate about a possible "Francis Effect" that could energize Catholics and draw more people to the church. In the past, however, papal visits did little to increase Catholic affiliation, according to surveys by the NORC Center for Public Affairs Research.
Whether or not the pope's U.S. trip will affect religious participation in the U.S. remains to be seen.
Where to Learn More
The reports mentioned above by IBISWorld and First Research Inc. are available on Profound. Check out the Profound website to sign up for a free trial and learn more.
Sarah Schmidt
Marketing Writer/Editor
MarketResearch.com