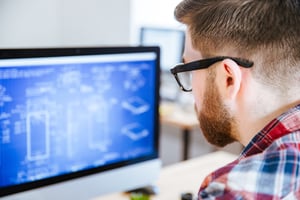 The global economic shock from the COVID-19 pandemic will immediately impact scientific, technical and medical publisher's transactional business such as books, individual journal sales, advertising and reprints promotion.
The length of the lockdown is a huge variable. But there's also turbulence on the reentry. There is no playbook for how to restart a global economy after a crisis that simultaneously cut so many of the individual connections that support the system.
Varied Impact Across Segments
The sales decline in STM print books could be drastic, in excess of 20% in 2020. Individual e-book sales will also suffer, offset somewhat by subscription book revenue for those competitors who offer it.
On the other side, STM subscription journals, databases and tools will be stable in 2020 as most are locked into 3-year contracts. There will be immediate pain in advertising, reprints and royalties, but the possibility of lower revenue from subscription happens as the contracts expire.
At the same time, the corona crisis reinforces some key drivers in journals. Government around the world have pushed research and development spending as a path to a better future creating a global R&D arms race of sorts. The corona pandemic will only intensify this. The public health and commercial interests both will drive new spending on research.
The push for more research will work hand in hand with the current push for open access in the academic world. Simba Information sees this as accelerating the trend toward transformative open access agreements and growth in article processing charges.
STM Publishers Adjust to a New Market Landscape
The leading STM publishing competitors have not issued extensive statements on COVID-19, but most have addressed its impact in some way.
Elsevier's corporate parent RELX release a statement that acknowledged that prolonged restrictions on movement could potentially impact the company's ability to conduct new sales in person and distribute print products, but that most of Elsevier revenue was stable because it is 75% subscription based.
In an investor update, John Wiley & Sons called its financial position "fundamentally strong," but said global isolation measures aimed at halting the COVID-19 spread will have a significant adverse impact on fourth quarter results. Wiley said it is expecting:
Declines in print book sales due to indefinite closings of retail bookstores,
Declines in businesses that rely on in-person engagement, primarily test prep and corporate training,
Delays in closing annual journal subscription agreements in certain parts of Europe and Asia due to challenges of remote selling and university disruption, and
Delays in customer payments due to widespread disruption and pervasive cash conservation behaviors in the face of uncertainty.
As a result, Wiley reduced its fiscal year 2020 outlook for revenue by $50 million.
Informa's recent statement also highlighted the importance of a "resilient and predictable" subscriptions businesses, with strong subscription renewals at Taylor & Francis and positive annualized contract values at Informa Intelligence.
Where to Learn More
For more inside intelligence about the STM publishing market and leading players, see Simba Information's report STM Online Services 2019-2023.
Other great resources include the newly published blog posts "The Rise of Text Mining and Growing Corruption in STM Publishing" and "The Pandemic, Disinformation and the Pace of Change in STM Publishing."
---
About the author: Dan Strempel is a Senior Analyst at Simba Information, where he has authored more than 26 studies over the past 14 years. His research has been cited in numerous publications including CNBC, Newsweek, Publishing Executive, The Association of American Publishers, and The Society for Scholarly Publishing. You can follow Dan on Twitter, where he shares industry news and analysis.