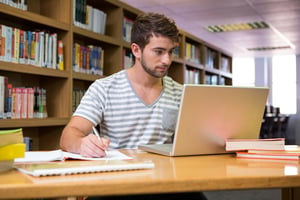 For years, Simba Information's Professional group has served the information needs of publishers large and small in the market for Scientific, Technical and Medical (STM) research. Elements at the heart of Simba's coverage have been detailed market sizing, forecasts and trend analysis — whether it be in newsletters, syndicated reports or custom research.
We have seen and covered digitization, consolidation, automation and — most recently — the transition from a closed subscription-based system for reading STM papers to one based on the principals of Open Access to research.
Publishers fought this movement initially, and since have come to accept a need for change, but have urged caution about the pace at which such a change would take place. Scholarly publishing is a centuries-old system that controls the way in which critical scientific research is authored, vetted and disseminated.
The debate over how to proceed has raged since the Berlin Declaration laid down a set of basic open principals in October of 2003. Still, for scientists, Open Access was largely voluntary until in the period between 2008 and 2011 when research funders and prestigious universities started to mandate authors either deposit their papers in free open repositories or publish in Open Access journals.
It is against this backdrop, that the COVID-19 pandemic landed with a thud last year. The race to develop treatments and vaccines brought these issues to the forefront and accelerated the pace of change towards Open Access. STM publishers immediately moved to make access to COVID-19 research free so it could be shared easily among researchers so discoveries could be tested and form the basis for new research and new discoveries. The release of all COVID-19 papers also served as a check against the spread of disinformation.
"Pirate Queen" of Science Papers Rebrands Herself as Disinformation Crusader
Now — according to a recent article in Vice of all places — that question of disinformation is being cited by the largest illegal repository of science papers as justification for its black-market activities.
Sci-Hub was founded in 2011 by Alexandra Elbakyan, a Kazakhstani computer programmer who claims she was inspired by the arrest of an American researcher named Aaron Swartz, who allegedly hacked into servers at MIT to illegally download millions of papers. Swartz, who was 26 at the time, was indicted in July 2011 on charges that could have put him in prison for 35 years and earned him a $1 million fine. He never made it trial. Swartz hung himself in his Brooklyn apartment in January 2013.
Sci-Hub uses myriad techniques, including shared passwords and bugs on publisher websites, to rip copyrighted papers. The site has amassed more than 85 million full-text research articles, which are available, for free, to anyone who can track down the custom search engine.
Elbakyan told Vice that the pandemic — and the new era of digital disinformation — helped Sci-Hub grow its daily users by 20%, from 500,000 to 600,000. During lockdown, people accessed articles about the coronavirus 10 to 100 times more often than articles about other diseases.
"Before Sci-Hub there was no way to easily check if some scientific fact was actually true, because you need to check actual research journals that publish peer-reviewed information," she said.
The disinformation argument comes off as a well-timed appeal for public support at a time when Elbakyan faces lawsuits and investigations. In 2016, the publishing giant Elsevier won a copyright infringement suit against Sci-Hub in the United States. The decision had little discernible consequence for Sci-Hub's operations. Sci-Hub is currently fighting another battle against Elsevier and other publishers in an Indian court. Elbakyan is also being investigated by the U.S. Department of Justice and the FBI.
Learn More About the STM Publishing Market
Simba Information's latest report Global Scientific & Technical Publishing 2021-2025 provides detailed information about the dynamics of STM publishing, including the impact of the COVID-19 pandemic and the open access movement.
Along with exclusive data and analysis on market sizing, market share, and market forecasts, the report also profiles the performance and strategies of 10 leading scientific & technical publishers including Elsevier, Springer Nature, John Wiley & Sons, Informa, Pearson, and others.
---
About the author: Dan Strempel is a Senior Analyst at Simba Information, where he has authored more than 26 studies over the past 14 years. His research has been cited in numerous publications including CNBC, Newsweek, Publishing Executive, The Association of American Publishers, and The Society for Scholarly Publishing. You can follow Dan on Twitter, where he shares industry news and analysis.