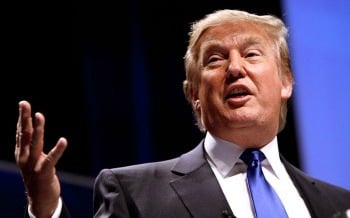 How will President Donald Trump affect the economy in the coming weeks and years? Which industries face the biggest shifts? How can you be prepared for what's next?
Several market research firms are weighing in as various issues jump to the forefront of the news cycle.
Here's a look at the latest #mrx tweets serving up data and analysis on the potential economic impact of Trump's presidency across different industries.
The Freedonia Group Analyzes the Proposed Mexico Import Tax
President Donald Trump's administration suggested a 20% tax on imports from Mexico to fund the construction of the border wall.
In a press release, Matthew Rolfe, Senior Market Research Analyst at the Freedonia Group, discusses the possible ramifications for US consumers, manufacturers, and service providers.
Freedonia Analyst Weighs in on Proposed #Mexico Import Tax https://t.co/8okzsiyHnI #mrx #marketresearch #taxes

— Freedonia Group (@FreedoniaGroup) February 7, 2017
"Mexico accounted for 13% of imports to the US in 2015," says Rolfe, "and is second only to China in supplying products to the US market. Moreover, Mexico's influence has only grown in the last decade; imports rose 5.6% per year, on average, between 2005 and 2015."
For more insights, check out Rolfe's blog post.
Euromonitor International Talks Travel Ban
On January 27, President Trump issued an executive order barring refugees from Iran, Iraq, Libya, Somalia, Sudan, Syria, and Yemen from entering the United States.
In a recent podcast, Nadejda Popova, Travel Project Manager at Euromonitor International, comments, "The announcement was issued without early notification which caused a lot of panic and confusion for both carriers and the travelers. I think the root of the problem for many was the lack of information, such as if the new executive order includes green card holders or dual nationals."
Donald Trump's Ban on Travel and Its Impact on The Airline Segment https://t.co/2v0IXWQMSP #mrx #podcast

— Euromonitor (@Euromonitor) February 7, 2017
Carriers based in the Middle East such as Emirtes Airlines and Qatar Airways, which have been rapidly expanding into the US market, may be heavily impacted. Popova notes that the ambiguity of these measures may cast a shadow over future travel demand as well.
Kalorama Information Assesses Drug Prices
President Trump recently remarked that the pharmaceutical industry "was getting away with murder." Bruce Carlson, Publisher of Kalorama Information, reflected on the news in a recent blog post.
"Lower priced drugs are a popular goal and to some degree the poor behavior of members of the pharmaceutical industry have brought this criticism on themselves — drug firms that have exponentially raised prices deserve the public furor they receive," Carlson says. "But it is our prediction that if he truly embarks on steps to reduce drug prices, he will find a general reduction of drug prices difficult to achieve."
Lowering #Drug Prices Isn't Easy https://t.co/GC3oocs8XV #mrx #marketresearch #healthcare #pharma #medicare pic.twitter.com/NFthvLCB8H

— Kalorama Information (@KaloramaInfo) February 6, 2017
According to Carlson, the complexity of today's drugs often comes with a higher cost of development. Although it is not impossible to lower prices, an across-the-board price decline is "an aggressive goal."
Mintel Explains the Post-Election American Consumer
Andrew Davidson, SVP/Chief Insights Officer for Mintel International, explores both sides of the coin when it comes to the stock market, unemployment rates, and the US economy.
What's in store for post-election American consumers? Our research tells an interesting story: https://t.co/fwBJo41Qod #Inauguration pic.twitter.com/rRxgX9gLjw

— Mintel Research News (@mintelnews) January 20, 2017
"Key indicators suggest that the US economy is gathering steam and consumers are gaining confidence," Davidson writes. "But scratch the surface, as we recently did in our post-election research, and it reveals that consumers are divided over whether the country can unite, their outlook for the economy, and their personal financial situation, with significant differences by gender, age, income, race/ethnicity, and where people live."
Now more than ever, brands need to be cautious, conduct thorough consumer research, and create hyper-relevant, targeted campaigns.
For more industry news and analysis, subscribe to the MarketResearch.com blog.
---
About the Author: Sarah Schmidt is a Managing Editor at MarketResearch.com, a leading provider of global market intelligence products and services.