Sales-wise, the impulse to give treats to pets is the gravy of the pet food market. According to Simmons National Consumer Survey data from Experian Marketing Services, 79% of dog owners and 47% of cat owners buy pet treats. Among U.S. households overall (total households, not just pet-owning households), 38% buy dog or cat treats—for perspective, that's about the same percentage as those that buy crackers.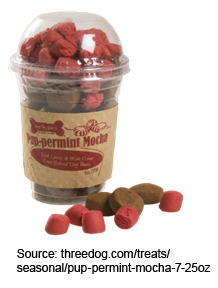 This pet treat impulse takes on holiday, seasonal, and special occasion dynamics. Packaged Facts' Pet Owner Survey data from January 2015 show that 42% of dog owners and 31% of cat owners got special gifts or treats for their furry pets for the Christmas/Winter holiday. Catering to this demand, natural dog treats marketer Three Dog Bakery Café riffs on seasonal coffeshop offerings with Beg Nog Latte or Pup-permint Mocha dog treat cookies, along with Honey Hearts Wafers and Puppy Kisses to Go for Valentine's Day.
On an everyday basis, however, it's nutrition rather than novelty that's giving punch to the pet treats market, especially for products positioned as natural. As in other consumer product markets, the "natural" positioning is tricky and nuanced, and can be interpreted along many different dimensions. For pet food and treats, as discussed in Packaged Facts' report, Pet Market Outlook 2015-2016 (publishing in late-April), new products with a natural positioning often provide some combination of these product features:
Ingredients with high nutritional value: use of whole and human-grade foods, superfoods; species-appropriate foods;
Meticulous sourcing of ingredients: transparency about origin of ingredients; sourced from the U.S., Canada, or other countries known for high-quality ingredients; no ingredients from China; farm-to-table; wild-caught fish; locally sourced or sourced from wild locales;
Absence of Ingredients Subject to Negative Perceptions: no poultry byproducts; grain-free; no corn, wheat, or soy; no additives; no artificial flavors, colors, or preservatives; free of antibiotics and hormones; no preservatives; no high-glycemic carbohydrates; limited ingredients; non-GMO;
Product forms that optimize nutritional value: raw, fresh, refrigerated, frozen, freeze-dried, dehydrated.
There are many paths to a natural positioning in pet treats, which have become a very dynamic category as manufacturers retool their product portfolios. And, these marketers are finding the current generation of "pet parents" (who are not merely pet owners) to be responsive to upgraded product concepts. For example, Packaged Facts' January 2015 survey found that 65% of dog owners and 55% of cat owners agree that targeted dog/cat treats with special nutrition can be beneficial to dogs/cats with specific health concerns. Hence, products often have a caring-means-curing (or at least health-concern-addressing) positioning, such as NPIC's Get Naked natural pet treats in formulations, including Joint Health, Skin & Coat, Puppy Health, and Super Antioxidant dental chews for dogs, and Weight Maintenance, Urinary Health, Kitten Health, and Furball Relief treats for cats.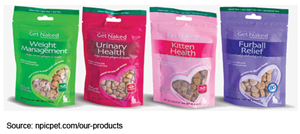 This nutritional treats trend has even gone to the birds. At SuperZoo 2014, ZuPreem launched Smart Selects bird food, described as a healthy and balanced combination of grains, seeds, and fruits offering great taste. The product offers essential vitamins and minerals, smart levels of fat and sodium, antioxidants, omega-3, and probiotics. ZuPreem simultaneously launched Smart Snacks bird treats—in Original Biscuit, Tropical Biscuit, and Blossom Biscuit varieties—echoing the healthy treat trend in the dog and cat markets.
The optimization and customization of pet nutrition has become a top priority of pet parents, both in feeding and in treating their animal kingdom companions. Thus, Petco introduced a new campaign in 2015 focused on proper nutrition, called "What We Feed Them Matters." As explained by Danielle Mohn, Petco Vice Oresident of Marketing, the point is both "celebrating the importance of the human-animal connection and educating pet parents that what we feed them really does matter."
For more information on pet treat trends, check out Packaged Facts' reports on the pet industry.
Packaged Facts research director David Sprinkle will be presenting on "Form and Function Trends in Pet Treats" at Petfood Forum's Petfood Innovation Workshop: Next Generation Treats on April 27, 2015.
Thanks for reading!
David Sprinkle
Research Director,
MarketResearch.com Publishing
Publisher,
Packaged Facts