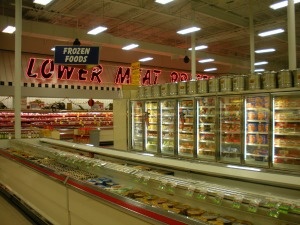 Food and beverage is the dominant market within the packaging industry. Consider the wide array of packages that fill a single grocery store — from corrugated boxes, plastic clamshells, and stand-up pouches to resealable tubs and moisture-resistant boxes. More than just containers, these packaging formats are designed for specific uses — such as promoting aesthetic appeal and brand recognition, or monitoring temperature and prolonging shelf life.
Demand is expected to rise for produce, meat, seafood, and poultry packaging through 2019. In addition, the demand for active and intelligent packaging is forecast to increase, with the growing need for more advanced packaging technologies such as specialized gas scavenging and moisture control. In this post, three research analysts from the Freedonia Group, an international market research company owned by MarketResearch.com, weigh in to highlight key packaging trends and interesting new developments to watch.
Produce Packaging
Growth in the packaging of produce will outpace the growth of fresh produce production. Packaging will take on a greater role in the protection, traceability, and marketing of fresh fruits and vegetables, according to Katie Wieser, a research analyst at the Freedonia Group who contributed to the new industry study Produce Packaging.
Corrugated boxes are the leading type of packaging for produce, with over 35 percent of demand in 2014. "Boxes are valued in both retail and foodservice due to their light weight, low cost, graphics capabilities, and well-established recycling infrastructure," Wieser explains.
In order to enhance the appeal of corrugated boxes as the primary container for bulk shipments, manufacturers created recyclable alternatives that can be substituted for wax-coated boxes, and developed modular box formats that are more easily stacked and shipped.
"Manufacturers of packaging continue to seek ways to reduce raw material consumption and lower packaging weights to cut costs and to use greater percentages of post-consumer recycled packing materials," says Mike Richardson, an industry analyst at the Freedonia Group.
Although there is significant demand for different types of corrugated boxes, the demand for packaging formats that possess aesthetic appeal is growing the fastest. Aesthetic appeal in produce packaging increases brand recognition. For example, pouches using anti-fogging films to allow for product visibility often feature colorful graphics to advertise nutritional properties and environmental sourcing practices, especially for products targeted to children. Convenience-focused packages such as pouches and plastic containers are increasingly used by producers of specialty varieties of grapes, tomatoes, potatoes, cucumbers, and apples in order to gain distinction in the produce department.
Meat, Poultry, and Seafood Packaging
Demand for meat, poultry, and seafood packaging will be driven by increased production to meet population growth, the expanding foodservice sector, and export opportunities.
Flexible packaging will outpace rigid packaging, especially for pouches and high-barrier films. Fresh, frozen, and processed items will increasingly be packaged in vacuum pouches. Stand-up pouches will make further inroads into folding carton applications.
"The prevalence of case-ready meats, which use modified atmosphere packaging (MAP) and vacuum packing, will drive gains for barrier films," adds Esther Palevsky, a senior analyst who has authored more than 100 studies covering the packaging industry, including the recent industry study Meat, Poultry & Seafood Packaging.
Active and Intelligent Packaging
Demand for active and intelligent packaging will grow over 7 percent annually, well above the packaging industry average. Gas scavenger products, used to absorb or control gases inside packages, are benefiting from the development of advanced technology and the growing consumer preference for foods with fewer additives such as chemical preservatives.
For example, new environmentally friendly corrosion control scavengers have been developed, and desiccants are now being embedded in bottles or caps to provide moisture control for pharmaceuticals. Intelligent packaging will see even faster growth, as products such as time-temperature indicators and smart labels and tags become more common.
Where to Learn More
With an in-house team of experienced research analysts, the Freedonia Group publishes a wide variety of studies on the packaging industry. Here are a few referenced in this article:
Produce Packaging presents historial demand data, forecasts, and market analysis. The study also profiles 43 industry players including Paper, Pactiv, and WestRock.
Meat, Poultry, & Seafood Packaging covers the $9 billion U.S. meat packaging industry, including demand data, forecasts, and market environment factors. In addition, the study details industry structure and company market share.
Active & Intelligent Packaging provides insights into key products such as gas scavengers, corrosion control packaging, color indicating packaging, moisture control packaging, and more.
To view all of Freedonia's reports on packaging, click to our website.
For a more recent article on this topic, see "7 Key Packaging Trends for 2019 & Beyond."