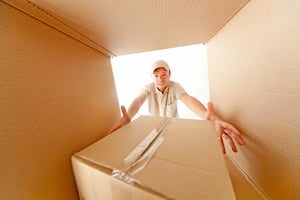 When it comes to the packaging market (or any market), making accurate forecasts and data assessments depends on constant attention to the latest industry trends.
This applies not only to Marketresearch.com's analysts, but to our research specialists as well. A good research specialist understands that in order to effectively support a client, they too must have a high-level knowledge of the industries in which their customers operate.
That means keeping apprised of the key factors that are expected to impact where the market is, and where it's going, so that we can reliably guide customers toward the research that's right for them. With that in mind, here are a few of the trends expected to drive the packaging industry now and in the years to come, featuring insights from The Freedonia Group, a division of Marketresearch.com that has been providing trustworthy packaging analysis for more than 25 years.
1. E-Commerce Packaging
Chances are, you've made a purchase online at some point over the last few months, and had it delivered to your doorstep. If so, you made a contribution to the booming e-commerce market, an industry expected to grow 10.9% annually through 2022, according to The Freedonia Group.
The rise of e-commerce is well-documented, and its impact on the overall packaging market – especially corrugated boxes – has been positive, sparking brisk double-digit growth in an otherwise mature industry. Other packaging items, including protective materials, mailers, labels, tape, and insulated shipping containers, have also seen gains spurred by e-commerce.
2. Frustration-Free Packaging
The growth of e-commerce hasn't been all positive. For some, the bells and whistles of online shopping – an abundance of over-taped, over-sized boxes and packaging fill – are more hindrance than help, and environmentally unfriendly to boot. In the face of buyer complaints, both online retailers and packaging manufacturers have sought to mitigate these problems.
Enter right sizing, a shipping strategy that involves optimizing both the container size and volume of packaging fill to match the size and type of object being transported. Done correctly, right sizing can reduce shipping costs, better protect the contents of a package, and decrease overall packaging waste. Amazon's Frustration-Free Packaging initiative is perhaps the best example of the industry-wide trend toward right sizing, with the company claiming that over the course of 10 years, the program has eliminated more than 244,000 tons of packaging materials and 500 million shipping boxes.
3. Convenience Features
In today's on-the-go world, consumers have prioritized convenience, indicating willingness to pay a little extra for a product that is easy to use/access. As a result, convenience features are a hot packaging commodity, and can be found on everything from paperboard milk cartons to bags of fertilizer. Some of these features include:
Resealable closures like zippers, tapes, and multi-use adhesives
Pour spouts for liquid or free-flowing items
Handles for easier one-handed use
Easy-open tear strips and perforations
4. Flexible Packaging Materials
Over the long-term, the packaging industry has steadily moved away from rigid containers and transitioned to cheaper, more efficient flexible packages. Pouches are especially popular, with demand expected to grow almost 6% annually through 2022, reaching $2.9 billion, according to a recent report from The Freedonia Group.
Flexible packaging is popular for many reasons, not least of all owing to its lighter weight and space-saving properties. These products have also benefited from an overall consumer trend toward snacking, as flexible containers are much better suited for packaging and transporting single-serve portions than their rigid counterparts. Moreover, bags and pouches can also be outfitted with any of the value-added convenience features listed above for easier accessibility and functionality.
5. Sustainable Packaging
The impact of packaging on the environment has been all over the news recently. From the story of the diver who found a plastic bag at the bottom of the ocean, to the worldwide flurry of bans on single-use foodservice disposables, buyers are more aware than ever that the products they purchase and discard can have long-term ecological consequences.
With this in mind, manufacturers, retailers, and consumers alike are looking for ways to improve their sustainability and reduce their carbon footprint, not only through right sizing but by producing and buying more recyclable products, as well as products manufactured from recycled and/or compostable/biodegradable materials.
6. Better Packaging Graphics
Digital printing has revolutionized the world of packaging graphics, making it cheaper and easier than ever to add high-quality logos and images to product packaging – even if the item is only produced in limited quantities. The rise of economical, quality packaging graphics is particularly beneficial to the retail-ready packaging market, forecast to grow to $7.9 billion by 2023. Retail-ready packaging is widely used by discount grocers like Aldi and warehouse club stores like Costco and Sam's Club, which all emphasize low operational costs in order to pass greater savings on to consumers. Improving the shelf appeal of retail-ready products allows these retailers to better compete with higher end establishments, which invest more heavily in merchandising.
7. Transparency
In addition to better graphics, manufacturers and retailers have come to understand that consumers value viewing a product – not just its container – prior to purchase, especially when it comes to produce and other easily damaged food items. As a result, more packaging companies are manufacturing containers from transparent or semi-transparent materials, which allows shoppers to quickly assess a product mid-aisle, sometimes without even removing it from the shelf.
---
Contact a Research Specialist Today to Learn More About Packaging
Jim Levin is a Client Solutions Specialist at The Freedonia Group, a division of MarketResearch.com, where he helps clients get the business intelligence solutions they need to keep moving toward their long-term goals. To learn more about how Jim can help with your packaging research needs, be sure to get in touch directly via email or phone, listed below.
Email: jlevin@freedoniagroup.com
Phone: 240-747-3020 ext. 7508
Related Reading