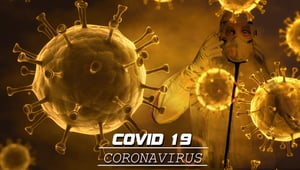 Roche, Hologic, and Thermo Fisher Scientific are among the molecular diagnostic vendors that have received EUAs, or emergency use authorizations, for their tests for the novel coronavirus COVID-19.
Molecular tests are at the forefront because of their accuracy and faster development times than serological tests. Because the viral mechanisms are detected as part of detecting the SARS-CoV-2 virus behind the disease, RT-PCR is the most useful technology. Prior to March 12th, no major test outside the Centers for Disease Control (CDC)'s own test was available in the United States. But the FDA has shown a willingness to do fast turnaround on emergency authorizations.
Roche's approval for its Cobas 6800 and 8800 systems is significant. Roche is the #1 IVD company in the world, per Kalorama's global reporting, and has been for decades. The Cobas molecular diagnostics systems are automated and high-throughput — one test can test 1,000 people in an 8 hour shift at an average lab.
FDA Moves to Speed Availability of COVID-19 Tests
The FDA has made this test available under an EUA, an emergency mechanism supported by the Secretary of Health and Human Service's (HHS's) declaration that circumstances exist to justify the emergency use of in vitro diagnostics (IVDs) for the detection and/or diagnosis of the virus that causes COVID-19. An IVD made available under an EUA has not undergone the same type of review as an FDA-approved or cleared IVD. The FDA may issue an EUA when certain criteria are met, which includes that there are no adequate, approved, available alternatives, and based on the totality of scientific evidence available, it is reasonable to believe that this IVD may be effective in the detection of the virus that causes COVID-19.
When an emergency is declared over, the EUA no longer applies and test makers must route their products through the normal test approval route.
According to information from the CDC and Roche Diagnostics, most patients with confirmed COVID-19 have developed fever and/or symptoms of acute respiratory illness (e.g., cough, difficulty breathing). However, limited information is currently available to characterize the full spectrum of clinical illness associated with COVID-19. Based on what is known about the virus that causes COVID-19, signs and symptoms may appear any time from 2 to 14 days after exposure to the virus. Based on preliminary data, the median incubation period is approximately 4 days.
Molecular Tests That Have Received EUAs Thus Far
Quest SARS-CoV-2 rRT-PCR (Quest Diagnostics Infectious Disease, Inc.)
Lyra SARS-CoV-2 Assay (Quidel Corp.)
COVID-19 RT-PCR Test (Laboratory Corporation of America)
Panther Fusion SARS-CoV-2 (Hologic, Inc.)
TaqPath COVID-19 Combo Kit (Thermo Fisher Scientific, Inc.)
cobas SARS-CoV-2 (Roche Molecular Systems, Inc.)
New York SARS-CoV-2 Real-time Reverse Transcriptase (RT)-PCR Diagnostic Panel (Wadsworth Center, NYSDOH)
and the CDC Test -- CDC 2019-nCoV Real-Time RT-PCR Diagnostic Panel (CDC)
Molecular Diagnostics Market Sizing and Forecasts
The molecular diagnostics segment is the fastest growing segment within the global IVD market. The global market is estimated to be $4,460 million in 2019. Infectious diseases diagnostics represent the largest market of molecular diagnostics. The global market is forecasted to grow at a compound average growth rate (CAGR) of 8.2% to reach $6,600 million in 2024.
Major segments that are expected to drive the growth are respiratory and mycology. Focus on infectious diseases was maintained even during the early years of the last decade by companies that ventured into molecular diagnostics sector, and commercial molecular assays were introduced for hepatitis and respiratory diseases.
The blood banking sector became one of the key application areas during this period since high sensitivity offered by molecular diagnostics brought significant value for donor blood screening for pathogens of high concern. Currently, the use of molecular diagnostics methods is not limited to infectious diseases. Other disease segments where molecular assays have high demand include inherited diseases, coagulation, transplant medicine, prenatal and postnatal screening and cancer.
It's possible the volume of testing for COVD-19 could spur the market higher, particularly if testing goes beyond symptomatic patients and the disease is present for a long duration. But Kalorama Information thus far has not made a call on this; that there would be new infectious disease threats were already programmed to a degree into Kalorama's forecasts.
Where to Learn More
For expert data and insights, see Kalorama Information's in-depth report Molecular Testing Markets for Infectious Diseases, which details developments in molecular infectious disease testing, global market analysis, and company profiles.
The report is also available to Profound subscribers on Profound.com.
---
About the Publisher: Kalorama Information has been a leading healthcare market research publisher for more than 30 years. Kalorama only publishes in healthcare and is a premier source of market information for top industry decision makers and media outlets.
---
Related Reading