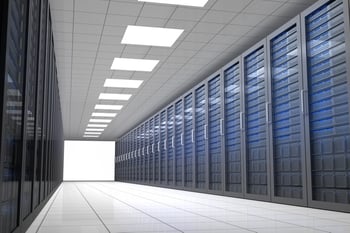 Major tech companies have experienced rapid innovation over the past decade — and a unique technology known as an optical modulator will enable continued innovation in the future by supporting the capacity of mega data centers, which power a host of digital activities such as online commerce, streaming video, social networking, and cloud services.
Each data center uses optical modulators by the millions, and as the numbers of data centers grow, the demand for optical modulators will also rise. According to WinterGreen Research, the global optical modulator market was an estimated $2 billion in 2017 and is expected to reach $22.6 billion in 2024.
What's more, next generation optical modulator devices will offer major advantages for data centers; they use less power, are less expensive, and are smarter and smaller.
Read on to learn more about the growing market for optical modulators and breakthrough innovations led by up-and-coming companies that could result in more dynamic changes in the future.
Optical Modulator Market-Driving Forces
Communications, servers, and many other electronics systems depend on high-speed serial transceivers and optical modulators, which form the backbone of networks and the Internet.
The need for optical modulators will continue to grow due to the following factors:
Increase in Internet traffic worldwide
The transition to FTTH
Growth of smart cities
Implementation of the Internet of Things (IoT)
Self-driving cars
Increase in data center traffic across networks
Increase in data center traffic inside each data center
Telemedicine adoption
Military/aerospace/scientific sensor, control, and interconnect applications
Optical switch fabrics for communications and testing
The above list illustrates information-driven markets that represent participation by thousands of companies. However, there are five tech data companies to watch in particular: Alphabet (Google), Apple, Amazon, Microsoft, and Facebook (there is a name for them, the Big 5), which are now worth $3.03 trillion, and growing.
Why Major Tech Companies Rely on Optical Modulators
As the industrial revolution turns to embrace data, to leverage information more than machines or agriculture as the basis for the world economy, the mechanisms of data centers become significant. Data is transmitted between networks, and even more inside data centers, using a variety of components including optical transceivers and optical modulators. Optical modulators form a key aspect of information transmission.
The investment needed by the Big 5 companies in data equipment and data modules is apparent from examination of recent headlines regarding Facebook's investment in data centers:
Facebook to invest $1 billion in first Asian data center in Singapore
Facebook invests $1 billion to build new data center in Virginia
Facebook's two proposed data centers would have up to 2.5 million square feet of space
Facebook to build two more massive data centers in Oregon
Facebook has invested more than $1 billion to build out its Prineville data center
New Georgia Facebook data center to be powered entirely by renewable energy
Facebook has four operational data centers in the U.S.
All the other Big 5 tech companies — and others including IBM — have data centers equally as big as Facebook. All these data centers use optical modulators by the millions. As more data centers are built, more optical modulators will be used.
Innovation for the Future
The need for smaller parts that work more efficiently has driven a significant breakthrough in optical modulator technology. This breakthrough is occurring in a company that has no revenue yet.
Lightwave Logic designs proprietary electro-optical modulation devices. Electro-optical modulators convert data from electric signals (binary data) into optical signals that can be transmitted over high-speed fiber-optic cables. These devices are key components that have historically limited the ability of telecommunications, data communications, and data center networks to keep up with the seemingly endless flow of data in the form of voice calls, text messages, pictures, and video streaming that are being transmitted to a growing array of devices.
Lightwave Logic designs proprietary Polymer Photonic Integrated Circuits, photonic devices that integrate several photonic functions on a single chip. Technology can enable the ultra-miniaturization needed to increase the number of photonic functions residing on a semiconductor chip to create a progression like what was seen in the computer integrated circuits, commonly referred to as Moore's Law.
Current photonic technology is based on inorganic crystalline materials, which due to physical limitations have not been able to address devices such as slot waveguides that require highly miniaturized geometries.
Slot modulators have the potential to scale in integration for increased functionality and would be highly beneficial to data center infrastructure. Organic electro-optic polymers have greater potential because they can be applied as a thin film coating.
Polymers are unique in that they can withstand extremely high semiconductor process temperatures to seamlessly integrate into existing CMOS, Indium Phosphide (InP), Gallium Arsenide (GaAs), and other semiconductor manufacturing lines. Devices, enabled by organic electro-optic polymer material systems, work by affecting the optical properties of light in the presence of an electric field at extremely high frequencies (wide bandwidths) and possess inherent advantages over current crystalline electro-optic material contained in most modulator devices such as lithium niobate, indium phosphide and gallium arsenide.
Lightwave Logic is positioned to bring PIC (Photonic Integrated Circuit) based technologies to market in various roles that include Solar, LED lighting, and Integrated Photonics for fiber communications. High speed polymer based integrated photonics is part of a polymer PIC platform.
The molecular-level design provides performance, stability. and cost-efficiency and has the potential to replace more expensive, lower-performance materials and devices used in fiber-optic ground, wireless and satellite communication networks.
The combination of a less expensive manufacturing cost, ease of application, and better scalability, together with a lower cost of ownership due to marked less heat dissipation (requiring less cooling), will create enormous demand.
One of the most under-evaluated processes of developing high speed devices onto a new and novel technology platform is robustness and reliability. Extensive progress with polymer materials has been achieved, integrating robust polymer materials onto an integrated photonics platform to provide customers with a more miniaturized, higher performance solution for their data rich systems.
A primary supplier of optical modulators includes Lumentum, which will leverage components to power self-driving cars with Lidar technology. All the optical modulator companies mentioned above are profiled in the new 2018 study from WinterGreen Research: Optical Modulators: Market Shares, Market Strategies, and Market Forecasts, 2018 to 2024.
Where to Learn More
Read this report by WinterGreen Research for detailed information regarding:
Market dynamics
Market shares and forecasts
Product description
Research and technology
Company profiles
Regional analysis
Click the button below to view the report page on MarketResearch.com.
---
About the Publisher: WinterGreen Research provides strategic market assessments in telecommunications, advanced computer technology, communications equipment, and other dynamic sectors. Industry reports focus on opportunities that expand existing markets or develop major new markets.
Additional Articles by WinterGreen Research