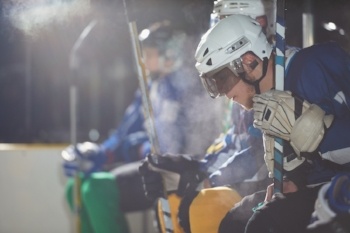 Sports analytics change everything related to professional athletics: recruiting, play, coaching, and marketing. The ability to see change at a granular level gives more control to those managing players and teams.
Worldwide sports analytics markets are poised to achieve significant growth as coaches and players leverage information collected from sensors. Teams can realize significant competitive advantages by utilizing data analytics capabilities effectively.
What is sports analytics?
Sports analytics has become the model for predictive sports business decision-making, and it's changing the way teams are organized and managed. All professional teams use analytics already.
The information from cameras and videos is now available at significantly lower costs and can make a real difference in the quality of play that athletes achieve. Information collected by sensors is taken in by analytics systems and conveyed to players and coaches directly through tablets and smartphones.
The value of analytics in sports relates to the predictive capabilities provided. The best sports teams are the ones using the power of real-time information to their advantage. Many teams seek to integrate analytics into the decision-making processes in a way that wins games. They do this with more or less success. Real-time information is a world of its own; some teams and players are able to integrate real-time information, and some are not.
Who can benefit from analytics in sports
Managers, coaches, scouts, and agents
One reason sport analytics is so valuable is because it allows team managers to improve winning percentages and decrease the cost of paying players. By implementing metrics functions that describe how to put together a winning team without a very high payroll, sports analytics provide a winning edge to team management.
In addition, data analytics in sports is used to improve scouting, to detect new players with unusual talent, and evaluate players' competitive capability. Using sports analytics software, agents can gain an advantage with teams when they present data analysis about the players they represent.
Fans, fantasy sports players, and gamblers
Analytics in sports can add another level of entertainment. Fans thrive on having more information about a game they are watching.
Video capability has been extended with analytics that provide automated capture of noteworthy player and team events. Information services leverage automated processes to make analytics more useful for fan's enjoyment and to provide more helpful information for fantasy players.
Sport analytics are used for creating fantasy leagues, giving sports fantasy players access to statistics that enhances their play of the game.
Gamblers also use analytics systems to increase the probability of making winning bets. However, data analytics can also be used to detect and prevent fraud more easily.
Athletes and players
Analytics can make training information more cogent and more available, helping players to develop their skills more effectively. Players can also use data analytics to boost their fan appeal to fans.
The "play of the game" is what makes sports entertainment. Players are entertainers, and they can tune their athleticism to the fans and boost fan appreciation as much as possible with the information provided by data analytics.
Contact sports and skill sports have in common a need to leverage athleticism. Some athletes play with finesse; analytics helps achieve finesse in play. Premier players also leverage style to achieve the status of being a fan favorite.
A quick example of sports analytics
In hockey, sports analytics has been adopted by players, teams, and marketing programs. Shift charts represent an image of players' changing success during the time on the ice.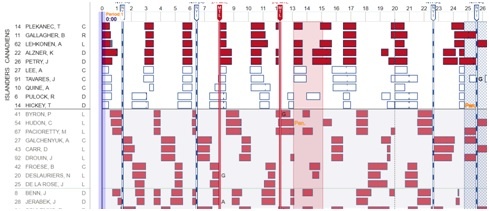 Source: ShiftChart.com
In the shift chart above, the numbers along the top represent the shifts played during the game. The chart shows goals scored and what line was on the ice offensively and defensively for each goal scored in each period: period one, period two, and period three.
Sports data analytics are about patterns, detecting patterns and attaching value to them. Sports analytics are used to better predict what players will succeed and what players will do well in a certain system. The patterns apply to teams, to players, and to fans.
The influence of data analytics in sports
The analytics data about a sport is relevant in a lot of different ways; some teams are more able than others to harness the information to their benefit. Does it make a difference? Do the teams with better analytics win? Apparently so. The MIT Sloan Sports Analytics Conference is a testament to the value of technology in sports.
The significant growth of the sports analytics market is driven by the ability to improve coaching, provide players with specific strategies for improving performance, prevent fraud in wagering situations, and leverage smartphone and social media to process information about performance improvement.
Sports teams have discovered that with the intelligent use of sports analytics they can dominate a league. As early adopters prove that analytics make the difference between winning and losing, all teams, mangers, and fantasy sports players will adopt the use of these solutions, creating market growth.
Access the full report on sports analytics
To learn more, read the definitive 557-page report by WinterGreen Research titled Sports Player Tracking and Analytics: Market Shares, Strategies, and Forecasts, Worldwide, 2017 to 2023.
This report provides detailed information on the following:
Market dynamics
Market shares and forecasts
Product descriptions
Company profiles
Click the button below to view the report page and find out more.
---
About the Publisher: WinterGreen Research supports various market segment programs and provides trusted technical services to marketing departments. The publisher carries out accurate market share and forecast analysis services for a range of commercial and government customers globally. These are all vital market research support solutions requiring trust and integrity.
Additional Articles by WinterGreen Research