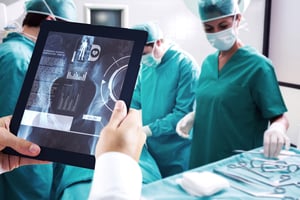 The US market for shoulder arthroplasty implants is worth over 40% of the entire global market for all types of minor orthopedic replacement implants and is growing at 6.6% year on year, according to a recent report by The Business Research Company.
Boosted by the increase in the US's elderly population and its linked rise in proximal humerus fractures, by 2021 the shoulder replacement implant market in the US will be worth $982 million. While the global market for these implants is growing at a similar rate, the preponderant US market is the most significant contributor to that growth.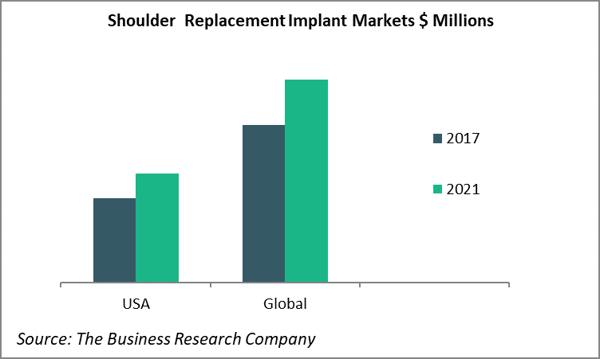 US Shoulder Replacement Implant Market Drivers
The main driver for the shoulder replacement implant market in the US is the increase in the size of the population aged 65 years and over, of whom more than 50% suffer from arthritis. Proximal humerus fractures (fractures of the upper arm bone near the shoulder) are the most common shoulder injuries; these are mainly due to osteoporosis in people over 70 years old. The global incidence rate for proximal humerus fractures has been increasing by 15% a year. In fact, 5% of proximal humerus fractures require shoulder arthroplasty. This includes a partial shoulder replacement in which the humerus is replaced with a metal implant and the socket joint is left intact, a total shoulder replacement (humeral prosthesis with joint socket resurfacing via prosthesis), and a reverse total shoulder replacement (humeral cup prosthesis with joint socket implantation).
Total shoulder replacement surgery and reverse shoulder arthroplasty surgery have outpaced partial surgery in recent years due to their ability to substantially reduce pain in patients with failed shoulder replacements and in patients with damaged maximum rotator cuff tendons. Since the price for the implants used in total and reverse shoulder arthroplasty is higher than that for partial replacement implants, this trend has also helped drive shoulder replacement implant market growth.
All these minor joint replacements are highly complex and have previously suffered from a high failure rate, so that it has taken technological advances in both the implants themselves and the surgery to make this market grow. For example, metals such as titanium, cobalt, chromium, molybdenum, and other new materials such as polyethylene have replaced the plastics and ceramics that were earlier being used in the design and manufacture of implants. The metals have a porous surface which enhances osteo-integration, thus reducing revision rates. Polyethylene reduces wear and improves the longevity of the minor joint replacement implants.
This shift towards new high-quality materials in implants has driven the market since 2013. Longer life for implants makes them suitable for use in younger fracture patients, for whom they were previously not recommended owing to the need for replacement every 10 to 15 years.
Global Joint Replacement Market Segments
The joint replacement market is essentially segmented into large joint replacements for knees and hips and small joint replacements for shoulders, wrists, elbows, and feet and ankles. Shoulder implants dominate the minor replacement market, but the second largest segment, foot and ankle implants, is the fastest-growing, achieving over 10% year on year.
Wrist replacement implants currently account for a vanishingly small part of the US market at only 0.4% of the total, though as a proportion of the global market these implants represent a slightly larger 0.6%.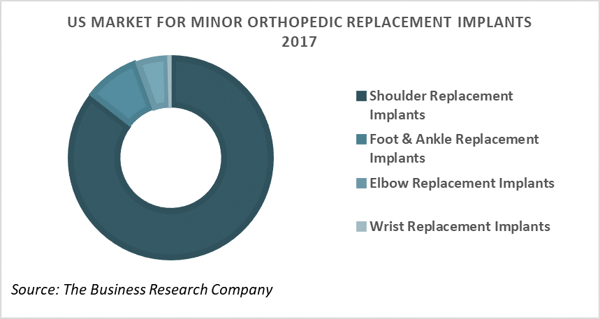 Competition in the Minor Orthopedic Replacement Market
The global minor orthopedic replacement market is concentrated: the top four competitors, Depuy Synthes, Wright Medical Group, Zimmer and Biomet, and Stryker share 64% between them.
However, patents for some implants are about to expire, threatening the big companies' dominance. Implant prices are highest in Asia — over $7,000 in China and over $6,000 in India. These high prices, especially in emerging economies, have supported the growth of generic manufacturers, following the expiry of patents for implants.
For example, around sixteen generic companies have entered the orthopedic replacement implants market in the US, including Orthosolutions, Covenant Orthopedics, Ortho Direct USA, and Emerge Medical. These generic companies are making copies of legacy implants with proven designs and biomaterials. They offer lower prices than those of branded implants and are thus a big threat for the big orthopedic device manufacturers such as Stryker, Johnson and Johnson, DePuy/Synthes, Zimmer/Biomet, Smith & Nephew, and Medtronic Spine.
While the lower prices for generics may help drive the market in volume terms (though the cost of the procedure can be a more significant factor in patient decision-making), they may restrain its value.
The Business Research Company's New Series of Reports
Minor Orthopedic Replacement Implants Global Opportunities and Strategies to 2021 is one of a series of new industry reports from The Business Research Company that identify opportunities and explain strategies in over 300 markets, covering over 2,400 market segments and 56 geographies.
This report provides a minor orthopedic replacement implants industry overview, minor orthopedic replacement implants industry analysis, past drug industry statistics, and forecasts. Like the other reports in the series, it also provides market growth rates, market trends, market drivers, market restraints, market revenues, market shares, and company profiles of the leading competitors.
These industry reports draw on 150,000 datasets. Extensive secondary research is augmented with exclusive insights and quotations from industry leaders obtained through interviews. Market analysis and forecasts are provided by a highly experienced and expert team of analysts and modelers. Strategies for the minor orthopedic joint replacement implants market are explained and key opportunities identified.
Where to Learn More
Read the report Minor Orthopedic Replacement Implants Global Opportunities and Strategies to 2021 from The Business Research Company for information on the following:
Markets Covered: Minor orthopedic replacement implant market, shoulder replacement implant market, foot & ankle replacement implant market, elbow replacement implant market, wrist replacement implant market.
Orthopedic Replacement Implant Market Companies Covered: Depuy Synthes, Wright medical Group, Zimmer Biomet, Stryker, Exactech, Integra.
Regions: North America, Asia Pacific, Western Europe, South America, Eastern Europe, Middle East, Africa.
Countries: USA, China, Japan, Germany, Brazil, France, Italy, UK, Australia, India, Spain, Russia.
Time Series: Five years historic (2013-17) and forecast (2017-21).
Data: Minor orthopedic replacement implant market size and growth for 7 regions and 12 countries; global regional and country minor orthopedic replacement implant market size and growth segmented by type of joint — shoulder, foot and ankle, elbow and wrist; global, regional and country industrial gases per capita consumption and market size as a percentage of GDP 2013-21; Depuy Synthes, Wright medical Group, Zimmer Biomet, Stryker, Exactech, Integra financial performance 2017.
Other Information: PESTEL analysis, drivers and restraints, customer and operational insights, minor orthopedic replacement implant market by country including arthritis incidence, disability-adjusted life years (DALY) for arthritis — statistics and regulatory analysis, minor orthopedic replacement implant market trends and strategies.
Strategies for Participants in the Minor Orthopedic Joint Replacment Implants Industry: The report identifies a wide range of actionable strategies, including Stryker Corporations' focus on unit specialization, acquisitions, globalization and cost transformation, and offering small bone plating, especially in the distal radius segment, to take advantage of what is a major trend.
Opportunities for Minor Orthopedic Joint Replacment Implants Companies: The report identifies the global, regional, and country subsegments where the market will put on most $ sales up to 2022.
Sourcing and Referencing: Data and analysis throughout the report are sourced using end notes. Sources include primary as well as extensive secondary research.
Number of Pages: 186
Number of Figures: 84
Number of Tables: 97
---
About The Business Research Company
The Business Research Company is a market research and intelligence firm that excels in company, market, and consumer research. It has research professionals at its offices in the U.K., India, and the U.S. as well as a network of trained researchers globally. It has specialist consultants in a wide range of industries including manufacturing, healthcare, financial services, and technology.
The Business Research Company's management team has more than 20 years of varied business research experience. They have delivered hundreds of research projects to the senior management of some of the world's largest organizations. The Business Research Company's consultants have master's qualifications from top institutes and include MBAs, MSCs, CFAs, and CAs. The Business Research Company's consultants gain training and qualifications from the Market Research Society and are trained in advanced research practices, techniques, and ethics.
Additional Articles