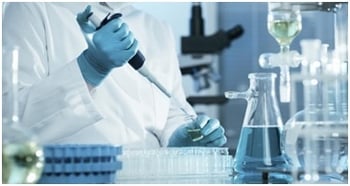 The global market for clinical trial services to biopharmaceutical, biotechnology, and medical device companies is forecast to grow at 12% year on year up to 2021, according to a new report. That is an acceleration from its rate of 10% up to 2017 which raised its value to $44.4 billion. The businesses that provide outsourcing in clinical trials are CROs.
What Is a CRO?
Contract research organizations (CROs) offer solutions for the conduct of clinical trials, including:
Initial drug discovery solutions
Toxicology studies
Bio-analytical services
Central laboratory functions
Cite monitoring
Data management services
Vigilance
Bio-statistics
Study and development program design and consulting
Regulatory affairs
A variety of post-marketing surveillance services
CRO Industry Overview
Declining growth in the pharmaceutical market is affecting the CRO industry, though not in the obvious way. Recently, the double digit growth rates of pharmaceutical and biotechnology companies have been shrinking to single digits, while their returns on investment have also shrunk. Pharmaceutical and biotechnology companies have therefore been confronted with the need to lower their drug production and development costs. This has led many of them to evaluate cost-saving options such as outsourcing clinical trials.
Several companies in this sector have already adopted this strategy and outsourced their processes to specialist service providers such as CROs, and it is expected that this will increase in the future in order to contain the high cost of new drug development which is currently running at $2 billion on average.
CRO Market Segments by Development Phase
The contract research organization market can be segmented on the basis of the type of services provided, which vary according to the development phase. The segments consist of the following:
Drug discovery
Phase III advanced efficacy and safety testing to provide enough data for valid statistical conclusions required by the regulatory authority
Other services including pharmacovigilance, bio-statistics, clinical data management, site management, monitoring, regulatory services, protocol development, and medical writing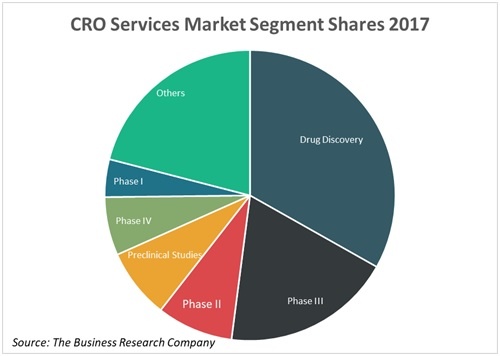 The largest segment in 2017 was drug discovery, which involves identifying from a pool of 10,000-15,000 compounds a promising molecule that has the potential to become a new medicine. Drug discovery accounted for about 33% of the contract research organization market. Its dominance is a reflection of the high failure rate at this early stage of drug development; most possibilities are eliminated at this stage.
The next largest segment in 2017, however, was not Phase II but Phase III. This reflected the fact that the sizes of the later stages of pharma R&D vary over time; they are influenced by how many innovations succeeded in earlier stages. Thus the chart shown, which is for 2017, could look somewhat different in a year or two.
CRO Market Segments by Therapeutic Area
Another way of categorizing the market for CRO services is by the disease area of the drugs or equipment being researched. Here the segments consist of research directed at finding solutions for cancer, infectious diseases, central nervous system disorders, cardiovascular diseases and other therapeutic areas, which include diabetes and various metabolic, dermatology, and respiratory diseases.
By therapeutic area, oncology was the largest segment of the CRO market in the latest year, accounting for about 25% of the total. Part of the reason for the importance of the oncology segment is the boost to cancer drug R&D development resulting from the US Federal Drugs Administration loosening its regulatory requirements for new cancer drugs. The changes being implemented or considered by the FDA include allowing organ-on-chip trials to be substituted for animal trials in the early stages of the process, allowing the inclusion of non-trial data from patients, and changing the end-point benchmark from proving that the drug extends overall survival to showing that it prolongs the time a patient lives without the disease getting worse.
Segmental growth rates, however, differ from market size. For example, the metabolic disease segment, which researches for treatments for diabetes and glandular disorders, is growing faster than the oncology segment. This is mainly due to demand for CRO services for new drug development through academia-industry collaborations.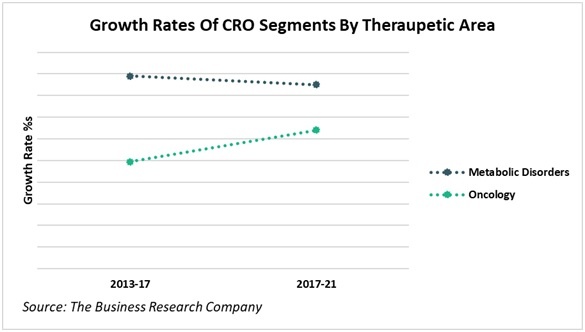 The CRO Market by Geographies
North America is the largest region for the production of CRO services, at $18.8 billion, while CRO consumption in North America is worth $20.8 billion, or about 47% of the global total. The large North American market size is due to the presence of many pharmaceutical companies and extensive drug development activity in the region, especially in the USA. The production/consumption difference results from the use by US pharmaceutical firms of lower-cost offshore locations for some CRO activities, although most US outsourced activity remains within the country.
At 31% of the total, Asia Pacific has the second largest share of the CRO production market, though its share of the consumption market is only two-thirds of that. This is due to pharmaceutical and biotechnology companies in the United States and Western Europe increasingly outsourcing their core research activities to CROs in developing countries in order to contain costs.
Because of this, many multi-national CROs are themselves now expanding their operations to developing countries in Asia Pacific, Latin America, and Eastern Europe to take advantage of lower costs for conducting clinical trials in these regions compared to the US and European countries. Thus, the economic conditions in developed countries will drive the demand for outsourcing services from Asia Pacific, providing that concerns about intellectual property rights and quality standards are met.
In Western Europe, as in North America, the relation between the production and consumption markets is the reverse of that in Asia Pacific, at 27% of global consumption against 21% of global production. The difference here is also due to R&D outsourcing to emerging economy suppliers by Western European drug manufacturers.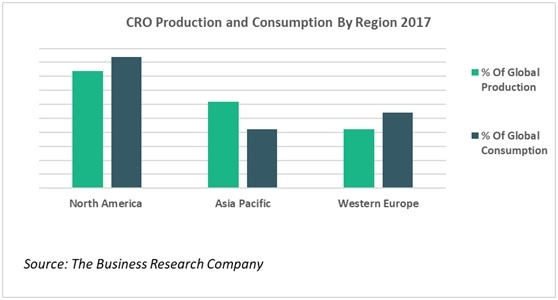 The Competitive Landscape
Historically, the CRO market was highly fragmented, but increasing M&A activity has led to consolidation. Five CROs hold over 33% of the global market.
"The market has changed in the sense that you have seen a lot of CRO companies just like ours are either merging or acquiring data companies. This is where the development is — I think they understood the power of aligning big data and using it to streamline clinical developments."
— Senior Researcher, IQVIA
IQVIA is the largest CRO with a 12.4% share of the market, followed by Laboratory Corporation of America Holdings, ICON Plc, PAREXEL and PPD. The companies tend to specialize, however, so that another company, not in the overall top five, is the largest in the pre-clinical studies segment. That is Charles River Laboratories, which in 2017 had 17% of that part of the market.
Where to Learn More about the CRO Industry
Read the Global Contract Research Organizations Global Market Report 2018 from The Business Research Company for information on the following:
Markets Covered: Contract Research Organizations Production, Contract Research Organizations Consumption, Outsourced R&D Market By Service Type (Development Phase), Outsourced R&D Market By Therapeutic Area.
Top Contract Research Organizations Covered: IQVIA, Laboratory Corporation of America Holdings, ICON Plc, PAREXEL and PPD.
Regions: North America, Asia Pacific, Western Europe, Eastern Europe, South America, Middle East, Africa.
Countries: USA, China, Germany, UK, Japan, France, India, Italy, Australia, Spain, Russia, Brazil.
Time Series: Five years historic and forecast.
Other Data: CRO Market Size as a Percentage of GDP by Country, per Capita Average CRO Expenditure by Country.
Data Segmentations: CRO production and consumption country and regional historic and forecast data, competitor sales and market shares; outsourced R&D market by service type (development phase) historic and forecast data by region and country; outsourced R&D market by therapeutic area historic and forecast data by region and country.
Sourcing and Referencing: Pharmaceutical drugs production and consumption country and regional historic and forecast data, competitor sales and market shares; pharmaceutical drugs market by segments historic and forecast data by region and country; ratios of market size and growth to related markets, population, GDP, pharmaceutical drugs indicators comparison.
Interested to know more? Here is a list of similar reports from The Business Research Company:
---
About The Business Research Company
The Business Research Company is a market research and intelligence firm that excels in company, market, and consumer research. It has research professionals at its offices in the U.K., India, and the U.S. as well as a network of trained researchers globally. It has specialist consultants in a wide range of industries including manufacturing, healthcare, financial services, and technology.
The Business Research Company's management team has more than 20 years of varied business research experience. They have delivered hundreds of research projects to the senior management of some of the world's largest organizations. The Business Research Company's consultants have master's qualifications from top institutes and include MBAs, MSCs, CFAs, and CAs. The Business Research Company's consultants gain training and qualifications from the Market Research Society and are trained in advanced research practices, techniques, and ethics.
Additional Articles by the Publisher