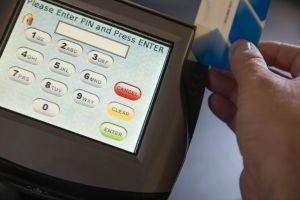 You've probably heard that the National Retail Federation (NRF) has downgraded their retail sales forecast from 2015, from 4.1% increase to only 3.5% over 2014. As a trade association for the retail industry, I don't put too much stock into what they say, knowing that they want to, have to, put a positive spin on whatever they report, as Mark Twain said, "There are lies, damn lies and statistics." So the news of a downward adjustment of a forecast from the NRF is particularly notable, since the reality is probably much worse that they are likely to report.
For my money, the data point I use as a bellwether of retail sales trends of GAFO stores. GAFO stands for General Merchandise, Apparel, Home Furnishings and Other types of stores, the type of stores that fill the nation's malls, shopping centers, and main streets. Through May, GAFO stores posted an anemic 1.3% uptick over 2014. While sales were up in January, 4.6% year-over-year, presumably due to shoppers redeeming their holiday gift cards, GAFO sales have languished, well below the NRF's 3.5% forecast.
If the rest of the year continues at its current pace, we'll see only a 1.3% uptick in retail sales over 2014.
To reach even a modest 3% increase, shoppers would have to spend 2.5% more each month through the end of the year. What's the chance of that?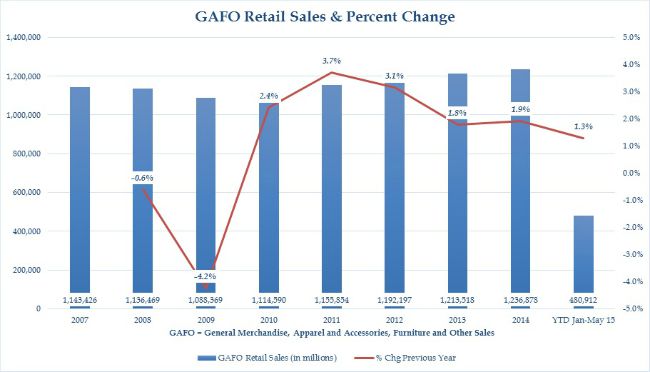 To overcome shopper malaise, retailers need new strategies, more than having another sale or another deep discounted promotion. These only invite the wrong type of shoppers to your door, the penny-pinchers looking to save a buck.
Rather you need to entice the right kind of shoppers, the ones with greater shopping needs and deeper pockets with which to indulge themselves when they shop. That is the affluent shopper!
The affluent make an oversized contribution to overall retail sales. They make up only 20% of the U.S. consumer market, but who account for 40-50% of all U.S. retail sales. They are the 'heavy-lifters' at retail with discretion to spend.
Attracting more of the high-powered affluent shopper to your shopping experience is your secret weapon to jump start growth in your store, this year and into the future.
But My Store Isn't luxury?
When people hear "affluent," inevitably they think "luxury." But affluent is a demographic (i.e., measure of income of the top 20% which today starts just a shade above $100,000) and luxury is a state of mind.
Affluents shop more and spend more at all different kind of stores, high-end, mid-market and low-end. Yes, they are the primary target of luxury brands and high-end shopping destinations, especially the top 2-3% with incomes of $250,000+, but the mass-affluent HENRYs (high-earners-not-rich-yet shoppers with incomes $100k-$249.9k) are actively shopping day-in, day-out in all kinds of stores, high, low and in the middle.
For example, about one-third of HENRY affluents shopped in Target in the most recent Unity Marketing Affluent Consumer Tracking Study (ACTS) survey, the market share leader in the mass and traditional department store category, twice as many as the 15% of HENRY affluents who shopped in Nordstrom, the luxury department store leader.
Retailers need to identify consumer segments that offer the most promise and draw them to their shopping experience. For rest of 2015, and for the next 10 years thereafter, that most promising segment is HENRYs – high-earners-not-rich-yet shoppers, especially those under 45 years with incomes $100,000 to $249,900.
Unfortunately, too few retailers understand the needs and desires of the affluent shoppers in their midst, as well as those walking by their door. A new report from Unity Marketing can fill that knowledge gap.
Unlock Your Secret Weapon to Retail Success by Understanding the Affluent Shopper
Peter Drucker says, "The aim of marketing is to know and understand the customer so well the product or service fits him and sells itself." Unity Marketing's new study devoted to the shopping habits of the affluent consumer reveals the keys to attracting more affluent shoppers to your special shopping experience. Entitled "Affluent Shopping Report: The Who, What, Where and Why of Affluent Shoppers," this report examines two years of trends in affluent shopping behavior, showing how they are shopping today and where they will be shopping tomorrow.
The new report provides in-depth statistics about the shopping behavior of both the mass-affluent HENRYs and the Ultra-affluent shoppers at the top. But more than just data, this report includes analysis about what the key findings mean and how retailers can put the insights into action to more successfully market their stores and reach the affluent shoppers who hold the key to their growth and success.
The Affluent Shopping Report is a comprehensive omni-channel, cross-channel view of the affluent shoppers and right for marketers that need a wide, horizontal view of the affluent shopper landscape, after all this is how today's omni-channel affluents shop, across channels looking for the right combination of selection, quality and price/value.
But for retailers that compete in a narrow, vertical retail category, one of the Affluent Shopper Snapshot reports is an essential guide to trends in that special category of retail.
To learn more about luxury consumer trends, download Pam Danziger's free white paper,Five Luxe Trends for 2015.
Editor's Note:
This post was written by Pam Danziger, President of Unity Marketing.
About Unity Marketing
Pamela N. Danziger is an internationally recognized expert specializing in consumer insights for marketers targeting the affluent consumer. She is president of Unity Marketing, a marketing consulting firm she founded in 1992. Pam received the Global Luxury Award for top luxury industry achievers presented at the Global Luxury Forum in 2007 by Harper's Bazaar. Luxury Daily named Pam to its list of "Women to Watch in 2013." She is a member of Jim Blasingame: The Small Business Advocate's Brain Trust and a contributing columnist to The Robin Report.
Drawing upon their extensive industry experience, as well as professional expertise in marketing research and analysis, product and concept development, strategic planning and licensing, Unity Marketing offers marketing research that helps clients identify and maximize their potential success in the collectibles and giftware markets. Unity Marketing utilizes a full range of quantitative and qualitative research to address its clients' marketing challenges.