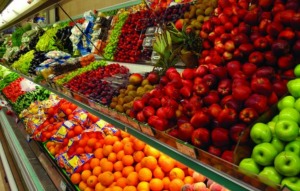 As popularity of natural and organic food has increased, so has the number of stores that carry natural and organic products. Over the past few years, leading retailer of natural and organic foods, Whole Foods, has experienced declining sales as new competitors continue to enter and claim stake in the market. A specific store that has increased their market share is Trader Joe's, a quirky, smaller store filled with unique and organic products.
On average, Trader Joe's sells $1,734 worth of product per square foot of their store. Whole Foods is currently selling about $930 per square foot, according to a new report from real estate investment firm JLL. Trader Joe's increase in profits might be directly correlated to their unique products. Most of their shelves are strictly stocked with in-house merchandise that customer's cannot purchase anywhere else, like their famous Chili-Lime Chicken Burgers, Cookie Butter (a cookie-flavored nut butter), corn and chili salsa, and even beauty products. And, for the merchandise that is found in both Trader Joe's and Whole Foods, customers are more likely to find lower prices at Trader Joe's.
Trader Joe's future is looking bright with plans to add 38 stores to their existing 400 next year. According to publisher Packaged Facts' report, Trader Joe's and the Natural Food Channel, Trader Joe's current business model of positioning itself as a "destination" capitalizes on consumer interests. Plus, they focus on great produce at great prices.
Research from Packaged Fact's report, Whole Foods and the Natural Food Channel, shows that increased sales for Trader Joe's does not mean Whole Foods will be disappearing. Increased interest in natural and organic foods, and loyal shoppers, will continue to drive customers to shop at both stores. For many, the extreme difference between the two stores is what makes it necessary to shop at both. The huge selection of organic and natural products at Whole Foods is still attractive to many.
Both stores will face competition in the coming years as more stores offer larger selections of natural and organic products. Stores, such as wholesale retailer Costco, have introduced a larger selection of organic products. As more and more stores work to capture this developing market, competition will continue to rise.
To learn more about current food trends in the industry, check out our free white paper.
Thanks for reading!
Caitlin Stewart
Marketing Associate
MarketResearch.com