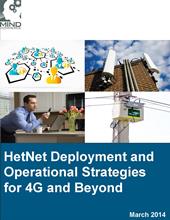 While CAPEX and OPEX are the key business components of Small Cell deployments to build a HetNet, it is also important for Mobile Network Operators (MNO) to identify new business opportunities from Small Cells to generate additional revenue that would offset the TCO. Generating these new revenue streams from Small Cells and creating a positive ROI is probably the most challenging business problem to solve from a strategic planning point of view.
One strategy is to define and implement new VAS solutions specifically focused for Small Cells that can create additional revenue streams. By way of example, Alcatel-Lucent has created a system that leverages the assets of advertising (billboards) companies to provide sites for MNOs to deploy Small Cells.
One of the keys to success is for the MNO to gain deeper insights into their individual Small Cell deployments and to identify which combination of Small Cell technologies, applications, and services in specific target site locations offers the greatest opportunity and potential for new revenue generation. It is also very important for the MNO to focus on specific business opportunities, including:
Indoor Positioning Services: Positioning using Macro Cell-based triangulation methods and then using additional data from Small cells to accurately identify the location and position of a subscriber is probably the most unique capability an MNO can have. This can be used by the MNO to sell it as a service to businesses that have products which need such type of data.
Location Aware Services: MNO can partner with local businesses to develop location aware of location-based services that are targeted for local businesses' offerings.
Monetizing Usage Data: Subscriber's usage data is probably one of the high valued resources that any MNO has. MNO can leverage value out of this using some of the modern Big Data business analytics solutions to identify trends, user behaviors, etc. to create new monetization channels.
Home Automation Services: This is probably one of the hottest trends that is developing in the technology industry. Some of the largest tech companies are trying to come up with cloud-based products that can provide home security and automation solutions that can be controlled by end users through their smart mobile devices. MNOs can establish a significant position in this space by developing and offering Small Cell-based connectivity solutions to vendors and consumers to allow easy deployment of such home automation and security services and solutions.
M2M Related Services: This is probably one of the other significant business trends gaining momentum in the consumer and enterprise markets. The M2M service offering, in fact, directly leads into the other developing trend of Internet of Everything (IoE). By creating concise strategies and focused efforts, MNOs can build a robust M2M service offering through their Macro, as well as Small, Cell deployments.
Wi-Fi Zones: MNO should work with small businesses, like coffee shops, restaurants, book stores, etc., to provide Wi-Fi capabilities in their business locations at a discounted price. This, in turn, would provide MNOs the opportunity to deploy multi-mode Small Cells that can work as Wi-Fi APs, as well as licensed spectrum Small Cells, to provide required coverage and capacity in the hot spots. Also, it would allow the MNO access to data traffic from all the subscribers connecting over the Wi-Fi.
In the report, Cellular Capacity and Coverage Optimization: Carrier WiFi, Small Cells, Cloud RAN, Distributed Antennas, and Self-organizing Networks with Market Analysis and Forecasts 2014 – 2019, Mind Commerce identifies strategies for both cost reduction as well as revenue generation from a variety of different HetNet related technologies and solutions.
Interested in more information on the Telecom & Wireless industry? Check out MarketResearch.com's Mind Commerce Knowledge Center solution!

Editor's Note:
The blog post is collaboratively written by members of the Mind Commerce staff.
About Mind Commerce:
The Mind Commerce® mission is to provide customized research, consulting, training, and writing services for the telecommunications and IT industry. Mind Commerce clients include manufacturers, developers, service providers, industry organizations, and government. Mind Commerce differentiates itself from its competition by meeting the unique needs of its clients through customized product development and service delivery.
Mind Commerce is also available on Profound.com...
Purchase individual report sections for a pro-rated price. Visit Profound.com to learn more.