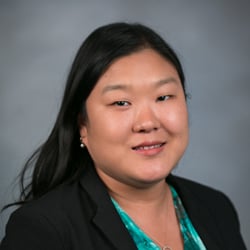 Emily Park has authored more than 36 studies as an Industry Analyst at The Freedonia Group, where she has worked since 2012. She double majored in Earth & Planetary Sciences and Environmental Studies at Washington University in St. Louis and now focuses on chemicals and equipment-related topics at Freedonia. Her areas of expertise include pesticides, fertilizers, water treatment equipment and chemicals, and aquaculture supplies.
Check out the interview below to learn more about Emily and how she conducts industry analysis through her work at Freedonia.
Describe the research methods you often use.
If it's a new topic for me, I start by just familiarizing myself with the technology and how the industry operates. From there, I try to identify what the biggest applications and product categories are in the market, and what new and emerging trends are shaping the industry going forward.
Next, I see what kind of data is available — trade and production data from the government, data from the UN, industry association data, and company sales and production data — and gather other information from industry publications and the general media. I use the data and information to come up with a general idea of the size of the market and its individual product/application categories and try to confirm the accuracy of my estimates with key industry participants (either suppliers of the product covered, or end users).
How do editors help ensure the quality of the research?
It's always good to have extra eyes looking at a study to check for inconsistencies. Also, because sometimes the editors are less knowledgeable about a topic than I am, it's good to know whether I'm explaining things clearly in the text.
What is your favorite part of the study writing process?
I enjoy the initial data and information gathering. If it's a new topic, I like learning new things, and if I'm returning to a topic, it's always interesting to see what's changed since I last covered it.
How long does it take to produce a report?
My part of the project takes about two months, but I benefit from previous work done by the economics and editorial departments and interns!
What is your favorite study that you've worked on?
I really enjoy the lawn and garden topics! It's interesting to see how trends in landscaping practices are evolving, and how they vary around the world. Water treatment is also fascinating to me.
What adjectives come to mind when you think about the people you work with at Freedonia?
Smart, nerdy, friendly, helpful.
How do you engage with clients as part of your job?
I like to find out how they're using the information we provide, and what they wish we'd included in previous versions.
What are some improvements that have been made to reports?
We're always looking to improve on previous editions by including more information on new and emerging markets or applications. I think the recent study design — which includes more concise text and more graphics — make the studies much more reader-friendly.
What's the biggest misconception people have about market research?
I think a lot of people think that "market research" just means consumer surveys. It's so much more than that! While we include consumer survey data when relevant, we also utilize a wide variety of other data sources, including government data, trade association data, and information from key companies. We also don't just cover the end user side of the market; we cover trends in raw materials and manufacturing as well.
What's your favorite office tradition?
I work remotely for Freedonia now, but I very much miss the office potlucks! Freedonia has a lot of fantastic cooks, and we've had a lot of fun potluck themes (soups, five ingredients or less, etc).
What's the most interesting thing you're working on right now?
I'm wrapping up a study on Global Silicones and am starting work on Global Rubber Processing Chemicals. I'd say the most interesting thing about Global Rubber Processing Chemicals is learning all of the different things that have to go into rubber to make sure that tires and other rubber products work properly; it's amazing how much longer tires are lasting now with the addition of improved chemicals.
Who would you most like to swap places with for a day?
I'd swap places with one of my favorite novelists so I can take a peek at their notes and see what's planned for future books!
What studies/projects have you worked on recently?
---
About Freedonia
The Freedonia Group, a division of MarketResearch.com, is a leading international industrial research company publishing more than 100 studies annually. Since 1985, Freedonia has provided research to customers ranging in size from global conglomerates to one-person consulting firms. More than 90% of the industrial companies in the Fortune 500 use Freedonia Group research to help with their strategic planning.