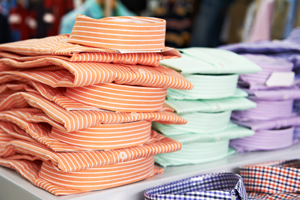 Before launching any business, it's imperative you do your research. According to Bloomberg, 8 out of 10 entrepreneurs who start small businesses fail within the first 18 months, a vast 80% don't succeed. So, if you want to be a part of that successful 20%, you have to put together your SWOT (strengths, weaknesses, opportunities and threats) analysis, business plan, and marketing plan – none of which can be done without reliable and professional market research.
According to realthread.com, one of the 6 tips to launching a successful clothing line is "research, research & more research." They explain that because there are so many different options available, you don't want to short change yourself to one style because you didn't take the time or effort to look into other creative options to yield different results. In his blog post "How to Use Market Research: An Entrepreneur's Perspective," CEO of MarketResearch.com, Rob Granader, explains "if you are looking to grow your business, find out the mindset of your customers or potential customers, look for new revenue streams, growth projections, potential customers, then look inside the pages of a Market Research report and find the answers." Plunkett Research, Ltd. reports that the clothing and apparel industries are expected to reach $264 billion by 2020. To avoid being part of that 80%, you should conduct the following necessary steps before starting your business.
1. SWOT Analysis
Strengths, weaknesses, opportunities and threats – information you need to know to succeed. Your strengths are what give you a leg up over other businesses. Weaknesses are the exact opposite – your disadvantages as a company relative to others. Opportunities are components that your business can use to its advantage, while threats could put your business in trouble. Determine where your business is today and where it could be in the future. Market research will provide you with the information necessary to determine these factors.
2. Business Plan
Outline the next 3-5 years for your business. A business plan includes information about your competitors, costs, plans for growth, target market and an executive summary, plus more information. This is where you will also include your SWOT analysis. A guideline for writing a business plan can be found on SBA.gov. Market research reports will play a big role in your business plan. Data collected from reports will help contribute to information about competitors, plans for growth, your target market and more.
3. Marketing
First and foremost, you have to decide what your marketing purpose and budget are for your clothing line. As described in one of our previous posts, "5 Steps for Using Market Research to Advertise Your Product," your purpose is all about your intention of advertising your product. Networking is essential in any marketing plan. As smallbusiness.chron.com explains, to start marketing, you need to compile a contact list of fashion buyers, media editors, merchandisers, boutique owners and clothing distributors. These will be the people to whom you send invitations for your shows, as well as your lines sheets, look-book and press releases. Start making pieces from your first collection for a look-book and line sheet. Market research will be helpful when developing line sheets to help determine recommended retail prices or best sellers. Researching competitors will influence your decision on pricing and what to sell.
In addition to your competitors, you also need to understand your target market. Understanding and learning their behaviors, when, where and how to reach them through marketing will be critical to achieving success. Once you have learned the behaviors of your target market, consider your budget and organize the most effective advertising campaign.
No matter where you may be in the process of launching your clothing line, whether you have already started the process, or are just starting out, even well after your company is established – market research is necessary every step of the way. The apparel industry is constantly changing with new trends, and you never want to fall behind or you'll find yourself becoming a part of that 80%.
For more information on the apparel industry, check out our related reports. To learn more about using market research to launch a business, download our free white paper.
You May Also Like