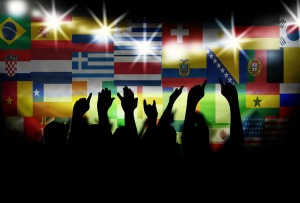 As you might have heard, the 2014 FIFA World Cup kicked off last week with Brazil's win over Croatia. While the outcome didn't surprise many (Brazil was a heavy favorite coming into the game as the third seed), the game itself was of great importance to the rest of the world. The first whistle signified the onset of a world event that has been in the planning process since Brazil was awarded the hosting rights in 2007. Of course, like other major events, countless hours, days, months, and years of preparation have gone into this tournament, along with the $11.7 billion put toward its production, making this years' event in Brazil the most expensive ever. And, after that $11.7 billion went toward funding the actual games, what about the other industries?
That amount doesn't account for the apparel created specifically for the 2014 World Cup, nor does it cover the food that needed to be purchased and prepared for fans around the world. It also doesn't take into consideration the increased production of soccer balls, shin guards, cleats and other assorted soccer equipment that sporting goods companies create in anticipation for the World Cup. With all of the production costs demanded by such a large event, it can be difficult for companies to accurately prepare for and profit from timely events like the World Cup. This concept raises the golden question- how are companies able to successfully market themselves and their products by drawing on the hype of major events like the FIFA World Cup?
Practice makes perfect
Brazil has been planning for this worldwide event since 2007. But, those seven years of planning will go a long way, as Brazil is expected to boost its economy by $3.03 billion as a result of the 2014 World Cup. In that time, they've built and restored 12 large stadiums, each holding between 40,000 and 60,000 people. If Brazil's example doesn't do it for you, look at Adidas. A partner with FIFA since 1970, Adidas has been an integral part of every World Cup for the last 30 years. In 2010, Adidas generated $1.8 billion in soccer-based sales, largely stemming from their success with the World Cup in South Africa. In November, a deal was announced that gave Adidas the Official Partner, Supplier and Licensee rights for the FIFA World Cup and all FIFA events. Adidas is planning ahead again, this time 16 years in advance. They've figured out that a key to success is preparation. While you may not need to start preparing 16 years out, be sure to take the proper measures of preparation when attempting to capitalize on a major world event.
Strength in numbers
The 2010 World Cup attracted 3.2 billion viewers, with 715 million for the final alone. Aside from the Olympics, the World Cup is the most watched event around the world. FIFA's marquee event generates a huge, widespread and diverse crowd. With so many people watching, a little bit of marketing can go a long way. So, when marketing your business or product, taking advantage of the attention surrounding a major event will be wildly beneficial.
A virtual megaphone
During the 2010 World Cup final, the price of a 30-second TV advertisement was $389,000. While that figure is minimal compared to the same for the Super Bowl ($4 million during the 2014 game), it validates that TV advertisement is definitely an investment. In addition to cost, television advertisements aren't the most optimal form of advertising for the World Cup, as soccer is played with two 45 minute continuous halves, with advertisements coming only at halftime. A solution to this is to find another form of advertising—one that is much cheaper, optimal, and can reach many people—social media. During the 2010 World Cup, the staggering number of tweets was enough to crash Twitter multiple times. Thus, Twitter had an entire team of people working to prepare for the 2014 games. Despite not being an official partner with FIFA, Nike was able to use a successful online campaign to generate more than twice the amount of social conversation than Adidas did. Limited availability in television advertising combined with continually increasing popularity of social media is leading to a different kind of marketing, one that could have a huge return if done right.
For more information on how you can advertise or launch your product or business, download our free white paper.
Thanks for reading!
Sam Eichberg
Marketing Intern,
MarketResearch.com