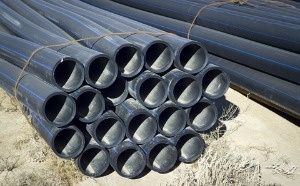 The expansion of natural gas production in the US has changed the landscape of thermoplastics. The largest building block in the industry, ethylene, can be produced from derivatives of crude oil or natural gas. Over the past few years, the increased production of natural gas in the US, supported by technological improvements related to horizontal drilling and hydraulic fracturing, caused the price of natural gas to see average annual declines of 11% between 2005 and 2015. This price shift, along with elevated oil prices throughout the past decade, caused many thermoplastic producers to prefer natural gas over oil in their production of feedstocks.
Ethylene is produced most commonly through a process called cracking, in which larger hydrocarbon molecules are broken down into smaller ones. Historically, most ethylene was produced through cracking of heavy liquid feedstocks derived from crude oil. As natural gas became cheaper and crude oil prices rose, the feedstock of choice for many ethylene producers became ethane extracted from natural gas.
As a result of this shift, the US ethylene industry held an advantage over producers in other parts of the world, due to the presence of cheap natural gas in the US. Consequently, many producers began making plans to construct new crackers in the US.
Beginning in 2014, however, crude oil prices began to fall as US oil production reached historic levels. By 2015, crude oil prices had collapsed far enough to erase much of natural gas' advantage over crude oil. While some producers began to rethink their new ethylene crackers and put their plans on hold, those whose projects were already under construction reaffirmed their commitment to their plans. Most of these facilities are expected to start up sometime in 2017.
Increased availability of cheap ethylene feedstock in the US has caused the country to become a cost-advantaged polyethylene (PE) supplier to the global market, and US production of PE reached all-time highs in 2015.
US PE capacity is expected to increase through the remainder of the decade to 2020. Many companies that planned construction of new ethylene crackers also planned to add new PE production capacity. While those plans associated with new ethane crackers not yet under construction may possibly never come to fruition, many of these PE facilities are still expected to come on line. The new capacity could add somewhere between 16.5 billion pounds and 19 billion pounds by 2020 to the US' current 34 billion pounds of annual capacity.
Learn More
Interested in the US polyethylene market? Maybe the thermoplastics market as a whole? Check out Polyethylene: United States and Thermoplastic Resins: United States by the Freedonia Focus Reports division of The Freedonia Group for more insights into the PE and thermoplastic markets. Analysis includes historical market data from 2005 to 2015, and forecasts to 2020.
Other reports in the thermoplastics series include Polypropylene: United States, Polyvinyl Chloride: United States, and Polystyrene: United States.
---
About the Author: Luke Hickman is an Analyst with Freedonia Focus Reports. He conducts research and writes a variety of Focus Reports, which offer concise overviews of market size, product segmentation, business trends, and more.