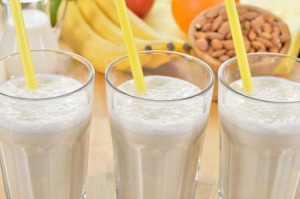 Consumers are increasingly looking to protein to boost nutrition in their diets. The results of numerous studies support protein's role in fighting obesity through supporting weight management. Protein also ensures proper growth, immune, heart and respiratory function. According to "Dietary Guidelines for Americans" from the USDA and Health and Human Services Administration, the average male 31 to 50 years of age needs about 56 grams of protein.
The long-held respect for protein as an enabler of muscle building and muscle recovery processes forms a strong foundation for its benefits for all consumers. Body builders have typically sought nearly a gram of protein per pound of body weight, with some experts recommending about double the dietary guidelines, or about 0.7g/pound. Regardless of how consumers intend to benefit from protein, there's currently a strong focus on it within the Food & Beverage industry, and this protein emphasis is playing into the hands of savvy food industry players, particularly manufacturers.
Marketing Protein Content
Food companies are looking to maximize the strong drive of consumers seeking out protein. Food marketers are adding large-font clean mentions of the word "protein" on packaging and also in the name of products. A notable example is the Kellogg's Special K line, which includes Protein Cereal, Protein Meal Bars, Protein Snack Bars, Protein Shakes and Protein Water Mix. All of these products offer a good amount of protein per serving, ranging from 4g to 10g. Some of these products are specifically formulated to have higher amounts of protein; in other cases, the name of the product and the claims merely put a focus on the protein content.
Focusing on descriptors and reminding consumers that their products are a good source of protein is part of a focused and simple approach to attracting the protein-seeking customer. B'more Organic Banana Skyr (Icelandic fermented dairy drink akin to kefir) smoothies are labeled with their protein content right under the flavor description. With two servings per container, the label accurately states "30g of protein per bottle."
As a benefit of protein, products that are rich in protein improve satiety, or the feeling of fullness after eating/drinking. This is another angle that marketers are using, and it is effective with healthy eaters and healthy-ingredient snackers, who may be looking for smaller, quick, "pick-me-up" food and beverages. Power, strength, endurance, recovery—these are all positive associations of protein nutrition. These are also examples of how food marketers are interweaving the benefits of protein with the story of their food and beverages. A male-oriented yogurt company, called Powerful Yogurt, drives home this tactic through its name. The word "powerful" is associated with strength, endurance and stamina.
Protein Innovation
For packaged goods companies, the need for protein-positioning in its products is also fueling innovation. Companies are mapping out new products that incorporate protein-rich foods and are finding new ways to fortify protein content. Food producers are incorporating ancient grains, dairy, superfoods and some isolates from whey, milk, soy and peas to blend new combinations of taste, texture and appearance, while providing protein-seeking consumers what they want—higher protein amounts.
Part of this innovation is also finding new evolutions of products that have already been successful. Snack bars that are formulated for high-protein content can incorporate more grains and superfruits to appeal to those who want meal replacement and snacks with higher protein, but that are also appealing in taste and texture. In the case of snack bars and protein shakes, this innovation is leading to a blurring of lines between some traditional nutritional products and food products in the grocery aisles.
New Acquisitions and Ventures
Protein-positioning for manufacturers is also fueling acquisitions and new ventures, like with the near-$8 billion proposed acquisition of Hillshire Brands Co. by Tyson Foods, the largest ever in the meat industry. The mega-deal in the traditional protein category of meat is expected to spark additional deals. Last year, WH Group acquired Smithfield Food, a large pork producer for $4.7 billion, the biggest Chinese takeover of an American company, as noted in the Wall Street Journal.
Dairy and egg producers, as well as egg-substitute and plant-based meat alternative companies, should also see renewed interest in investment in, or purchase of, their organizations. Expect more deals as food companies look to align with the protein trend and a change in the way we eat globally. In the U.S. protein's rein is not expected to be short-lived, so food companies are wise to profit from this trend through new tactics in marketing, innovation and deal-making.
For more analysis and information on protein trends, check out Proteins-Classic, Alternative and Exotic Sources.
In addition, be sure to download a free ebook by Packaged Facts that highlights the top 10 food industry trends in 2017 and 2018. Click the button below to learn more.