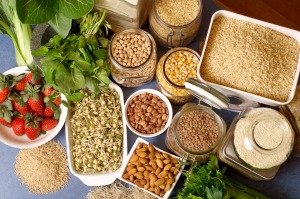 No matter what industry you are in, people are always itching to find out which latest and greatest trends are impacting the market. But, when your market is continually evolving, like the food & beverage industry, it can be difficult to stay on top of the most current trends. Because tracking industry trends plays such an important role in making business decisions and creating opportunities, we have put together a list of the hottest current and emerging trends in the food & beverage industry.
1. Going Gluten-Free
With health & wellness remaining one of the strongest consumer drivers, people are continuing to avoid foods, and some ingredients altogether, that they consider to have negative effects on health, and gluten is spearheading the movement. Originally marketed to individuals with Celiac Deasease, which causes a severe reaction in response to the consumption of gluten, many consumers experience varying amounts of gluten sensitivity but aren't necessarily suffering from the disease. Because many have found that reducing the amount of gluten in their diets makes them feel better, the gluten-free trend has made its way into the homes of the non-celiac masses. And, because some confusion still lingers around gluten and the effects of wheat on the body, people are continuing to gravitate to "clean label," or "free from," products with the mindset of choosing a healthier alternative.
2. South American Flavors
With Peruvian cuisine gaining more and more traction and the increased importing of ancient seeds, like quinoa, South American flavors are continuing to gain exposure throughout the industry. According to leading industry publishing firm Packaged Facts, approximately 20% of American adults look for foods with cross-cultural influence. This, coupled with a fast-growing Hispanic population holding more than $1 trillion in purchasing power, is propelling the bold flavors of South American cuisines to the forefront of food innovation with the help of several of today's growing consumer drivers, such as flavor tourism, authenticity and health & wellness. To find out more about South American flavors, click here.
3. Mediterranean Influence
Also capitalizing on the cultural influence trend, Mediterranean foods are caiming stake in the market as well. Mediterranean influences have largely resulted from the popularity of the Mediterranian diet, which focuses on leaner foods such as lean meats, legumes and vegetables. With consumers' interest in healthful and protein-rich options, inspiration is being drawn from countries near the Mediterranean Rim, such as Greece, Italy, Spain, Morocco, Egypt and others. Because the diet has been met with such popularity and success, people are stepping out of the traditional Mediterranean cuisine box and exploring new dishes and new Mediterranean-inspired outlets for dining. As a result, fast-casual Mediterranean restaurants, such as Taziki's, Roti or Zoe's Kitchen, have been gaining popularity and expanding across the country.
4. Protein Craze
Protein is one of the most important elements in our diet, yet many people are uncertain as to how much of it to consume on a daily basis. Protein consumption dispersed throughout the day can offer numerous health benefits, leading many consumers to search for foods that are rich in protein. And, while protein is not the antithesis of carbohydrates, many popular diets are emphasizing its intake in conjunction with reducing carbs. With health-conscious individuals driving the craze, protein-rich products, such as macho yogurt, exotic meats and various snack bars, are seeing increased popularity and, as a result, profitability. For more information about protein trends, click here.
5. Shift to Snacking
The food & beverage industry is experiencing a shift as people gravitate more toward lighter, grazing-style consumption. As snacking continues to gain popularity, food businesses will be presented with ample new opportunities in their efforts to accomodate lighter meal occassions by offering snack-ready foods that are healthy, cravable and convenient.
Interested in learning more about food & beverage trends? Download our free, newly released PDF on the topic, which includes up-to-date information from 2017.