Lack of visibility and transparency are considered some of the biggest challenges in the supply chain industry, at times causing disruptions and inventory imbalance. These issues largely stem from an inability to store and make sense of the overwhelming amount of data scattered across different processes, sources, and systems.
However, by using technologies such as artificial intelligence (AI), machine learning, and the Internet of Things (IoT) to improve supply chain transparency, organizations can drive product excellence, accelerate time-to-market, and develop new products and services.
Supply chain networks generate massive volumes of data from ever-changing sources. AI can use this data to analyze trends that can assist in streamlining the supply chain process. This technology is expected to create a sentient supply chain for the future that would able to feel, perceive, and react to situations at a granular level.
According to a report from MarketsandMarkets, a global research firm, the AI in supply chain market is expected to reach USD 10.11 billion by 2025, growing at a CAGR of 45.55% between 2018 and 2025.
MarketsandMarkets has identified six of the key supply chain and logistics applications where AI is expected to have a major impact for 2018 and beyond.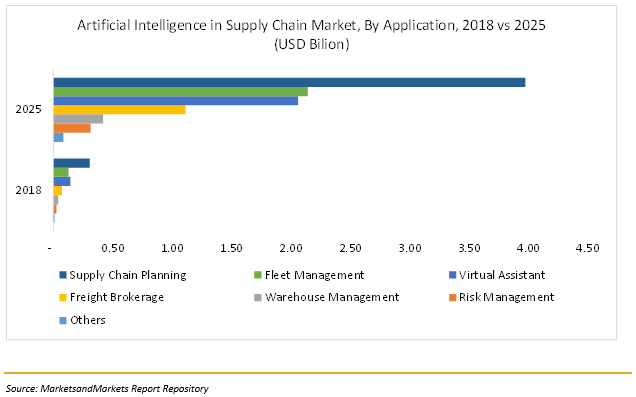 1. Fleet Management
The retail, transportation, healthcare, heavy equipment, and logistics industries all rely on effective fleet management for uninterrupted flow of goods and services. Leading enterprises use fleet management for real-time fleet analytics, which can simultaneously ingest, analyze, and act on data to make critical decisions within milliseconds, as well as improve efficiency, reduce risk, improve productivity, lower costs, generate new revenue, and improve customer experiences.
AI solutions for fleet management offer real-time responses to queries regarding large, complex, and streaming data sets. AI processes personal, proprietary, and public data from a wide range of sources – including vehicles, personnel, traffic, and weather – to discover rich, actionable insights. Its enterprise-grade, secure, and scalable relational database empowers enterprises to effectively manage their fleet, reduce cost, and improve profitability.
2. Supply Chain Planning
Supply chain planning (SCP) is the forward-looking process of coordinating assets to optimize the delivery of goods, services, and information from suppliers to customers, balancing supply and demand. AI is implemented to effectively manage supply chain and demand. Supply chain management (SCM) solutions manage the safety of inventory levels, design the transportation network, manage purchases and supplies, and plan and forecast demands.
AI offers a complete SCM functionality to give full visibility over the entire supply chain and gain insights about any risks associated with the supply chain. AI tracks disruptions and predicts interruptions in the supply chain by collecting and associating data. This data can be gathered from different sources, such as social media, weather predictions, and historical information.
3. Warehouse Management
AI is expected to transform warehousing in terms of productivity, communication, warehouse operations, wages, robots, and inventory. It speeds up the process of picking and packing items. AI-based robots are being used for warehouse management to manage a high volume of goods and automate operations. Robots can easily and quickly transport items within a warehouse.
Moreover, managing inventory is one of the most expensive aspects of running a warehouse. Businesses that use AI have the advantage of reducing the expense related to effectively maintaining their inventory. This ensures that the productivity of the business is optimized.
4. Virtual Assistants
Tech advancements in AI are increasingly geared toward virtual assistants, including chatbots, which will reach maturity over the next 3–5 years. The chatbot enables personalized, scalable conversations with customers about shipment-related queries and different service offerings.
Chatbots can provide users with a convenient way to find shipping branches near their own locations, track shipments, and share preferred delivery locations. They also enable customers to schedule deliveries for personalized shipments and e-commerce parcels.
5. Risk Management
The rising use of AI in risk management will have a profound impact on the way firms and financial organizations manage their risks. Historically, most of the emphasis has been on monitoring the risk in operations, with less focus on real analytics. Through increasing use of AI and machine learning, risk managers will likely shift toward analytics and loss reduction in a proactive manner.
Today, firms are developing operational risk platforms by using machine learning and AI to scour the Internet for all-encompassing information about an organization. In a not-too-distant future, traders, asset managers, and risk managers will actively resort to AI-based platforms to monitor counterparty credit risk and operational risk of the entities that they are dealing with.
6. Automated Freight Brokerage
The freight industry is as fragmented as it is enormous. Navigating its different channels and connecting the three lynchpin players - carriers, shippers, and brokers - takes a lot of effort and countless man hours of redundant work. At any given point in time, trucks numbering in the tens of thousands are hauling freight across the country's roads.
As a result, there are a lot of startups looking to provide track and trace solutions to accurately determine a truck's location at a specific time. Most of these solutions rely on internet connectivity, and many operate through applications installed on truck drivers' smartphones. Companies are also looking to introduce AI-powered brokerage services by intelligently automating and mimicking existing workflows – including email, fax, and electronic data interchange.
Read the Full Report on AI in Supply Chain
For more information, read the full report by MarketsandMarkets, titled Artificial Intelligence in Supply Chain Market - Global Forecast to 2025. In addition to historical trends and forecasts, the report highlights some key players in the AI in supply chain market, including the following:
IBM Corporation (US)
Microsoft Corporation (US)
SAP SE (Germany)
Oracle Corporation (US)
Cainiao Smart Logistics Network Limited (China)
Logility, Inc. (US)
ClearMetal, INC. (US)
Splice Machine, Inc. (US)
LLamasoft, Inc. (US)
Fraight AI (US)
E2open (US)
Relex Solution (Finland)
Teknowlogi (US)
Related Reports
MarketsandMarkets has also published a variety of comprehensive reports on the role of artificial intelligence in various industries.
---
About the Authors: Anand Shanker is a senior research analyst and Mayuri Kulkarni is a senior associate at MarketsandMarkets, a global research firm.
You May Also Like