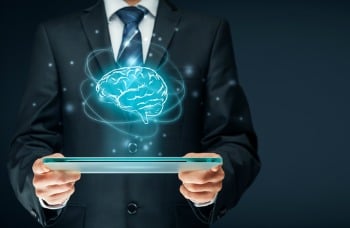 Many of the world's largest corporations are investing in artificial intelligence. Advancements in AI could give these companies "an unbelievable advantage," according to the MIT Technology Review.
A concept once associated mostly with science fiction, AI is now being applied to everything from web search and personal assistants, to industrial robots, self-driving cars, and autonomous weapons.
AI has the potential to transform entire industries — including manufacturing, media, advertising, financial services, health care, retail, transportation, and automotive, to name a few.
Driven by a growing range of applications, the global artificial intelligence market is forecast to rise at a compound annual growth rate (CAGR) of 62.9% from 2016 to 2022, as reported by the research firm MarketsandMarkets.
What Is Artificial Intelligence?
Artificial intelligence, also known as machine-based intelligence, gives computers the ability to perform cognitive functions that mimic the way the human brain works. This includes:
Language translation
Image recognition
Voice recognition
Machine learning
Problem solving
Through a technology known as deep learning, machines can teach themselves a task through observation and experience, rather than following a set of pre-programmed instructions. "The machine essentially programs itself," explains the MIT Technology Review.
In a recent example of deep learning, the company Nvidia engineered a self-driving car that taught itself to drive by watching a human do it.
In 2015, Mount Sinai Hospital in New York set up a computer program known as Deep Patient, which analyzes patient records to better predict disease. Deep Patient can anticipate the onset of schizophrenia surprisingly well, a psychiatric disorder that is very challenging for doctors to predict.
These innovations demonstrate the incredible possibilities at play.
Artificial Intelligence Market Forecasts
A variety of markets are primed for growth.
MarketsandMarkets expects natural language processing (NLP) to increase at the highest rate in the next five years. This will include various applications:
Smartphones
Navigation systems
Car-infotainment systems
Personal assistants
Deep learning technology will also rise quickly. We will see this technology applied to fraud detection, voice search and recommendation engines, motion detection, and other areas.
AI is currently being tested in the retail industry to optimize pricing, improve processes, and build a better customer experience through the use of data, according to a Frost & Sullivan report.
Education is another sector that will incorporate AI technologies. By analyzing massive data sets, AI could create custom learning profiles for students and help educators enhance their approach to teaching. Technavio analysts expect the AI market in the US education sector to rise at a CAGR of 47.5% from 2017-2021.
Artificial intelligence is also used in the defense sector to process huge amounts of data, enhance cybersecurity, and for other important tasks. According to a report by Mordor Intelligence, AI is frequently employed for diffusing bombs, moving equipment in dangerous zones, and surveillance and reconnaissance missions. AI technologies used for defense will develop rapidly in the coming years. "It is expected that unmanned ground vehicles will learn, amass knowledge, plan, learn spoken languages, perceive threats, corroborate with other robots to manipulate objects, among other things," the report states.
AI could play a large role in medicine eventually, although most processes are still controlled manually and AI is only in the early stages of development. In the future, AI may be used to reduce workloads, increase patient safety, and minimize costs.
Artificial Intelligence Companies
The following key players are investing in AI research and development:
Apple Inc.
Bloomberg
Coursera
Facebook
FinGenius Limited
General Vision, Inc.
Google, Inc.
IBM Corporation
Inbenta Technologies, Inc

Intel Corporation
Kensho Technologies
Microsoft Corporation
Numenta, Inc.
Nvidia Corporation
Qualcomm
Rocket Fuel Inc.
Sentient Technologies Holdings Ltd.
Tesla Motors
The Economic Impact of AI
AI is still a subject of much speculation, and it's unknown how quickly we may develop human-level AI, but experts agree that AI will have significant widespread repercussions and could eventually change the nature of work as we know it.
According to the research firm Mind Commerce, AI will "become a core component of virtually all online communication, digital content, and commerce." It will be used extensively in predictive analytics, automated laboratories and factories, and unmanned vehicles.
A report by the Knowledge Based Value (KBV) Research predicts that AI could double annual economic growth rates within two decades. "The impact of artificial technologies on business is projected to boost labor productivity by up to 40% by fundamentally changing the way work is done and reinforcing the role of people to drive growth in business," the report says.
Although AI will boost productivity, this may come at a significant cost. A widely circulated report by the White House under the Obama administration predicts that AI will likely eliminate millions of jobs, particularly for workers earning less than $20 per hour and without a high school diploma. Stephen Hawking has also expressed concerns that artificial intelligence will gut middle class jobs and accelerate economic inequality.
If machines ever do develop "superintelligence" that surpasses human capabilities, a range of doomsday scenarios could result. The Future of Life Institute outlines the primary risks, emphasizing the need for AI safety research.
Interested to Learn More?
To access authoritative research on this growing field, search related reports on MarketResearch.com. You can browse by keyword, or scroll through a variety of new market studies on the Internet of Things (IoT) category page.
Click the button below to view more reports and find out more.
Related Articles:
---
About the Author: Sarah Schmidt is a Managing Editor at MarketResearch.com, a leading provider of global market intelligence products and services.