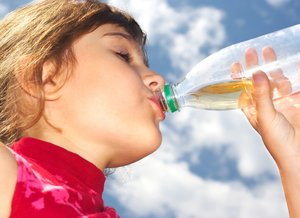 With the fast-paced lifestyles of the average U.S. consumer, simplicity of snacks and beverages is a must. Bottled water has been around to fill that need since the late 1700s, but even today bottled water is seeing a bright future. As health awareness continues, consumers are going to continue switching from carbonated soft drinks to water. Marketers from companies around the globe need to embrace new ideas for water to ensure their bottles are picked off the shelves.
Consumer Interest in Health & Wellness Drives Bottled Water Sales in U.S.
According to a report by Packaged Facts, the struggle with obesity in the U.S. has caused many Americans to turn to water as their zero-calorie/ultra-low calorie beverage of choice. Even activists across America are protesting high-calorie beverages, saying sugary drinks are menaces to public health, which highlights water as the better, healthier alternative.
A new target audience is blooming for marketers. Over the last decade, the number of adults who drank five or more bottles of water grew more than 20%, while the number of adults who drank five or more glasses of diet cola, regular cola, and other carbonated diet drinks fell by double-digit percentages. Most of the customers that are purchasing large amounts of sparkling or still water bottles are also much more likely to look for organic foods and buy foods that are locally-sourced and without artificial additives. This is an audience that marketers should try to attract to their brands.
U.S. Bottled Water Market Landscape
Although the popularity of bottled water is growing, there are still setbacks marketers have to face. An article published on Today Money puts bottled water at a 4,000% markup, partly based on the fact that it takes five bottles of water to make the plastic for one bottle of water. As stores across the country stock their shelves with different brands, companies need to create a new competitive advantage that isn't based on price or volume. Industry leaders, such as Coca-Cola Company and PepsiCo, Inc., are now working to revamp their marketing strategies to keep up with increasing competition from branded premium products and low-priced commodity products from private label manufacturers.
Some of the key ways companies are changing their water to stay on top are through:
Making water not only a fashion statement but a fashion accessory
Moving away from commodity-type bottled water and pivoting towards new products with the potential to capture a share of the premium sparkling water market
Creating enhanced waters to claim the loyalties of converted drinkers of carbonated soft drinks
Bottled water companies are working less to compete on the base of volume, and instead are working to market by offering high-profit, premium brands of bottled water.
Shift from Plain Ole' Bottled Water
Different features of water are now beginning to emerge, creating more attractive options to those that are turning away from carbonated drinks. Many new bottled water products reflect a broader culinary trend toward bold and original flavors, such as the popularity of flavor additives and more options for sparkling water. European consumers have long been drinking sparkling water, almost like a status symbol. But now in the U.S., the Millennials and GenXers have also begun to drink and wear premium still water, packaged in designer bottles, as fashion statements.
The latest business venture that many companies have invested in to join the bottled water market is water enhancers. In 2011, Kraft Foods launched the MiO brand; small, convenient, portable, squeezable egg-shaped containers of water enhancers that allow users to customize the intensity of their flavoring in water. Many companies since have rolled out their own versions, such as Coca-Cola Company's DASANI Drops, Vitaminwater Zero Drops, Minute Maid Drops, and PepsiCo's Aquafina Flavorsplash. Aside from flavoring additives, many companies have worked to promote water that is enhanced with vitamins and minerals to benefit consumers' health.
Global Demand
Bottled water sales are also increasing on a global level. In a report by Netscribes, there is a shortage of safe drinking water around the world which has opened up a new network for bottled water companies. The bottled water industry is experiencing rapid growth because of health concerns and increased population. Globally, consumption of bottle water with 500 ml capacity has increased by about 140%. In the future, we will see consumption on the global level grow even further.

As health concerns continue to grow, bottled water consumption, too, will increase around the world. For the United States, it is going to be the companies that are creative with look and flavorings that get to lead the industry.

To find out more information on the bottled water market, check out Packaged Facts May 2014 report, Bottled Water in the United States.
Get More Information
For a deeper understanding of the trends shaping the food retail industry as a whole, download a free PDF by Packaged Facts, which features key research highlights from 2017. Click the button below to learn more.