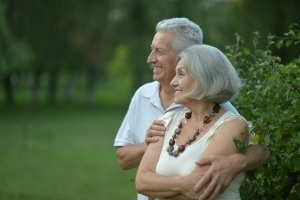 At the recent Boomer Business Summit in Washington, DC, I shared the podium with Steve Parker, SVP Marketing, firstSTREET, a direct-marketing company targeting "Boomers & beyond" with "solutions to aging-related problems." We spoke at a session entitled A Broad View of Trends in Commerce: Who, Why and How They Will Buy, and delivered the important news that Baby Boomers (aged 52-70 years) still represent an important consumer demographic that marketers ignore at their peril.
My talk, Shopping Boomer-Style, focused on how retailers can tap the sizeable discretionary income Boomers still have to spend. Steve's session, Trends in Commerce for the Longevity Economy, explained that while many of his company's offerings aim toward the most senior of seniors, many Boomers are facing challenges like stiff joints, sore muscles, aching feet, less keen vision and the world suddenly getting quieter.
Everybody, sooner or later, becomes a lifeSTREET target customer, to paraphrase John Lennon, aging like life "is what happens to you when you're busy making other plans."
Look at Boomer's Incomes
The income numbers tell the story about the still strong spending power of Boomers. Since 2014 was the most recent year available in the U.S. Census, the five-year periods reported do not exactly conform to the generational cohort, but any variations amount to rounding errors and so are good enough for "government work."
Household incomes rise and fall predictably with age, reaching its peak from 45-to-54 years of age. In 2014, that means GenXers (45-49) and Boomers (50-54).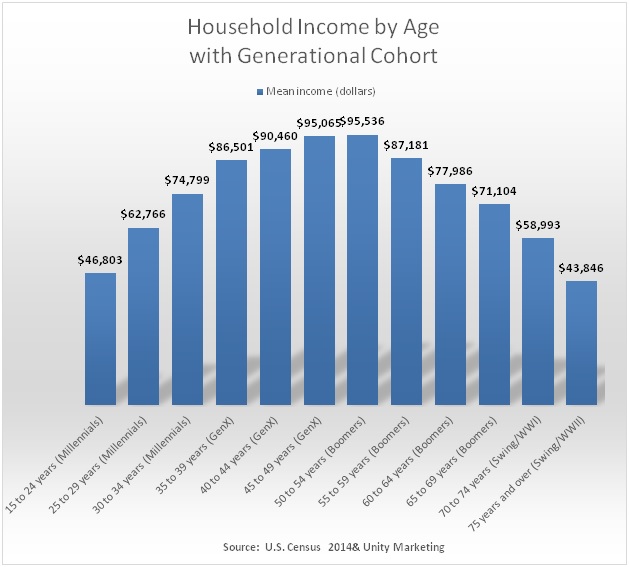 But looking at the number of households in the highest-income five-year age segments, the number of Boomer households 50-54 years (4.3 million) exceeds that of the 3.9 million GenXers aged 45-49 years.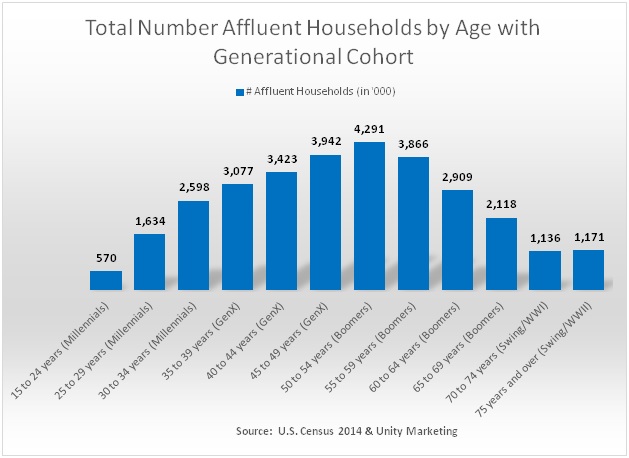 And since the huge Boomer cohort is on the higher-end of the high-income range, and GenXers on the lower end, the total number of affluent households (top 20% from $100k+) remains heavily weighted toward Boomers (43% of total affluents) as compared with GenXers (34%).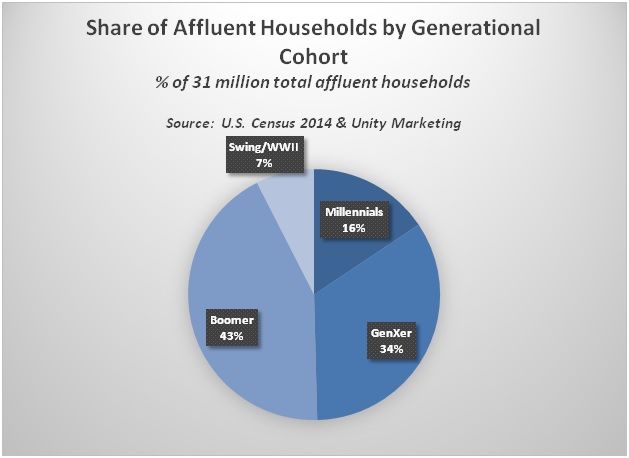 Net/Net: Boomers will continue to dominate the affluent consumer segment for at least the next five years, and probably the next ten, given their penchant to keep working and not retire as previous generations at 65 years.
Trends in Commerce for the Longevity Economy
In his talk, Steve made clear that the longevity market, which his company targets, includes Boomers, as well as the over 70 year olds, members of the Swing and WWII generations. But no matter which cohort a marketer targets — Millennial, GenXer, Boomer or Swing/WWII shoppers — Steve says:
"While we are only in the 3rd inning, the game is already over… Digital shopping has won and Amazon is the MVP. Everything else is niche or surviving in increasingly smaller pockets."
Shoppers of all ages have come online to disrupt every sector of the retail economy, offering 24/7 availability, immediacy, portability (thanks to mobile), interactively, price transparency and the ability to precisely target customers. "Today all marketers try to differentiate by product, selection, price, delivery and guarantees," Steve says. "But Amazon already has beat or matched all of us on ALL of these … or will soon."
The "white space" where marketers can differentiate and compete against the power of Amazon is service. Steve concludes, "Amazon is a self-service model. Seniors remember and prefer service."
Service is the key, offering human interaction, relationship, understanding and empathy, all valued not just by the Boomers, but by everyone — young, old and middle-aged.
Hard as it might try, Amazon can never beat it. The proof: Try to call Amazon to talk to a person about your order. Good luck!
Why Boomers — and Everybody Else — Like to Shop on "Main Street"
Although service can give specialty retailers an edge, they remain fixated on product exclusivity and price as their chief competitive challenges. But as Steve makes crystal clear, that "game is already over." Retailers cannot win on product or price anymore. The way to retail success and growth is through service and building personal relationships with customers. The internet and social media is a tool to foster such relationships, but retailers must start on their shop floor.
Shoppers' needs have fundamentally changed since anything they want to buy is immediately available online, and probably at lower cost. That turns the idea of shopping from being about buying a product to going to the store to have a shopping experience.
Today, success at retail is less about WHAT you sell, and more about HOW you sell it. Retailers that don't understand this are doomed to fail. Retailers need to create extraordinary customer experiences in their stores, and specialty independents that personally know their customers have a huge advantage to exploit.
While national chains have big data about their customers and can use it to drill down to identify narrow customer segments and to specify products each customer is likely to need, they can't look that customer in the eye, shake their hand and give them a smile that forges a personal bond that translates into customer loyalty for life.
More Help with Boomers
Additional resources are available to help you succeed in marketing to affluent Boomer customers:
To learn more about recent luxury trends, check out a free downloadable white paper with expert insights from Unity Marketing.
About Pam Danziger and Unity Marketing
Speaker, author, and market researcher Pamela N. Danziger is internationally recognized for her expertise on the world's most influential consumers: the American Affluent. Her latest book, Shops that POP! 7 Steps to Extraordinary Retail Success, reveals the secrets to crafting a retail shopping experience that's irresistible to high-value shoppers looking for something special.
As founder of Unity Marketing in 1992, Pam leads with research to provide brands with actionable insights into the minds of their most profitable customers.
Pam received the Global Luxury Award for top luxury industry achievers from Harper's Bazaar. She was named to Luxury Daily's Luxury Women to Watch in 2013. She is a member of Jim Blasingame: The Small Business Advocate's Brain Trust and a contributing columnist to The Robin Report.
She is the author of five books including her recent mini-book, What Do HENRY's Want?, which explores the changing face of America's consumer marketplace. Pam is frequently called on to share new insights with audiences and business leaders all over the world.