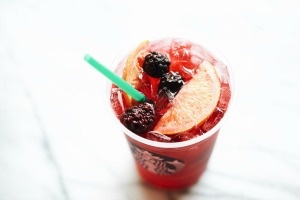 Summer is the season of blockbuster movies, weekend barbecues, garden weddings, and, of course, chain restaurants making every attempt to lure in new customers with seasonal cold beverage offerings. This year alone, we saw Starbucks introduce its blended Granitas drinks (only available after 3 pm as a part of its Sunset Menu), Chick-fil-A debut a frozen lemonade, and Checkers and Rally's whip up six different frozen drinks and smoothies as a part of its new Chill Spot menu.
But you wouldn't put these colorful, uniquely flavored, ready-made Instagram advertisements in your standard paper or foam cup. No, these lively libations are offered up in crystal clear cups made of PET plastic that allow the refreshment to stand out and deliver profits to both the restaurant and the cup manufacturer.
Soft Drink Sales Decline While Specialty Beverage Menus Expand
The greater use of PET in foodservice packaging has helped makers of disposable cups gain back some of the losses they saw when Americans, particularly when buying food for kids, cut back on fountain soft drinks in favor of healthier alternatives such as bottled water or juice. The clear cups are sold to restaurants at a higher cost, a cost that can be accepted by establishments because the beverages themselves are sold at a premium.
"Plastic is probably growing faster because it's getting used a lot for the expanded beverage offerings, like tea and juice. For that stuff you want to have a nice clear cup to showcase the beverage…You also have a larger profit margin to fund the use of a more expensive cup," says Jeremy Brofford, Director of Packaging at Quality Supply Chain Co-op, which oversees the supply chain for Wendy's restaurants in the US and Canada. Wendy's line of Fruitea Chillers (introduced last summer) and its flavored teas and lemonades are all packaged in a clear plastic cup.
Manufacturers of cups and lids had seen profits dip along with falling sales of fountain soft drinks due to reduced demand for large disposable plastic cups. However, once McDonald's and other fast food chains realized that beverage menu expansion was successful in bringing health-conscious customers back in, the establishments also provided relief for cup providers with the need for premium packaging that could make these colorful coolers as tantalizing to the eye as they were to the taste buds.
Healthy Drinks Equal Healthy Cup Sales
Nontraditional beverage offerings for fast food restaurants that are usually served in clear cups include smoothies, flavored teas and lemonades, chilled and blended coffee drinks, and, most recently, fresh pressed juices with healthful ingredients.
Though the outlook for foam and paper cups for cold drinks is less encouraging, the adoption of PET cups and specialty domed lids to accommodate whipped toppings will help to keep the foodservice disposable cup market chugging along at a healthy pace. Continued expansions of hot beverage menus in these venues will also boost growth, especially for insulated paper cups that present an upscale appearance.
For more information on these and other packaging trends in the foodservice and retail cup and lid market, check out the industry study Cups & Lids by the Freedonia Group. This comprehensive study offers historical demand data and forecasts; it also covers key market environment factors, industry structure, company market share, and more.

---
About the Author: Katie Wieser is an Industry Analyst at the Freedonia Group, a leading international market research company and a division of MarketResearch.com.