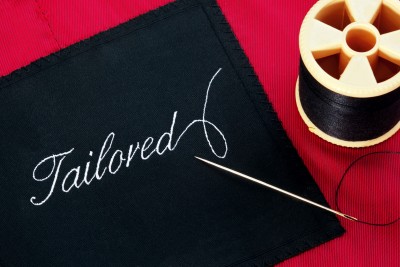 In today's market, "one size fits all" has become an obsolete concept -- customization is the way to go. Consider for example the innovation of Apple's iTunes store: It allows you to purchase just a single song, rather than being required to buy the entire album. Similarly, from giving consumers the ability to tailor their preferred design features on the latest model of a Toyota car to purchasing only their favorite pair of Converse tennis shoes, most companies now recognize that they must offer their customers the option to purchase products that are precisely tailored to meet the customer's needs and preferences.
It seems logical now, but customization was not the philosophy of many companies over the past century. Now, many consumers ask, "Why would I order a bland cup of filter coffee when I can start the day with my very own self-selected Starbucks creation -- a Ristretto Venti, 2-Pumps Hazelnut, Extra Whole Milk, Espresso?"
This pinpoint tailoring is precisely what Profound, a service of MarketResearch.com and one of the largest and most trusted corporate market intelligence providers on the web, promises its customers.
A commitment to Profound not only gives subscribers access to more than 725,000 business-critical research reports from 203 of the world's leading market research publishers, but it also gives them the option to purchase the specific sections of a report that directly addresses their needs.
This makes Profound the only web-based market intelligence providor that gives its subscribers access to nuggets of reports, from a specific chapter to a table, a chart, or a graph – at a fraction of the cost of a full report.
Who said market research required a colossal budget?
Profound's unique buy-by-the-slice functionality and flexible payment plans allow companies of all sizes to obtain research specifically tailored to their needs.
Reviewing the product for Outsell, Heidi Longaberger reported, "What sets MarketResearch.com Profound apart from other market research providers is the option to purchase discrete report sections (including individual chapters, charts, tables, and graphs) [...] the ability to purchase individual sections of a report is unique in the market research world and is a valuable feature for any size organization."
Browsing through Profound's vast collection of reports from around the world and spanning hundreds of industries (including banking and finance, food and beverage, life science and heavy industry) sounds as tedious as looking for a needle in a haystack.
But the service's state-of-the-art search engine helps customers find the exact research they are looking for in no time – and with no hassle.The highly sophisticated search engine leads to search results of superior accuracy, giving professionals from a wide variety of industries access to fine-tuned, personalized research reports.
Another aspect of the Profound advantage is the exceptional customer service it offers. Complementing its simple, fast, and highly effective search technology is Profound's in-house support staff, available to help customers along the way and to ensure that they find the most accurate, personalized research they need.
"MarketResearch.com Profound is clearly an offering that any size organization with a need for a variety of market intelligence and business information should note," Longaberger says in her review. "All together, Profound is well worth investigating."
For more information on our premium subscription service, Profound, sign up for a free trial.
Thanks for reading!
Cecile Guillemin