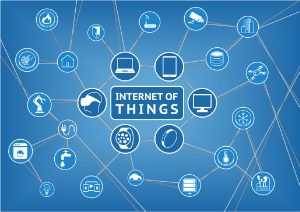 The Internet of Things (IoT) remains largely an amorphous construct with many different meanings to many different constituents. One thing that is clear, however, is that it represents a next generation set of technologies, systems, networks, platforms, devices, solutions and services that will transform virtually every industry vertical. Those industries that are not transformed by IoT are also those that are destined for significant contraction. IoT will also transform consumer lifestyles and lead to a new world of possibilities in terms of how people view virtual objects and interact between virtual and physical assets.
The Impact of Big Data & Analytics
Big Data and Analytics will increase in importance as IoT evolves to become more commonplace. Data generated through sensors embedded in various things/objects will generate massive amounts of unstructured (big) data on a real-time basis that holds the promise for intelligence and insights for dramatically improved decision processes. Where will the data come from? Mind Commerce sees certain industry verticals as early leaders in driving massive data. Those leading areas include:
Connected Homes
Connected Vehicles
Industrial Automation
Global Smart City initiatives
IoT and Industry Impacts
Connected Home covers the automation and connection of home electronics and appliances, utility meters, thermostats and sensors within the home using remote access from the Internet. Connected homes also include intelligent homes that control lighting, air conditioning, and security systems such as door locks and safety locks.
Major automobile brands are also committed to the connected information market. Today, many vehicles have infotainment for entertainment, connected with devices such as personal navigation systems and smart phones with a hands-free car kit. Smartphone connectivity bridges the product life cycle gap between car infotainment systems and smart phones.
Initially focusing on improving existing processes and augmented current infrastructure, IoT will evolve to encompass next generation methods and procedures such as "teleoperation" (operation of a machine at a distance), tele-robotics, and other areas that rely upon interface and control of real objects by virtual objects.
Mind Commerce also believes that Smart Cities represents an opportunity in the public sector as we expect IoT to support various infrastructure initiatives including Smart Grids and other critical areas.
Global Outlook for Big Data in IoT
The report Big Data in Internet of Things (IoT): Key Trends, Opportunities and Market Forecasts 2015 – 2020 provides in depth qualitative analysis as well as forecasts through 2020. The report evaluates key business trends in Big Data deployments relative to IoT and assesses what companies doing in this area to generate a strong market share. The report takes into consideration the many impacts of IoT including software platforms, software applications, sensors, actuators, routers, Big Data, Cloud services and analytics, and more.
Interested in more information on the Telecom & Wireless industry? Check out MarketResearch.com's Mind Commerce Knowledge Center solution!

Editor's Note:
The blog post is collaboratively written by members of the Mind Commerce staff.
About Mind Commerce:

The Mind Commerce® mission is to provide customized research, consulting, training, and writing services for the telecommunications and IT industry. Mind Commerce clients include manufacturers, developers, service providers, industry organizations, and government. Mind Commerce differentiates itself from its competition by meeting the unique needs of its clients through customized product development and service delivery.
Mind Commerce is also available on Profound.com...
Purchase individual report sections for a pro-rated price. Visit Profound.com to learn more.