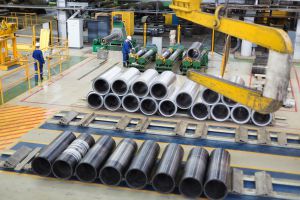 Metals firm Alcoa Inc. will separate into two standalone, publicly traded companies.

"In the last few years, we have successfully transformed Alcoa to create two strong value engines that are now ready to pursue their own distinctive strategic directions," Chairman and CEO Klaus Kleinfeld said in a news release.

Alcoa's upstream company, which will keep the Alcoa name, will focus on bauxite, alumina and aluminum, casting and energy. The value-add company, which has not yet been named, will include global rolled products, engineered products, and transportation and construction solutions.

The deal will be finalized in the second half of 2016.

To provide context and analysis, this blog post will explore the reasons for the split and market conditions that may influence future developments.
Aluminum Market Rocked by Volatility
According to a company profile and SWOT analysis by World Market Intelligence, Alcoa targets a number of sectors including automobiles, construction, aircraft, defense, industrial applications, commercial transportation, oil and gas, food and beverage packaging, and consumer electronics.
The 2008 economic crisis caused a sharp drop in demand for aluminum and contributed to an oversupply of aluminum worldwide. As a result, Alcoa closed or cut back 33 percent of its smelting capacity since 2007. For more information on the overall aluminum market, see this recent report by Visiongain.
Shares of Alcoa were down 43 percent this year, but gained 4.2 percent in pre-market trading after the announcement of the split.
New Demand in Auto and Aerospace Industries
The new value-add company will be a supplier for the aerospace and automotive industries, where increasing airplane production and automobile spending is driving higher-margin revenues.
In order to improve performance and fuel efficiency, automakers are using more lightweight materials. Aluminum and its alloys are a cost-effective way to enhance fuel economy, lower emissions and boost performance, and its use in vehicles is accelerating.
To meet this growing market demand, Alcoa has increased its production of high-performance and multi-material products. The global automotive aluminum market is expected to grow at a compound annual growth rate (CAGR) of 7.77 percent from 2014 to 2019, according to TechNavio - Infiniti Research LTD.
Similar to the auto industry, the aerospace industry is also embracing the lightweight trend. Composite materials is the fastest-growing type of aerospace material, because it is lightweight, resistant to corrosion, and has a high strength to weight ratio.
From June 2014 through June 2015, 40 percent of the revenue from the value-add segment of Alcoa came from the aerospace sector. The global aerospace materials market has an estimate CAGR of 6.6 percent between 2014 and 2019 and is expected to reach 18.5 billion in value, according to a report by MarketsandMarkets.
Diverging Markets, Different Strategies
By dividing into two companies, Alcoa will separate two diverging parts of its business — the legacy aluminum operations and the higher-value auto and aerospace business — and give each company a narrower focus to improve overall performance.
To learn more about Alcoa and its related industries, search MarketResearch.com.
Sarah Schmidt
Marketing Writer/Editor
MarketResearch.com