As summer approaches, trends in outdoor living spaces pique the interest of anyone looking to upgrade or remodel the exterior spaces of their homes. Outdoor living has taken on a new level of importance for people in light of events over the past year, with most people spending much more time at home. And, as vacations may be restricted or canceled for many again in 2021, more emphasis is being placed on having an adequate space to enjoy outdoors.
To gain insight into the topic, Fixr.com has just released its annual Trends for Outdoor Living Spaces Report, which surveyed industry experts about the most popular outdoor living features this year. Here are some of the key findings:
1. A Place to Gather with Friends and Family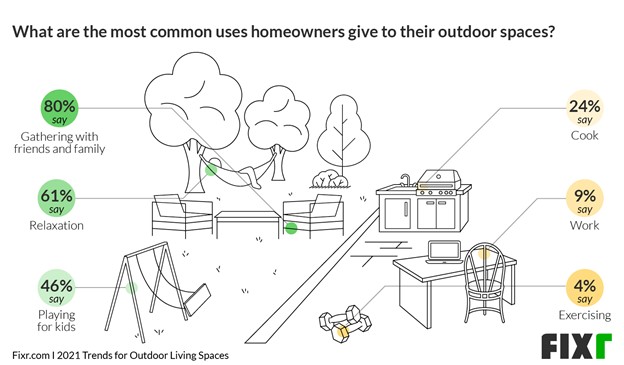 Most of us have been restricted for long periods in our homes over the past year, unable to invite friends and families to visit. Being outdoors has become one of the safer places for people to be during the pandemic, so it is no wonder that this year sees a huge majority of 80% of experts saying that friend and family gatherings will be the most common use for outdoor spaces.
A common use for the backyard is to relax, and 60% believe that to be one of the main reasons we'll be outside this year. Combining relaxation and spending time with family, 46% of experts surveyed believe that outside areas will be devoted for kids to play. Interestingly, cooking, working and exercising were the least chosen options.
2. Folding and Sliding Glass Doors for Blending Indoors with Outdoors
In a year in which we have seen ourselves "stuck" at home, we've been more aware than ever of the sunlight and the connection we have between our house interior and the exterior spaces. There are several ways to remove or reduce these boundaries between indoor and outdoor, but when asked which feature would best blend the line that divides inside and outside living, 74% of experts responded that folding or sliding doors and windows will be the most popular. A cohesive flow from inside your home to the outside adds a seamless transition, continuing relaxed vibes throughout the property.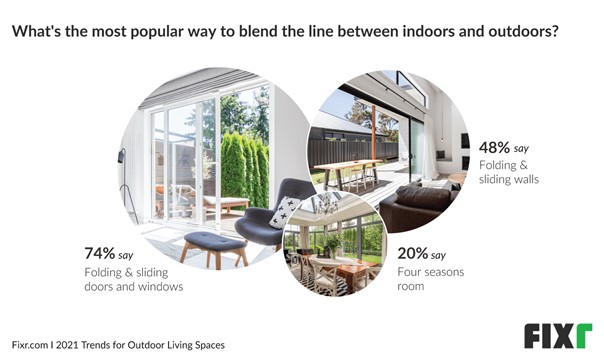 This progression of the indoor living space to the outside is especially welcomed by homeowners in more moderate climates. When the weather permits, relaxation time can be moved to an outside area, and vice versa if the weather changes, without causing too much disruption to your plans.
3. Both Patios and Porches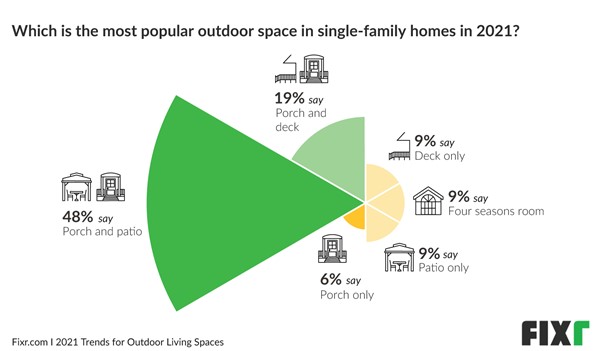 The combination of a porch and patio is the most popular for homeowners according to 48% of experts. Both design features allow homeowners the freedom to use the spaces for a variety of different reasons, such as outside dining, entertaining, and relaxing.
Porches are great at improving curb appeal and provide a space to enjoy no matter the weather, as they are covered structures. As for patios, they are an attractive and affordable way to have a private space in the backyard. Patios are very durable and easy to maintain and there are infinite options to personalize them.
4. Outdoor Kitchens
Outdoor kitchens have maintained their popularity since last year, topping the experts list. With varying degrees of size, and a wide choice of additional features, homeowners can adapt theirs to suit their needs. Tying in with the overall acknowledgment of how the past year's events have made people reevaluate how they use their homes, an outdoor kitchen adds another element to enjoy outside.
5. Outdoor Heaters and Fireplaces to Enjoy Year-Round
It's no surprise that homeowners are beginning to take on home remodeling projects while having the effects of the pandemic in mind. Many people are spending much more time at home, due to remote working and canceled vacations, and are relying on their homes to fulfill their newfound needs. A huge 85% of experts agree that people are more willing to invest in outdoor living spaces than before the pandemic.
The preferred option for adapting outdoor spaces for year-round use is to make it usable during the colder months of the year. Therefore, 54% of experts say outdoor heaters will be the most popular option, followed by 41% who believe people will opt for outdoor fireplaces. The trend continues with 27% saying fire pits will be popular this year.
A positive feature of outdoor heaters is that they are portable, so can be stored away during the months of the year when they are not necessary, saving on space. Fireplaces are somewhat of a design feature as well as serving their purpose. Fire pits also fall into the category of design feature as they work great as a focal point for gatherings, with the added bonus of being used during any time of the year.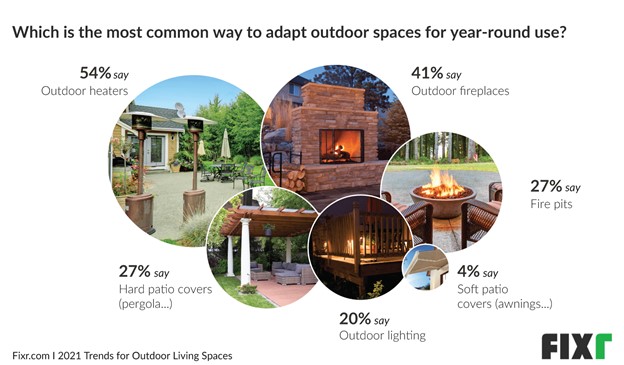 2021 Trends Impacted by the Pandemic
Taking on board the idea that the near future may remain uncertain for many, experts say that 48% of homes will be adapted for use all year round, to make the very most of the whole of their property not only during the summer months. There is a high amount of people that have relied on their homes for reasons they didn't necessarily have before. This has meant that the outdoor living trends have been impacted, with homeowners acutely aware that the pandemic is not completely over. Having an outdoor space that can be used whatever the weather, is becoming more important and in turn increasing the value of a home.
About the author: Adam Graham is a Construction Industry Analyst at Fixr.com, an online resource for helping you make the best home remodeling decisions. Check out his latest article, "The Biggest Trends in the Bathroom Industry in 2023."
---
Related Research
Want to know more about the $33 billion market for outdoor living products? Check out a new industry study titled Outdoor Living Products 2021 by The Freedonia Group, a leading market research firm and division of MarketResearch.com. This report covers the scope, size, and growth of the US outdoor living product market including key trends in applications and market segmentation.
Additional Articles