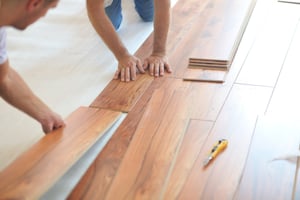 Americans spent more time at home during the COVID-19 pandemic, but they didn't just sit on the couch and watch Netflix. Many residents went to work renovating their homes, leading to record home improvement spending.
According to a national survey by The Freedonia Group in December 2020, 39% of consumers reported undertaking home improvement projects because of changes associated with the pandemic. Some added home gyms or offices, installed decks or pools, started gardening, or simply repainted their living spaces.
The Freedonia Group noted several key markets that have seen a significant sales spike related to pandemic-driven home improvement activity.
Outdoor Lighting
With the closure of restaurants and few outlets for entertainment, many homeowners spruced up their decks and patios to make their homes a more appealing place to be.
"In order to create areas more suitable for cooking and entertaining, many homeowners installed more extensive and higher-end lighting fixtures — especially area lighting and floodlights," according to Freedonia.
As a result, the residential market for outdoor lighting fixtures expanded at a healthy clip, even though the commercial market suffered in 2020.
Lawn & Garden Equipment
Another bright spot was residential power lawn and garden equipment, which grew more than 5% in 2020.
Due to the pandemic, remote workers had more time to perform lawn and garden maintenance themselves, and consumers also spent unused travel funds to enhance outdoor spaces where they could more safely gather with family and friends.
Lawn & Garden Consumables
Consumers purchased equipment like lawn mowers for their yards, but they also bought more seeds, live plants, and mulch for their gardens.
"DIY home gardening and landscaping projects were among consumers' favorite quarantine activities," according to Freedonia.
The $9 billion US lawn and garden consumables market is expected to benefit from this trend even after the pandemic as consumers continue to engage in gardening as a fun, personal hobby.
Residential Paint
Repainting was another popular remodeling project during the pandemic, which boosted the residential market for architectural paint.
Sherwin-Williams reported record sales for the final quarter of 2020. In an investor presentation, the company cited "unprecedented demand by consumers nesting."
Power Tools
The uptick in DIY home renovation activity also benefited the market for power tools, which is projected to rise 2.9% per year through 2024 to $9.4 billion. Continued interest in home repairs, woodworking and other similar hobbies is expected to boost the consumer market for power tools.
Need more in-depth data and analysis? Visit The Freedonia Group's website for market research on residential construction and building products.
---
About The Freedonia Group
The Freedonia Group, a division of MarketResearch.com, is the premier international industrial research company, providing our clients with product analyses, market forecasts, industry trends, and market share information. From one-person consulting firms to global conglomerates, our analysts provide companies with unbiased, reliable industry market research and analysis to help them make important business decisions. With over 100 studies published annually, we support over 90% of the industrial Fortune 500 companies.
---
Additional Articles