As homeowners begin to turn their attention to improving and updating their outdoor living space in time for summer, the effects of the pandemic are still having an impact. Appetite for investing in exterior areas of the home is still higher than compared to before the pandemic, according to 87% of experts.
A recent report by Fixr.com surveyed 40 top industry professionals to gather an insight into what are going to be the most wanted features and priorities of homeowners for their outdoor living spaces in 2022.
1. Creating Indoor Spaces Outdoors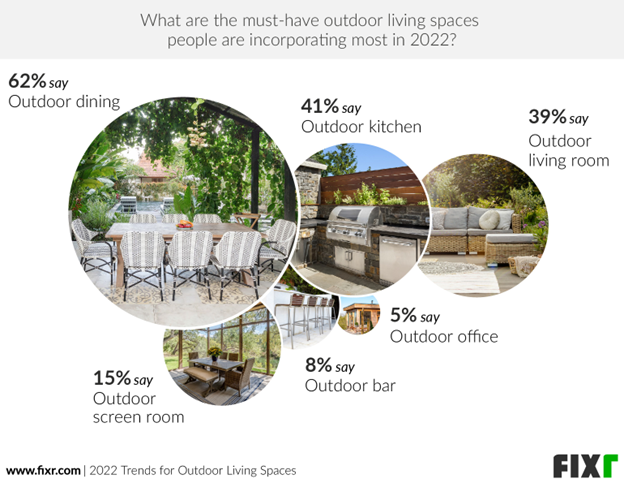 One of the most popular trends that we will see this year are interior room-like spaces in an outdoor setting. When asked which are the biggest priorities for homeowners in 2022, 56% said creating indoor spaces outdoors. This shows that there is a desire among people to spend more of their downtime in their backyard, making the most of their home's exterior.
According to 62% of experts, outdoor dining areas will be the most sought-after living space. A dining table can be used for various purposes along with eating, such as working, studying, or serving as a perfect get-together. Tying in with the dining trend; 41% believe outdoor kitchens will remain top of homeowner's wish list in 2022. Another emerging trend this year is creating an outdoor living room, of which 39% of industry pros say will be the must-have addition to any backyard.
2.
Making Spaces for Year-Round Use
Not every area of the country enjoys warm temperatures for long periods of time. It makes sense then that many homeowners, if investing in their outdoor space, wish to use it during the majority of the year. This could be why 62% of experts say that creating outdoor spaces that are fit for year-round use is the top priority of homeowners. This can involve incorporating fire pits or fireplaces, covers, screen rooms, and installing good lighting. Being able to use the space for longer than just the summer months will be a more worthy investment.
3. Incorporating Comfortable Furniture and Fire Pits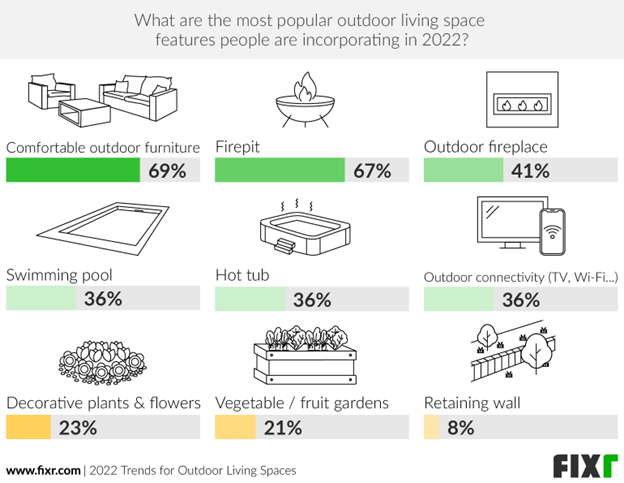 Considering that two of the biggest trends this year include creating indoor spaces outdoors, and adapting spaces for year-round use, it's no wonder that some of the top features that homeowners will seek to incorporate into their outdoor spaces will cater for these priorities.
69% of experts say that people are going to want comfortable outdoor furniture. This makes living room areas more appealing and relaxing. 67% of industry professionals believe fire pits will be one of the most sought-after features. As well as keeping you warm, fire pits create a calming and welcoming atmosphere. Similarly, but chosen by less experts (41%), outdoor fireplaces will also prove to be a popular trend.
4. Having a Grill / Barbecue in an Outdoor Kitchen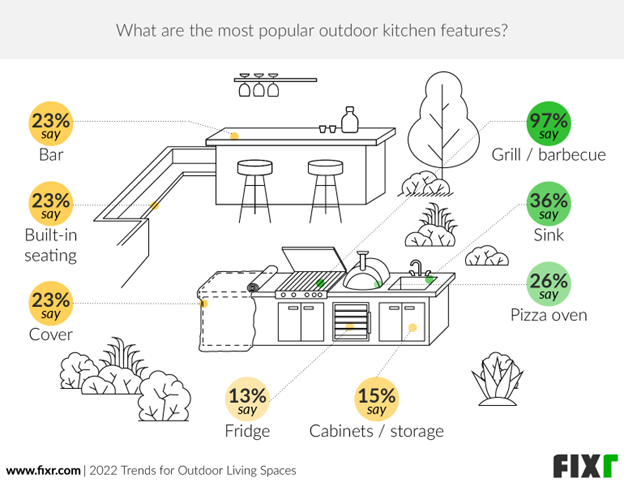 The grill and barbecue have always been key features for backyard gatherings, and it makes sense that they are incorporated into outdoor kitchens. An overwhelming 97% of experts agree that they are the most popular outdoor kitchen feature. While the grill/barbecue are the main event of a family gathering, 36% of pros agree that having a sink installed will also be a popular outdoor kitchen extra. Making it easier to rinse plates and glasses, wash hands, and have access to water without needing to enter the home, the sink adds a convenience factor. Additionally, 26% of experts believe pizza ovens are going to be one of the most popular additions to outdoor kitchens.
5.
Installing a Saltwater Pool
For those considering installing a pool in their outdoor living space, one popular option in 2022 is to choose a saltwater pool, according to a majority of 56% of experts. There are many benefits to saltwater pools over other options. These include the water being free of harsh chemicals that can irritate the skin and hair, and lower yearly costs due to the need for less chemicals. 50% of industry insiders also agree that small/plunge pools will be popular. They are a great addition for those with limited space and/or budget.
About the author: Adam Graham is a Construction Industry Analyst at Fixr.com, a website that offers home remodeling cost-guides and connects homeowners with service professionals. He analyzes and writes about the home construction industry, interior design trends and real estate. Check out his latest article "The Biggest Trends in the Bathroom Industry in 2023."
---
Related Research
Want to know more about the $33 billion market for outdoor living products? Check out an industry study titled Outdoor Living Products 2021 by The Freedonia Group, a leading market research firm and division of MarketResearch.com. This report covers the scope, size, and growth of the US outdoor living product market including key trends in applications and market segmentation.
Additional Articles