In a recent report, Fixr.com found that bathroom remodels are as sought-after as ever. Having surveyed top interior designers from across the nation, Fixr.com found that 71% of them believe homeowners are more willing to spend on a bathroom remodel in 2023 than before. Taking into account the recent increases in the cost of living, this shows the appetite for home improvement remains strong.
To stay on top of what is going to be popular in the bathroom industry in 2023, here are some of the biggest trends that we can expect to see this year, according to the experts.
1. Improving Both Aesthetics and Functionality Will Drive Bathroom Remodels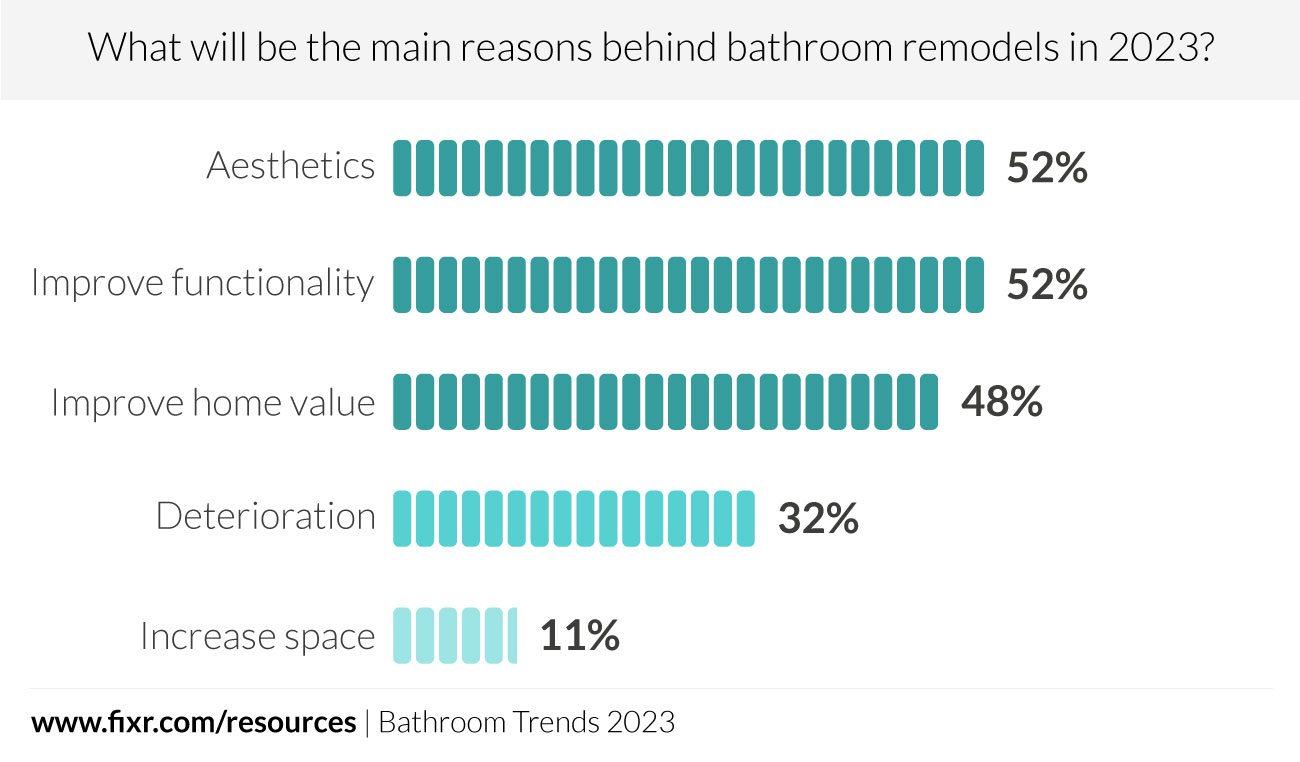 To get an idea of where design trends are headed, it's first important to understand the needs and wants of homeowners. When it comes to bathroom remodeling, 52% of design experts say that it's a combination of improving both the aesthetics and functionality of the space, ahead of improving home value or through necessity. This shows that people are willing to invest in their homes this year to make them more interesting visually and more practical. While 48% believe increasing home value is behind renovations, there is an argument for more people looking to make do with what they have rather than moving in the current housing market climate.
2. Incorporating Natural Materials Will Be the Most Popular Design Trend
A huge trend in interior design, in general, in 2023 is the use of natural materials and elements with a wood look. And the bathroom is no exception. 50% of experts say that this is going to be the biggest bathroom design trend this year. Along with wood, natural materials can include stone and metal of varying styles and textures. This trend ties in with the already popular notion of blending outdoors and indoors, creating a zen-like atmosphere in bathrooms to replicate the soothing way of nature.
3. Showers Are the Most Wanted Feature Update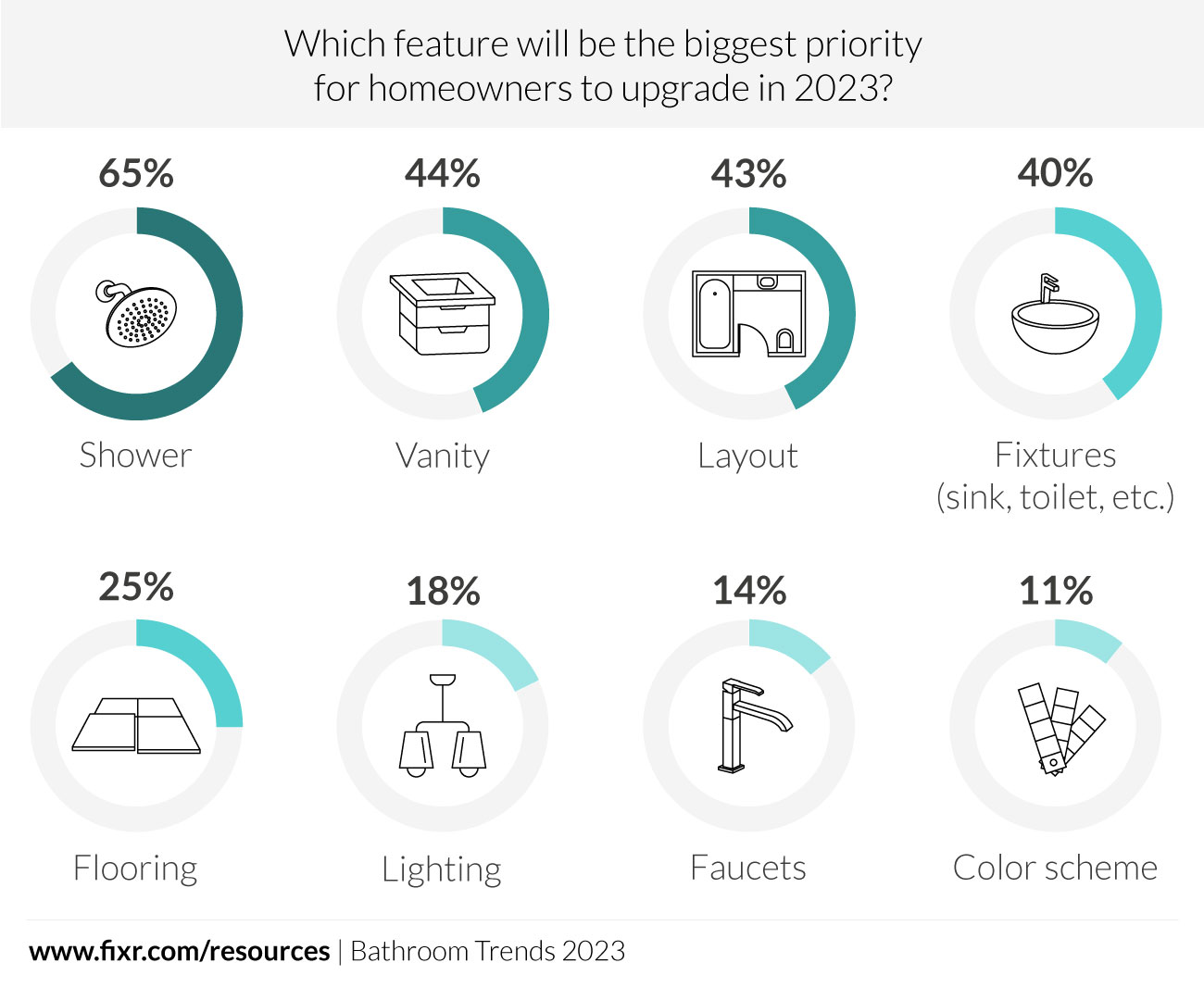 Not everyone decides to completely overhaul their whole bathroom design. Whatever the reason, some homeowners will choose to only upgrade certain features. 65% of design experts believe that showers will be the priority for most. When considering that both the look and practicality of the room are the biggest reasons for renovations this year, this comes as no surprise. The shower is a major part of a bathroom renovation, a focal point for the overall design, and when improved, increases functionality.
4. Cost of Materials Is the Biggest Concern for Homeowners
One of the biggest issues in the bathroom industry recently is the rise in the cost of materials. According to a majority of 73% of experts, these heightened costs are going to be the main reason homeowners will opt out of remodeling their bathrooms this year. Considering that the cost to remodel a bathroom averages between $4,500 and $9,000, it is an investment that some will struggle to justify this year with the cost of living having risen. Other widespread cost issues such as labor and appliances are also some of the reasons why people are putting off or canceling their remodeling plans.
5. Ceramic Tiles Are the Most Wanted Affordable Material
For those who have chosen to go ahead with a bathroom remodel this year, they'll still be acutely aware of how volatile the costs of materials have been. Taking this into account, many will opt for more affordable material options. The most popular, according to 71% of experts, is set to be ceramic tiles. Ceramic tiles are a great option as not only are they more affordable than other materials, but they also come in a range of colors and shapes.
About the author: Adam Graham is a Construction Industry Analyst at Fixr.com, an online resource for helping you make the best home remodeling decisions.
---
Related Research
Need more market data on bathroom remodeling? Check out these reports available on MarketResearch.com:
For additional reports, please search our website.