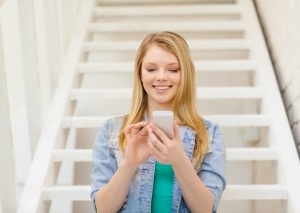 In the next four years, the global market for mobile education is expected to grow at a compound annual growth rate of 21 percent, according to a report by TechNavio – Infiniti Research. With rising adoption of tablets and mobile devices, education tools are becoming increasingly digitized. A variety of new education apps have the potential to improve learning outcomes and help educators engage their classroom more effectively, but the market is already highly competitive. Large companies like Adobe and Blackboard dominate the industry, and high upfront costs often present a barrier to entry for new players.
Even so, a variety of new companies have appeared on the scene in the last several years — with a mission to revolutionize the way students learn, apply to college, and take classes. To find out about a range of new educational apps and online platforms, check out this post.
1. Admit.me
Admit.me is a social networking platform for the college admissions process, where students can learn strategies and tips from current students, alumni, and other applicants. Through the online platform, students can also manage application deadlines and documents, and engage directly with schools.
"With student to guidance counselor ratios often exceeding 500:1 and only half of those who are credentialed for a four-year college actually applying, we built Admit.me with the goal of being an additional resource for students to help them through the admissions process," explains Eric Allen, president of Admit.me.
Admit.me launched last year and will be presenting at SxSW Edu. It was also recognized as a Great Eight Finalist by Startup Maryland and a finalist in the 2015 InvestMaryland Challenge.
2. Kadenze
Kadenze offers online courses in art and creative technology and partners with leading universities such as Princeton, Stanford, and California College of the Arts. Launched in June 2015, Kadenze now has more than 25,000 students. "Kadenze is building EdTech for the creatives of the future," says Ajay Kapur, founder of Kadenze. "Our 22 leading university partners attest to the invaluable student-teacher user experience design."
Through the platform, students can take courses for free, or pay $7 per month to enroll in a premium membership. Select courses are offered on a for-credit basis. The current course catalog includes "Culture and Art Making" from Seoul Institute of the Arts, "Reinventing the Piano" from Princeton University, and "Touring Modernism" from School of the Art Institute of Chicago, among many others.
3. Prep4SAT
Prep4SAT is a free test-prep app that helps students to study on the go, receive instant feedback on practice questions, and access a network of tutors. The app launched in May 2015 and was founded by Elad Shoushan, the CEO of LTG Exam Prep Platform, which includes Prep4GMAT, Prep4GRE, and Prep4MCAT.
"As students mentally prepare to take the SATs, their parents are weighing the option: pay $100/hour for a tutor or send them to a semester-long class for $3,000 plus." Shoushan explains. "There's another option that doesn't require you to dig deep into your pockets: Prep4SAT, a free mobile app that uses an adaptive learning algorithm to adjust study courses and help students focus on their weakest areas. This, opposed to sitting through areas they may already excel in (which happens in the pricey curriculum courses), is a more effective and modernized way of learning."
A startup out of MIT, Prep4SAT raised seed funding of $3.6 million, according to Market Wired.
4. Stackup
"With Stackup, you can quantify and get credit for everything you read and learn online," says Nick Garvin, CEO of Stackup. "Teachers use Stackup to track the amount of time students spend actually reading on their devices by subject area and even by specific websites."
Garvin thought up the concept for Stackup when applying for a job at Tesla Motors. His resume couldn't convey the thousands of hours he had spent online researching the automotive industry. With Stackup, students and job seekers can track their independent learning and demonstrate their dedication and interest with clear metrics to back it up. The platform can also be used to track personal productivity and compete with friends.
Garvin founded the education technology company in 2014 in Denver, Colorado.
5. Varsity Tutors
Varsity Tutors is an educational platform that connects students with tutors from top universities. "The Varsity Tutors Online Tutoring Platform is a powerful virtual learning environment that allows students and tutors to work together from any location, at any time," says Greg Stahl, VP of marketing at Varsity Tutors. "It uses best-in-class technology to provide video conferencing with clear audio, as well as a number of stellar features to facilitate student-tutor interactions, such as a whiteboard, a document editor, a graphing calculator, periodic tables, and much more. The platform also allows students and tutors to share screens, upload files, and take screen shots."
In addition, users can access a library of free practice problems and diagnostics tests through 40 different mobile apps that each focus on a specific test or subject.
Adam Levine, the singer for Maroon 5, and education executive Stuart Udell helped Varsity Tutors raise funding. In November, Varsity Tutors closed a $50 million Series B funding round, according to TechCrunch. While most of the companies profiled in this article were founded in the last two years, Varsity Tutors has a bit more longevity — it was founded in 2007 at Washington University in St. Louis.
Learn More About This Growing Market
The potential impact of mobile devices on the field of education should not be underestimated. "Without a doubt, the future of the world is tied to this small revolutionary tool, which has radically changed the way we think and interact with our environment," states a report by research firm Paul Budde Communication, "The potential of mobile devices is staggering. They are with us everywhere, able to provide performance support and knowledge checking ... M-learning is learning at the point of need, learning on the go."
To get industry forecasts and expert analysis about education apps and platforms, check out the e-learning reports on MarketResearch.com.
Sarah Schmidt
Managing Editor
MarketResearch.com