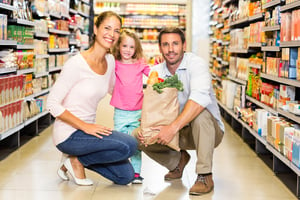 The COVID-19 pandemic prompted many U.S. consumers to sharpen their focus on their overall health, wellbeing, and weight management goals. Amid widespread concerns about illness, consumers became increasingly interested in foods they perceived to be healthier.
Over the next few years, demand is expected to grow for a number of interrelated product categories including keto and paleo foods, allergy-friendly foods, and "better for you" snacks that cater to clean-label preferences, according to recent data from Packaged Facts, a leading market research firm and division of MarketResearch.com.
Keto and Paleo Foods
While spending more time at home during COVID-19, some consumers became more concerned about their growing waistlines and were increasingly interested in low-carb diets such as keto and paleo. Due to strong consumer interest in these diets, the demand for keto and paleo food and beverage products is expected to rise through 2026.
About 20% of consumers report following the keto diet at least sometimes, according to survey data from Packaged Facts. Only 5% of consumers report following this trendy diet most of the time, but a significant number of consumers buy keto products and try to follow the diet on an occasional basis.
Many products have been released with keto and paleo label claims. One example is the Go Raw New Sprouted Keto Seed Bar made with "plant-based superfoods" such as pumpkin seeds, sesame seeds, and flaxseeds. Another example is Thrive Market's Coconut Oil Sweet Potato Chips that feature a prominent paleo label.
Allergy-Friendly Foods
Consumer awareness of food allergies, intolerances, and sensitivities also grew during the COVID-19 pandemic as people paid closer attention to their health and personal wellbeing. Packaged Facts has found that more people discovered they may have a food allergy or intolerance/sensitivity during the pandemic, which is helping to drive increasing demand for allergy friendly foods.
Allergy friendly foods are "free from" certain allergen ingredients such as eggs, milk, peanuts, shellfish, soybeans, tree nuts, and wheat/gluten. Examples of products that make allergy friendly claims include No Nuts! snack bars that are free from tree nuts and peanuts, dairy, eggs, and gluten, or Good Karma Plantmilk, which is free from dairy, nuts, and soy.
A significant portion of the population avoid certain food ingredients. According to survey data from Packaged Facts, 14% of adult respondents report having a food allergy, while 23% report being intolerant of or sensitive to certain foods.
In addition, some common food allergens — such as wheat/gluten, soy, and dairy — are avoided by some consumers who think these ingredients are unhealthy, not because of a perceived or actual allergy.
Guilt-Free Snacks
Another related trend that gained momentum during the pandemic is better-for-you snacks, which ballooned to $39 billion in 2020. According to Packaged Facts, 31% of consumers report increasing their snacking activity because of the pandemic. At the same time, many consumers gravitated to more healthy foods to help ward off illness.
Better-for-you snacks are designed to help satisfy the need for indulgence and great taste, while also catering to specific diets and clean-label preferences, so people feel more inclined to indulge. Better-for-you snacks may be low carb, high protein, low/no sugar, lower fat, plant-based, clean label, whole grain, natural, heart healthy, or smaller portion sizes.
Examples include CHOMPS grassfed beef sticks, which are keto certified, paleo certified, gluten-free, and Whole 30 approved. An example on the sweeter side is Foodstirs Chocolate Brownie Bites that offer 50% less sugar than standard brownies and are also organic and fair trade.
Where to Learn More
For more information about food industry trends and to access more in-depth food market research, be sure to check out these recent food & beverage market reports from Packaged Facts.
---
About Packaged Facts
Packaged Facts publishes market intelligence on a wide range of consumer market topics, including consumer demographics and shopper insights, consumer financial products and services, consumer goods and retailing, and pet products and services. Packaged Facts also offers a full range of custom research services. Reports can be purchased at our company website and are also available through MarketResearch.com.