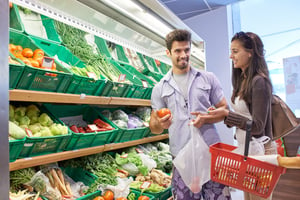 Consumers are concerned about high prices at the grocery store, but this issue is only one trend shaping the overall market landscape in 2023.
Investors and food industry players should take note of several other important food trends that have grown recently and are expected to gain further traction in the coming years, according to Food Market Outlook: Inflation, Sustainability, Convenience, & Other Food Trends by Packaged Facts, a leading market research firm and division of MarketResearch.com. The report highlights the following food trends.
1. Private Label Brands Soar in Popularity
Inflation contributed to a remarkable upswing in the sales of private label store brands across various sectors. The effects of inflation and resulting economic challenges prompted a significant surge in consumer interest in private label brands, with the food and beverages sector experiencing substantial growth in this realm.
2. CEA-Indoor Farming Faces Challenges
Also known as controlled-environment agriculture, CEA has surged in the last few years as investors pursue innovations that support greater sustainability, food safety, and fresh, locally grown produce. Yet, the industry has faced increasing hurdles. The costs of research and building indoor facilities have led to debts and losses for several players, causing some businesses to close. It's uncertain whether the slowdown is a temporary dip that the market will bounce back from, or if it's a sign of future problems for indoor farming.
3. Sales of Plant-Based Food Alternatives Slow
Plant-based alternatives can be found in a variety of food categories, from cheese and ice cream to snack bars and salty snacks. However, the growth of plant-based food products has slowed down in recent years due to various reasons. Consumers have recognized that these items are more processed than they initially thought, and they often don't meet taste and texture expectations. Additionally, higher prices resulting from inflation, increased competition, and supply chain issues have all played a part in the deceleration.
4. Non-Plant-Based Food Alternatives Gain Traction
Although not yet accessible to the public, lab-grown meat is edging closer to becoming a commercial reality in the United States. These innovative products, crafted from animal cells rather than traditional slaughter, hold considerable potential to revolutionize the meat industry. A multitude of companies are actively working on fermented analogs, often employing mycelium—a mushroom's root structure—for fermentation. Likewise, the advancement of animal-free dairy is gaining momentum as well.
5. Consumers Seek Mindful Indulgence
Food companies are creating products that are both healthy and indulgent. The pandemic prompted more people to seek healthier options in their food and drinks, while still enjoying comfort and treats. The mindful indulgence trend is evident in snack products such as Kettle Brand Air Fried Chips, which contain 30% less fat than the original Kettle Brand chips but still have a light, crispy texture.
6. Demand for Convenient "Chef-Inspired" Foods
Consumers are continuing to cook and eat at home, a habit carried over from the pandemic and influenced by rising prices and budgetary pressures. Although people are interested in making restaurant-level meals at home, they are also battling food prep fatigue. To address this need, marketers are offering restaurant or "chef-inspired" foods that are easy to prepare and serve, such as pre-seasoned and marinated meat and poultry.
Where to Learn More
These are just a few of the food trends covered in the report Food Market Outlook 2023: Inflation, Sustainability, Convenience, & Other Food Trends by Packaged Facts. This report is packed with actionable insights about consumer trends, behavior, and motivations.
With a focus on "what's next" in the food industry, the report provides specific recommendations to guide retailers, services providers, wholesalers, food processors, packaging firms, and investors in making business decisions. Read the report's abstract to learn more.
Additional Food Market Research
If you need additional insights, MarketResearch.com has more than 30,000 food market research reports from a wide range of leading publishers available on our website. Search our collection to find the specific research you need.
---
Additional Articles